for ISKCON News on March 23, 2016
When Sri Caitanya Mahaprabhu performed His sankirtan pastimes 500 years ago, He predicted that His holy names would one day be chanted in every town and village throughout the world, thus benedicting the fallen souls of Kali Yuga. Over the centuries following the Lord's disappearance, His dear associates spread His mission far and wide, culminating with Srila Bhaktisiddhanta Sarasvati Thakur's establishment of the Gaudiya Math in 1920, consisting of 64 temples throughout India, numerous preaching centres, and a formidable sankirtan army of thousands of staunch preachers.
However, it wasn't until His Divine Grace A. C. Bhaktivedanta Swami Prabhupada arrived in the United States in 1965 with just a small suitcase and a burning desire to fulfil the instruction of His beloved spiritual master, Srila Bhaktisiddhanta, that the Lord's prophesy gradually began to manifest outside of Bharat Varsha.
Alone and penniless during his first years in America, Srila Prabhupada's early pastimes were ideal examples of powerful grassroots preaching. Sitting on a park bench in New York City, he revealed to one acquaintance that so many devotees and temples existed – it was simply time that separated them.
Reciprocating with Srila Prabhupada's pure love for Krishna and his desire to share the Lord's mercy with others, over the following years Krishna sent so many sincere young boys and girls to help him in his mission. After training them personally in his first temples, Srila Prabhupada later sent many of these young disciples out to share with others the process that that he'd given them. Following the success of the first outdoor kirtan in Washington Square Park in 1966, Srila Prabhupada inspired his young followers to regularly take the holy names into the streets, in much the same way that Lord Caitanya had taken His sankirtan party throughout the towns and villages of Bengal. Within a few years there were temples on every continent and kirtan parties were spreading the holy names throughout the world, often from early in the morning until late at night – such was the devotees' enthusiasm and their desire to please Sri Guru and Gauranga.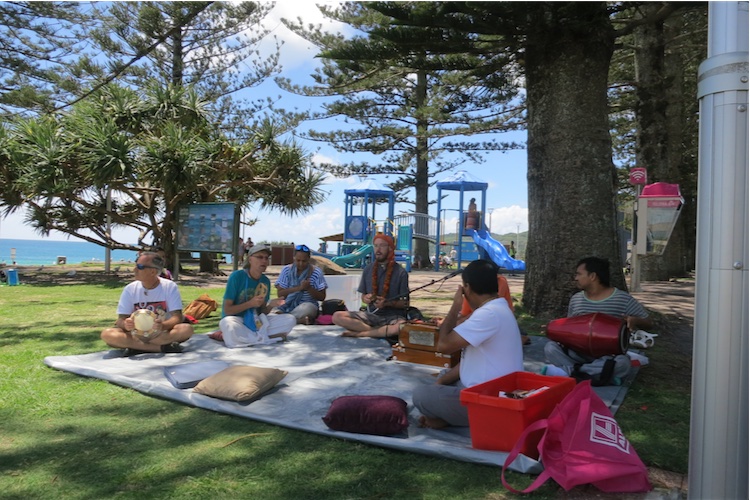 These days, devotees are still gaining inspiration from Srila Prabhupada's example as the perfect sankirtan devotee, and his intense desire to please his spiritual master and Mahaprabhu by sharing the wonderful process of hearing and chanting Lord Krishna's holy names. Inspired by the 50th anniversary celebrations of Srila Prabhupada's arrival in the US, Garuda Das, a senior bramacari at New Govardhana farm in Australia, has started a very special Hari Nama party which is taking Lord Caitanya's sankirtan movement to towns and villages throughout northern New South Wales and southern Queensland, Australia – all day, every day of the week.
Situated amidst beautiful countryside in far northern New South Wales, New Govardhana is just an hour's drive from several of Australia's most popular tourist destinations, including surfing hotspots such as Byron Bay, Burleigh Heads, Coolangatta and Surfer's Paradise. Every day thousands of tourists flood these resort towns, many of whom encounter the blissful kirtan party, often taking a book or some prasada from the devotees as well. The reception from the public in this lovely corner of the world is absolutely incredible. More often than not, local people are already familiar with the devotees (due the beautiful farming community, and the very popular Govinda's restaurant that is situated on the Gold Coast), while tourists are generally in a laid-back holiday mode and eager to learn what we're so happy about. The region is also home to Australia's largest vegetarian population, while many people with an interest in yoga, spirituality and sustainable living have also flocked to the area over the last few decades. These factors combine to make it a very favourable area to share the Lord's glories.
In a nutshell, if devotees love Hari Nama and want to please Srila Prabhupada by sharing Lord Caitanya's mercy, a sojourn on New Govardhana farm in Australia may be just what they have been looking for. Due to the many social changes that ISKCON has undergone over the decades, and the fact that there are much fewer temple devotees than there were in the past, these days most temples don't have the man-power to hold all-day Hari Nama sankirtan parties, every day of the week. Garuda Das is determined to change this, at least here at New Govardhana. With his small but dedicated kirtan party visiting cities, towns, villages and festivals throughout northern New South Wales and Southern Queensland, local devotees are becoming inspired and the lives of thousands of people who encounter them are being transformed, as they associate with Krishna, appearing as His holy names, and receive Srila Prabhupada's books. Everyone is welcome to take part, and to experience the fun and magic of this very wonderful sankirtan party.
* * *
To learn more about New Govardhana farm, visit this website (http://www.krishnafarm.net/ ) and for more information about the New Govardhana Hari Nama parties, check out this Facebook page (https://www.facebook.com/harinamaustralia/ )
[
australia
] [
harinama
] [
new-govardhana
]