for ISKCON News on Dec. 9, 2016
Rise brings its users short bursts of wake-up wisdom from the comfort of their phones. It has simple, uncomplicated spiritual tools specific for everyone's needs. If you're stressed, search through the videos on stress. If you're looking for advice on relationships, search through the videos on relationships. And if you're looking to realize your inner self, the app may even have something for that too. It's a practical, accessible approach to spirituality created for the modern world, which is why it all fits into everyone's mobile.
Rise was inspired by Radhanath Swami, a lifelong monk in the bhakti tradition and author of the New York Times bestseller, The Journey Within - Exploring the Path of Bhakti. With a wealth of experience on mindfulness meditation, relationships, happiness and wellbeing, his daily doses of inspiration are just what many people need to start the day right. Users can tailor content based on topic, save their favorites for easy navigation and read the video summaries for a quick insight.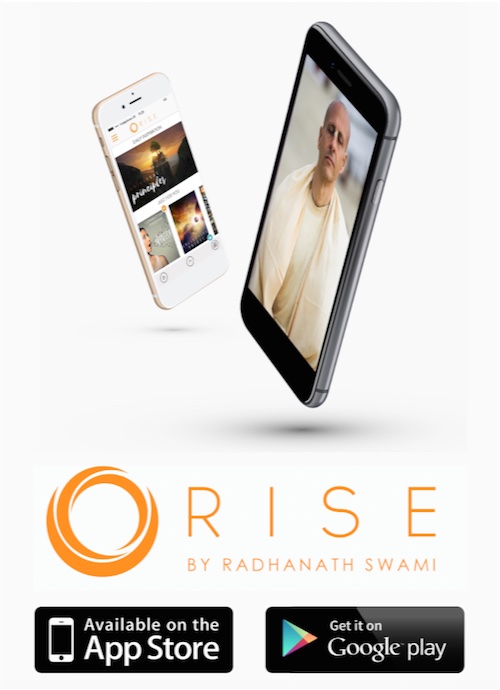 But that's not all. In the next update, users will be able to learn from full-feature courses on motivation, leadership, kirtan and a host of other topics - created by Radhanath Swami and friends - all to help people demystify spirituality.
An integral part of Rise by Radhanath Swami is the philosophy. The app is completely free of charge. No in-app purchases or hidden costs; all their content is free. They simply run off the donations of the users. In fact, running costs aside, any profit made goes towards charitable projects founded by Radhanath Swami or those close to his heart.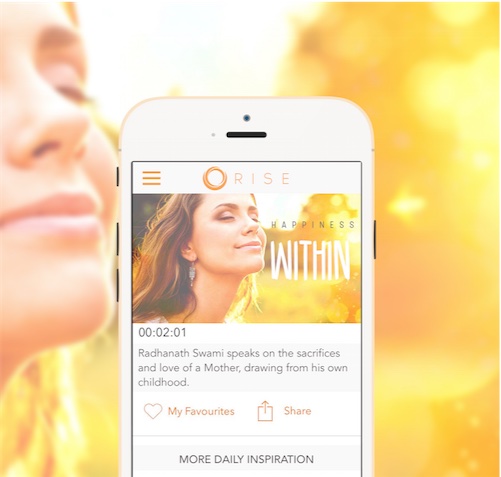 Good to know:
Radhanath Swami inspired an innovative food distribution program called "Midday Meals" (or Annamrita) in which they feed 1.2 million impoverished school children throughout India daily!
The Govardhana Eco-Village (GEV) is a sustainable farm community, yoga and meditation centre in India. Also founded on the principles Radhanath Swami lives by, the GEV has won multiple awards for its contribution to organic farming practices, water conservation, animal care, alternative energies and women empowerment.
Bhaktivedanta Hopsital is a not-for-profit whose prime mission is to provide quality health care service to the underprivileged. The hospital combines cutting-edge medical practice with time-honored holistic sciences to offer patients solace for the body, mind and spirit. They also run mobile medical camps, disaster relief, hospice care and preventative education.
RISE was released on iOS and Android, on the 7th December 2016 which is the appearance day of Radhanath Swami.
Download Links:
Apple: http://www.appstore.com/risebyradhanathswami
Google: https://play.google.com/store/apps/details?id=com.app.rns.rise
[
app
] [
application
] [
radhanatha-swami
]