for ISKCON News on May 25, 2019
Two to three thousand devotees are expected to pack out the Art of Living Retreat Center in Boone, North Carolina this weekend for Sadhu Sanga, ISKCON North America's biggest kirtan retreat.
Registration is currently closed, but those who cannot attend in person will still be able to watch via livestream online at sangalive.com.
Veuwr Kirtans, a next gen devotee-run company from Alachua, Florida will broadcast three individual live feeds.
One of these will be a stationary camera that can be viewed anytime. The second will be the main stream, which will be mixed live using multiple cameras, so that devotees can see different angles and close-ups of the kirtan.
The third will be a 4k 360-degree Virtual Reality camera. Viewers who own an Oculus Rift headset will be able to put it on and have a completely immersive live experience of the Sadhu Sanga kirtans. Those who don't will still be able to "look around" the 360-degree stream, using any mobile device or desktop, by moving their phone or mouse around.
A total of eight cameras will be used. Five hundred people are expected to watch at one time, with ten to fifteen thousand reached by the live stream in total.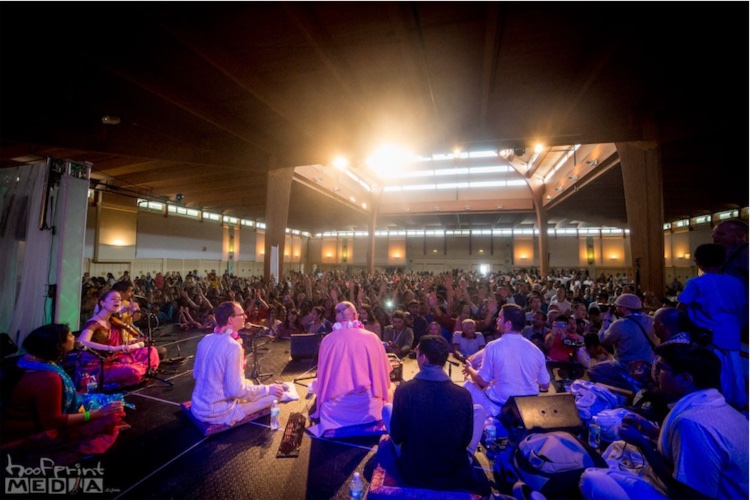 Thousands chant the Holy Name at Sadhu Sanga last year
The immersive retreat will begin at six o'clock in the evening on Friday May 24th, with dinner and kirtan, and run through to Monday May 27th.
Every day will begin at 4:15am with a full morning program including Bhagavatam classes by Jayadvaita Swami, Giriraj Swami and Vaisesika Das.
On Saturday and Sunday after breakfast kirtan will run from 9am to 10:30pm, with a break in the middle of the day for lunch. The incredible roster of kirtan leaders includes Bada Haridas, B.B. Govinda Swami, Indradyumna Swami, Madhava, Mukunda Datta Das, Nadiya Mani, Sacinandana Swami, Sri Prahlada, and Vasiesika Das.
During breaks, there will be delicious prasadam, sanga, service, and the chance to associate with dozens of disciples of Srila Prabhupada.
The livestream is brought to you by volunteers who work in the industry. We treat the Sadhu Sanga livestream as an opportunity to push the limits of live broadcasts, and we're all extremely excited to bring the best we can think of to everyone.
https://veuwr.com/sadhu-sanga-2019-live/
[
kirtan
] [
north-carolina
] [
sadhu-sanga-retreat
]