for ISKCON News on Jan. 3, 2020
Students at Govardhana Academy in Saranagati Village, Canada have produced an elaborate half-hour puppet show film entitled "Oh My God! The Childhood Adventures of Lord Krishna" using puppets made by Jagatarini Dasi and used in classic ISKCON Television puppet shows over forty years ago.
Seventeen children and youth, aged two to eighteen, took three months to complete the movie and worked on every part of the production from set building, special effects, and lighting, to voices, puppeteering, filming and editing. The film premiered in Saranagati on Christmas Day to rave reviews.
Govardhana Academy teacher and founder Kartamasa Delaney goes back a long way with Krishna conscious puppet shows, which had a major influence on his spiritual life growing up in ISKCON.
"In 1980, my mother Nataka Candrika Dasi enrolled me in the Los Angeles temple nursery school where she trained to be a teacher," he recalls. "The nursery teachers at that time became legendary for their contributions to devotee children: Mrgaksi Dasi, Caitanya Dasi and Bhavatarini Dasi. They would put on musical puppet shows each week, and through those, I learned most of Krishna's pastimes."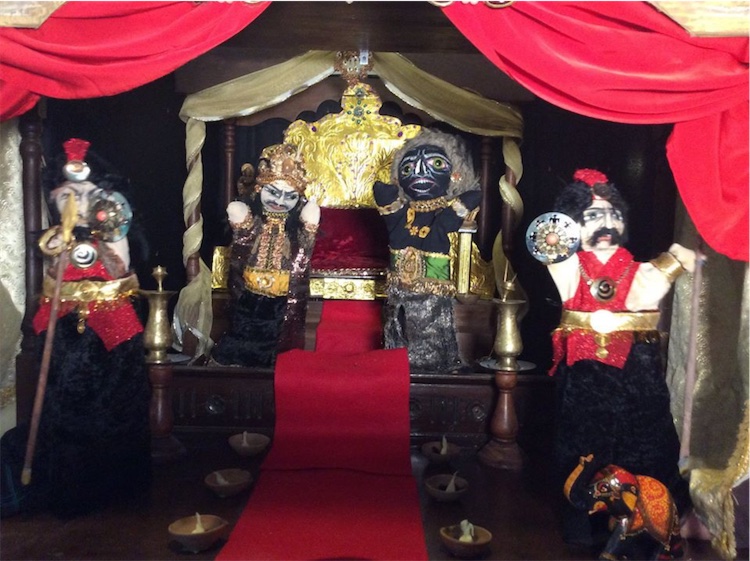 Kamsa sends Pralambasura to attack Krishna (set by Shyama and Vana Fournier)
Noting this, Kartamasa's mother and his father Radha Damodar Das began putting on puppet shows for the local children back home in ISKCON Denver, using simple finger puppets and cassette tape recordings of the Los Angeles shows. Later, they acquired higher quality puppets from Jagatarini in Gita Nagari – the same ones used in both ITV films and the Govardhana Academy film "Oh My God!" some forty years later.
"We eventually moved to Bhaktivedanta Village in California, and then later to Vancouver, Canada," Kartamasa recalls. "My parents performed puppet shows at the gurukulas and rathayatras for seven and a half years, and my father calls those his 'best years in Krishna consciousness.'"
So it's not surprising that when Kartamasa began running a Krishna conscious school himself with his wife Radha Kunda, he took to engaging the students in producing their own transcendental puppet shows and making them into films.
These projects – from 2012's "Dacoits of Nitai" to 2016's "Mission of Mercy," about how Srila Prabhupada founded ISKCON – have become increasingly adept. But they've all led up to this year's effects-heavy "Oh My God!", which may even rival ITV's productions.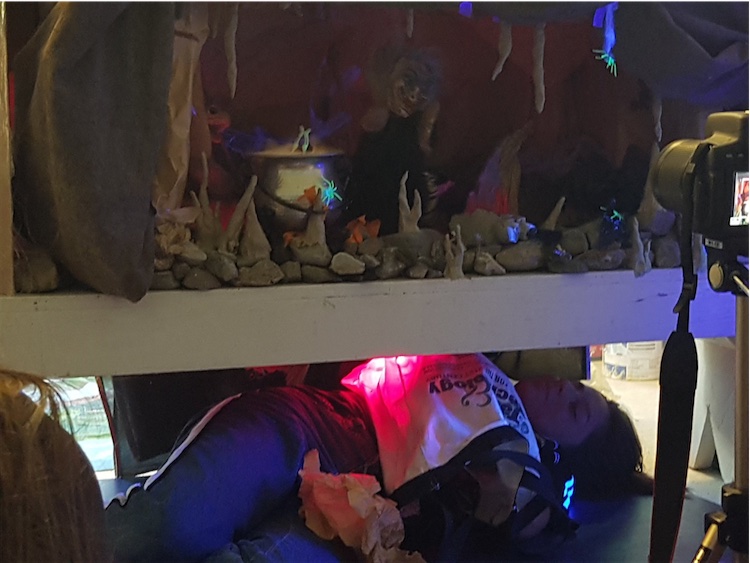 Lila Battistini puppets Putana for a scene in the demon's cave
The half-hour film is an offering to Govardhana Academy's presiding Deities of Krishna Balarama, whom students have been worshipping for eleven years. It depicts early childhood pastimes of Krishna and Balarama, in particular their encounters with the demons Putana, Shaktasura, Trinavarta and Pralamba.
"These stories, from the 'Krsna' book, had already been presented as puppet shows by my parents, about forty years ago, but there were no videos of them," Kartamasa says. "So I got the scripts for them from my father, added some dialogue from Srila Jiva Goswami's book Gopala Champu, and sprinkled in a few humorous lines to keep the students interested."
Students voiced and pupeteered the puppets themselves, not always an easy task.
"Holding a puppet up while lying down, for example, is extremely difficult," says Kartamasa. "The blood begins to drain from your arm, and your muscles seize up. With all of our camera challenges and technical difficulties, a usable take would require multiple attempts. So we'd have to keep encouraging the student puppeteers to keep their arm up!"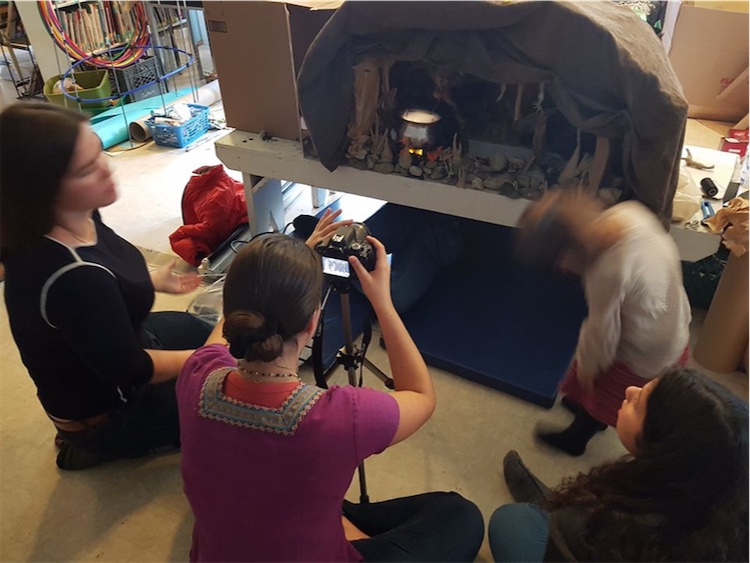 Vana Fournier, 18, films the 'Putana's Cave' scene (set by Giri Fournier, Hari Adamus, Nikunja Woodford, and Ayden Hollihn)
Several very young students participated in the production, eager to be involved. Two-year-old Krsnaya Delaney, upon seeing her siblings practicing their parts, created her own part in the film, made up her own lines, and even sang lead in a song. Two four-year-olds, a five-year-old, and two six-year-olds have major roles. And one student's baby brother, nine-month-old Haladhara Clayton, was recorded in studio as baby Krishna's gurgling sounds.
Students made the soundtrack to the movie themselves, implementing classic devotional children's songs written and recorded by Mrgaksi, Bhavatarini and Yamini.
"My generation of gurukulis, gen Xers, grew up with those songs, and still remembered them as teens and young adults going on bus tours," Kartamasa says. "But the third generation of devotee children are not nearly as familiar with them, or with Krishna's pastimes in general. So my wife and I are trying to revive these songs. For 'Oh My God!', the students created their own modern versions of them, spending many many hours over months mixing samples and live performances in a parent's recording studio."
The sets and effects in 'Oh My God!' are particularly impressive. Again, students built the sets themselves, often without direction. For a Vrindavan forest scene backdrop, for example, they Googled images of trees, rivers and more and copied them as best they could. Some scenes, like the skull entrance to Putana's cave, took many hours to create, for only a couple seconds of screen time.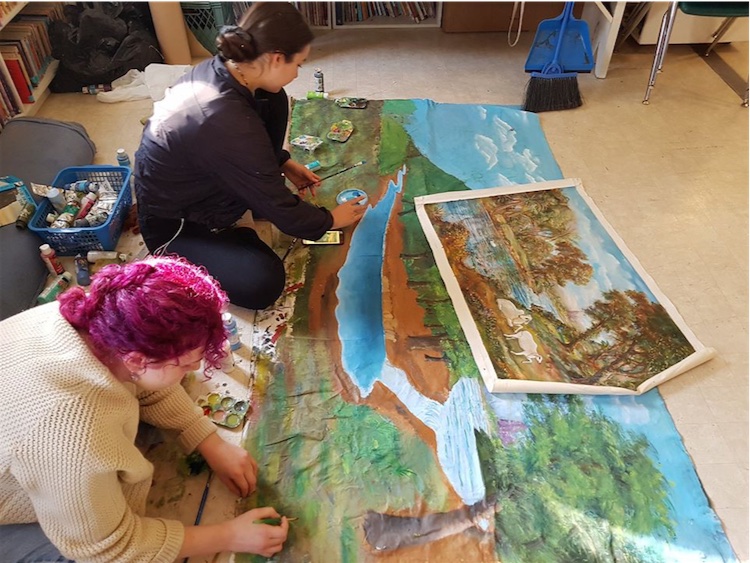 Vana Fournier, 18, and Revati Dasi, 16, paint the backdrop for the Vrindavan forest scene (also painted by Shyama Fournier and Lila Battisini)
"One student, Shyama Fournier, was not even able to do any voice recording or music, because we were so dependent on her artistic talents to complete the sets," says Kartamasa.
Lots of ingenuity was applied to create special effects. One boy, Giri Fournier, created a Trinavarta puppet using a drill-powered whirlwind made from Styrofoam. He also constructed a large cylinder so that debris could be blasted around inside without dispersing, using his dad's leaf blower.
Another boy, twelve-year-old Ayden Hollihn, bought a green screen and green body suit with his own money in order to enhance Putana's flying scene.
Filming, meanwhile, was very challenging. "We started the project because a potential donor pledged to give us a first-class camera, but that never materialized," Kartamasa explains. "So Ayden used his own camera and did the filming himself, until that inexplicably stopped working halfway through. The rest of the production was completed with an assortment of phones and cameras, all of which had their own quirks."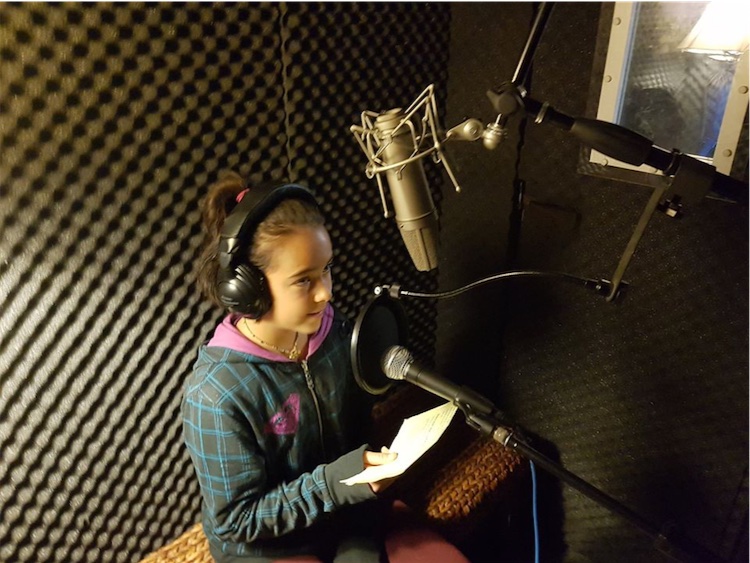 Ani Fournier, age 10, records vocals for the Mother Rohini puppet
The editing process was also extremely arduous, with students going through hours of footage daily to get several minutes of useable shots.
"Thankfully Krishna sent reinforcements somewhat miraculously, right when we really needed them," Kartamasa recalls. "They came in the form of a young man traveling across Canada, who really enjoyed video editing and did all the rest of it for us, before heading off on his next adventure – a dog-sledding excursion in Northern Canada."
All of this was made exponentially harder by the fact that Saranagati is an off-grid community, and the team ran out of electricity multiple times during the shoot since all their equipment took more power than they could produce.
All told, students worked on the thirty-minute movie a minimum of fifty hours at school, and at least double that outside of school hours.
The puppet movie.
"One must keep in mind that a team of adults could have produced this in far less time, but that was not our aim," Kartamasa points out. "Our aim was to immerse the students in Krishna Balarama's pastimes, and engage them in devotional service."
He adds: "We feel the students will be more confident and empowered now that they have worked on this major project, largely on their own. And we expect that with this confidence and enthusiasm as a foundation, they will similarly tackle even larger projects that glorify Krishna later in life. We're certain, too, that they will always know all these songs and stories about the Lord's pastimes, and will think of Krishna with the natural affection that comes from sharing childhood experiences."
* * *
Watch the teaser video: https://youtu.be/JsgGJ8tqTig
Album of photos of the production: https://www.facebook.com/pg/GovardhanaAcademy/photos/?tab=album&album_id=10158249044175982
A behind the scenes video made by an 11 year old student: https://youtu.be/GYnIEskx99o
[
canada
] [
puppet
] [
puppetfilm
] [
saranagati
]