for ISKCON-London Communications on Oct. 19, 2017
As summer wound down to give way to autumn, ISKCON-London ushered in the seasonal transition with its own kirtan weekend on Saturday 30th September and Sunday 1st October.
A line-up of accomplished devotional practitioners led an ongoing sequence of kirtan sessions, offering a wholly absorbing and resonant spiritual adventure to all those who were fortunate enough to take part in this well-received event.
World-renowned kirtaneers such as Amala Harinam dasa and Nadiya devi dasi, key 'Kirtan London' team-members and regular contributors to mantra music projects and festivals Ananda Monet, Radhika Ranjana dasa, Ragelekha dev dasi and Davide Rocchi, seasoned kirtan artists and talented performers like Abhishek Singh, Caitanya Cintamani devi dasi and Kishori devi dasi, not to mention long-term aficionado Jayadev dasa, each took their turn at the musical helm, along with a host of other capable vocalists and instrumentalists.
'London Mellows' was consistently well-attended throughout both its scheduled days, with the Temple Room often filled to capacity as participants sang, clapped, sometimes danced or even played small percussion instruments such as cymbals and tambourines to augment the flawless timing of proficient kirtaneers who kept the enduring beat and age-old mantra rhythm moving with tabla drums or bass guitar.
In classic kirtan fashion the melodic format alternated between softly expressive 'call' and soaring moments of rousing 'response', as everyone within the Temple walls was able to play a part and make their own contribution to a mellifluous medley of sacred sound and song, thereby immersing themselves unreservedly into what was intended to be a totally interactive experience.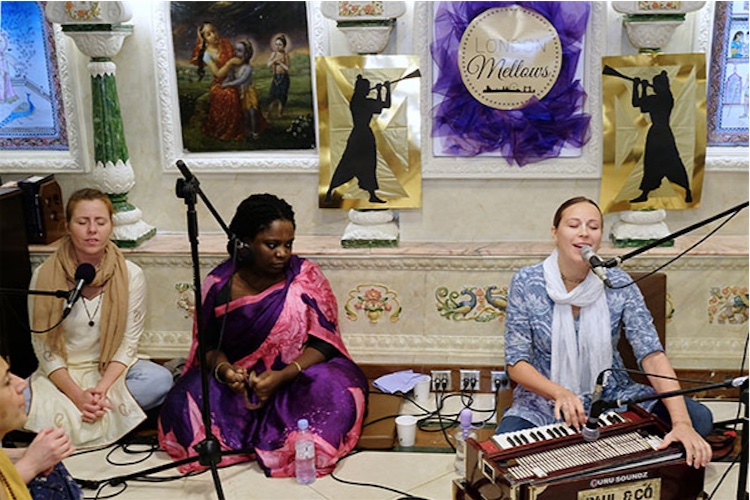 Ananda Monet leading kirtan
Kirtaneer Jayadev dasa shares: "What is so inspiring about London Mellows is that so many kirtan artists get to share their God-given talents with a packed audience of chanters and great back-up musicians. It is a dream for chant-leaders and a joy for followers. The leader is able to give of their best and, by the grace of the beautiful Deities, who, are (dare I say!) sharing everything with relish, your heart strives for purer and sweeter chanting."
"Thus your spot is over within a thrice, as time always flies when you're chanting with bliss at London Mellows."
At specified intervals, the main focus turned from the singers and players to the Deities, Their Lordships Sri Sri Radha-Londonisvara, as darshan (scheduled sightings to invoke connection between Deities and devotees) - and arati (offering of auspicious items such as flowers, incense, water and the waving of lighted wicks to infuse the flames with the Deities' love and blessings) took place.
However, such was the overall fluidity of this (nonetheless cohesive) gathering that participants could come and go without restriction throughout. Those with more time to devote could stay the entire course if they wished, while those with prior commitments were able to work around them, and return to the Temple later if they chose to.
Attendee Janice, of East London, enthused: "It was awesome, such an immersive experience. It's so beautiful inside the Temple and it's like being cocooned from the outside world. The stress just falls off you. The kirtan-singers are amazing and it's great to be able to join in without worrying about what you sound like!"
Of course, it's wasn't just the musicians and pujaris (attendants to the Deities) that made the whole occasion so memorable. There were, as ever, many volunteer-team hands on deck, all involved in making sure everything ran efficiently, from those upstairs greeting new arrivals with a radiant smile, a warm welcome, and even a bright flower, to those downstairs in Govinda's Restaurant serving up an appealing palette of colours, tastes and textures that made for splendid evening prasadam (sanctified food).
When this two-day mantra marathon eventually reached its Sunday night finale, everyone involved could take away their own unique memories and lasting impressions from what was a resoundingly successful celebratory and truly unforgettable weekend.
In the words of performer Radhika Ranjana dasa: "It was so wonderful to be among the devotees at London Mellows this year! The kindness and sincerity among the organisers and those present meant the ground was fertile for the chanting of the Holy Name for the pleasure of Sri Sri Radha-Londonisvara. Looking forward to many more opportunities to chant with you all soon!"
[
kirtan
] [
london
] [
music
]