for ISKCON News on Aug. 24, 2017
Brinda Raval, 21, is offering an inspirational example of how young ISKCON devotees can engage with today's global concerns.
"I'm very interested in social justice issues, and how as a devotee and a spiritual person I can use that to serve," says Brinda, who is pursuing a degree in medicine at New York's Sarah Lawrence College.
Through a rigorous application process, Brinda was recently accepted to attend the UN Summer Youth Assembly at the UN Headquarters in New York City.
Since the Assembly's theme was "equity and inclusion for a sustainable future," she was there as a Representative for the Bhumi Project, an ISKCON-devotee-run effort which unites Hindus around the world to address environmental isues.
In the future, Brinda also hopes to empower women in disadvantaged communities to have better health through improved access to healthy food.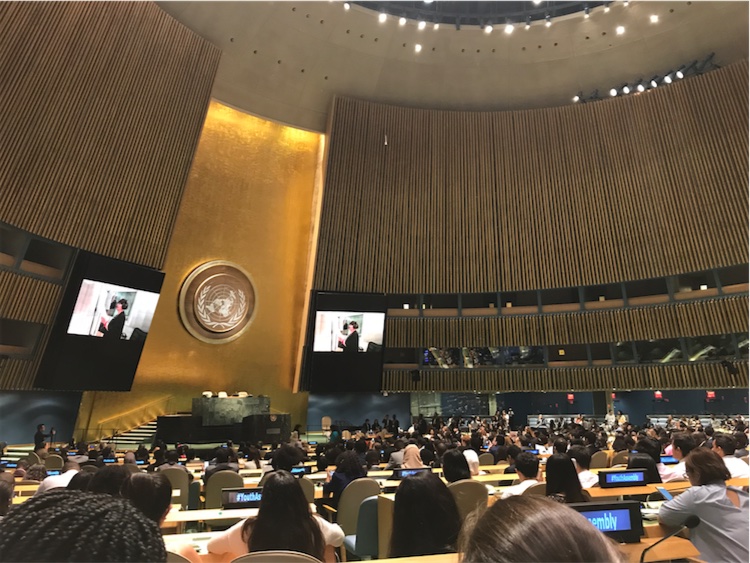 1,500 youth from 110 countries gathered at the UN Youth Assembly
She attended the Assembly along with 1,500 other young people from 110 countries, representing groups related to hunger eradication, women's rights, education, refugee help, and climate change.
Youth were asked where they fit into the sustainable future theme and what they could contribute to it.
Small group workshops in the Assembly allowed all the youth leaders to meet each other, share ideas and be inspired by each other's work.
"There were also practical workshops on topics like applying for grants, project design, and values-based communication – basically how to get your message out there," explains Brinda, an intelligent and eloquent young woman. "There were also larger panels featuring U.N. officials directly involved in certain issues. Since we were all working on a very micro level in our communities, their talks gave us an opportunity to see what happens on a macro level – in the U.N. and internationally."
Brinda also learned from youth in third world countries about how youth are involved in peace efforts in conflict zones, as well as in fighting poverty and climate change.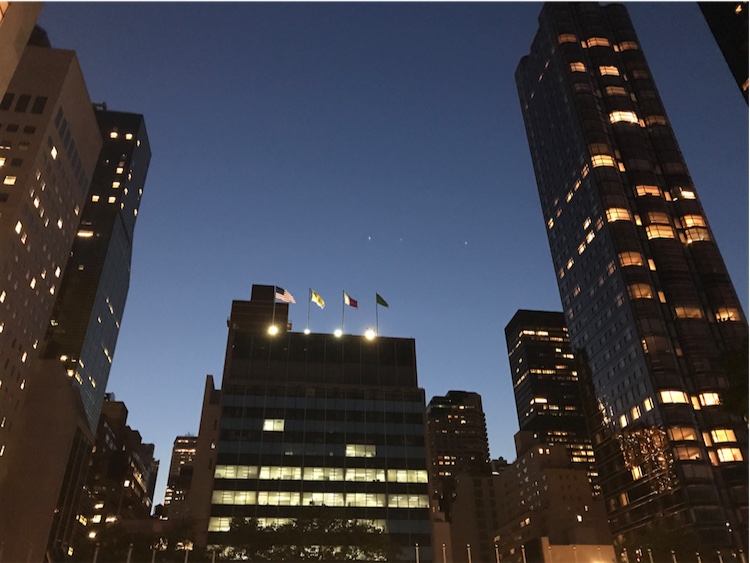 The event took place at the UN Headquarters in New York
"I was inspired to see that there are a lot of people who care, and a lot of service to do in the world," she says. "As a devotee, I think our Vaishnava values can really bring a unique perspective to this conversation – our ideas of compassion for all living entities, service to all, and the kind of soft-heartedness and humility we try to cultivate."
Of course, devotees tend to focus on spiritual efforts. But that doesn't mean we're not part of the world. "We're not living in a vacuum," Brinda says. "The issues we discussed at the Assembly affect devotees too. And not only that – they affect the way we engage with people, because people respond to our character."
What's more, Brinda says, with major changes coming in the future for our world, devotees should have a say in building that future, "Because we have something very valuable to bring to it."
And people, she is sure, want to hear what we have to say. "At the Assembly, people often asked me about our perspective on climate change and other issues," she says.
The answers lie in Srila Prabhupada's own example. "Srila Prabhupada wanted sustainable farm communities; he wanted character-building education for the children of our movement," Brinda says. "This tells me that he wasn't thinking in the short term. He wasn't thinking that devotees were all going to live in a bubble and not engage with the outside community. He was very much thinking of how to build a global community."
[
second-generation
] [
un
]