on Oct. 30, 2021
Radha Sivyer, a second-generation devotee and member of the Bhaktivedanta Manor community in the UK, is currently demonstrating his impressive woodworking skills as a contestant on Channel 4's Handmade: Britain's Best Woodworker.
Also known as Radha Vinode Das, Radha was born and raised in Wales, and moved with his family to the Watford area near Bhaktivedanta Manor, England at the age of 12. Over the years, his services included participating in yearly getaways with the Pandava Sena youth group, helping facilitate their fortnightly "Harrow Jamming" get-togethers, and traveling the world with the Bhaktivedanta Players drama group, performing at various temples.
Instantly likeable, Radha is tall, effusive and energetic, with an ever-present smile on his face. Now 25, he began learning woodwork at the age of 15 with his uncle Ganga, an expert furniture maker.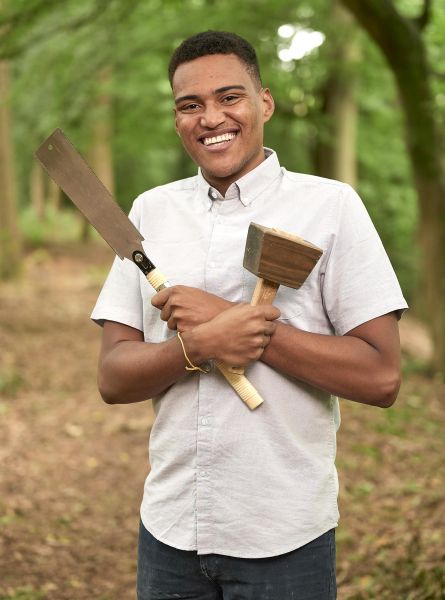 "He got me tools, and we'd make little swords for my brothers Kavi and Isha and I, and we'd all fight with them until they'd break," Radha recalls. "Then we'd go back into his workshop and make some more!"
Using the mini lathe his uncle gave him, Radha also discovered he could make ornamental wooden mridangas for his mother's deities. A video he posted to Facebook received about 10,000 views, and he was inundated with orders – he's since made well over 100 deity mrdangas.
Meanwhile, Radha began studying product design at university, then went to work in the furniture-making industry during his gap year, for a company that made bespoke fitted cabinetry. Although he was supposed to be working in the office, he quickly found himself on the workshop floor.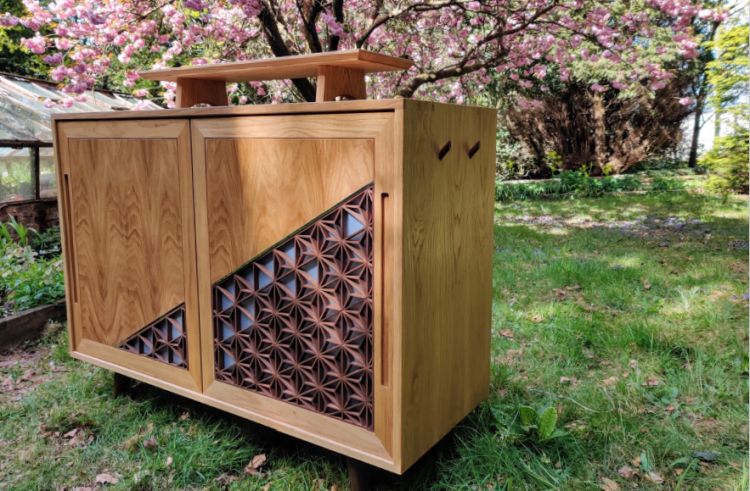 "That's when I started to really feel like I was in my element – working with wood, which is alive, and always moving, and you can get so fine and detailed with it," he says.
After his final year of university, Radha continued working with the company. That's when he received a message from a devotee suggesting he apply for a new TV show.
The audition process for Handmade: Britain's Best Woodworker was a challenge. Working 12 hours a day including a long commute with the furniture company, Radha would return home to an email from the show, asking him to present designs for various items he'd never attempted before, such as a bed or a bridge. Progressing through several stages of elimination, he was eventually asked to do a making challenge over Zoom – creating a birdhouse in two-and-a-half hours that told a personal story, while narrating the process as he went.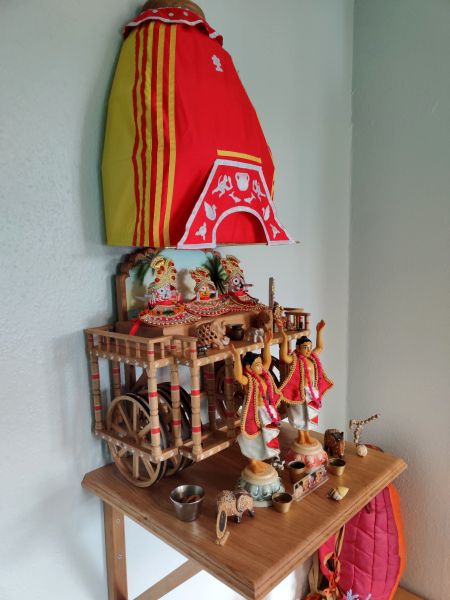 Radha carved a birdhouse in the shape of a small chatri, the ornate, dome-shaped pavilions that decorate sacred temples and pilgrimage spots in India such as Kusum Sarovara. "I decided to connect the birdhouse to Indian architecture," he explained, "Because I'm a Hare Krishna, and it's a big part of my life."
Radha eventually found himself amongst the nine contestants selected to appear on Handmade: Britain's Best Woodworker, narrowed down from a pool of 500. After years of hard work and self-critique as a maker, he says, this came as a welcome validation.
The show was filmed at the picturesque Brecon Beacons National Park in Wales, with the contestants and crew of 65 isolating in a Covid bubble without returning home throughout the shoot.
"It was such a good experience," says Radha. "Everyone was super friendly."
The series debuted on Channel 4 on Thursday October 21st at 8 pm, with a new episode of the six-part series airing each week. Billed as carpentry's answer to the Great British Bake Off, the show is hosted by former Bake off host Mel Giedroyc, and judged by award-winning architect Alex De Rijke and founder of the London School of Furniture-Making Helen Welch. Nine of the country's most talented craftspeople compete in a series of challenges to be crowned Britain's Best Woodworker, with one contestant being sent home at the end of each episode.
While introducing Radha on the show, Mel Giedroyc mentioned his training in his uncle's workshop, and how he made "religious shrines." A picture of a Rathayatra cart-style altar Radha had made for a devotee, with Lord Jagannatha, Baladeva and Subhadra and Gaura-Nitai on it, was then shown on the primetime Channel 4 show.
In each episode of the show, contestants create a hugely impressive "Big Build," and also participate in a skills challenge during which they learn an entirely new woodworking technique.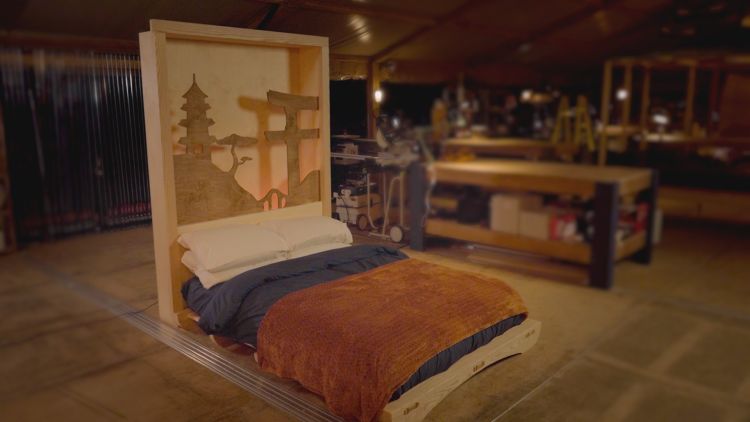 For the Big Build in episode one, contestants had to build a 2 x 2 meter double bed, a scale Radha had never worked on before; and within 18 hours, when he was used to spending hundreds of hours on a project. Radha created a Japanese-inspired low bed made from ash, birch and walnut, with a silhouetted scene making up the headboard. His use of Japanese joinery, in which joints are held together using the wood itself without any glue, nails or screws, impressed the judges.
"In the first episode, I ended up winning woodworker of the week, which is the equivalent of Star Baker in Great British Bake Off," he explains. "I couldn't believe it – I was convinced I was going home!"
As the show continues airing, Radha has set up his own business, Atma Furniture, since finishing filming. He specializes in fine furniture-making, investing hundreds of hours into creating well-constructed, heirloom quality pieces. So far 100% of his clients have been devotees, and he's worked primarily on altars, as well as cabinets, wallhangings, and picture frames, made from solid hardwoods such as oak, beech, walnut and ash.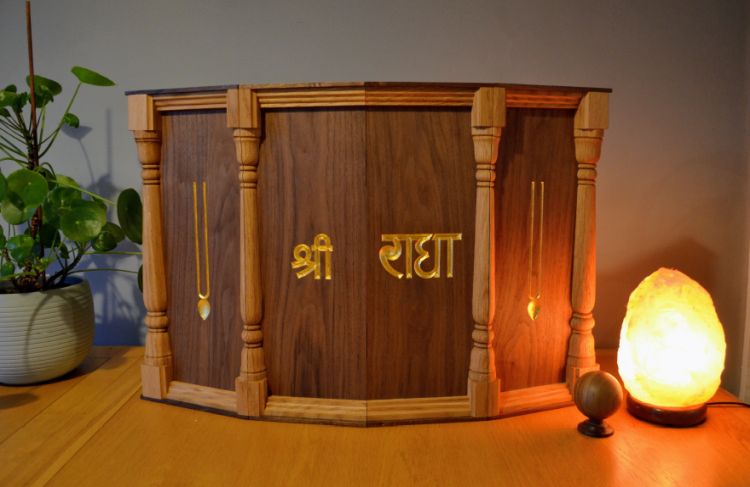 "I can entirely put all of my success into the devotee community's hands, and say thank you for supporting me and encouraging me through my social media pages and in everything I do," Radha says. "I started my business not knowing where my first job was going to come from. And immediately, I had devotees coming to me saying, 'Can you make a screen for my deities? Can you make an altar? Can you make this wallhanging? Can you make these cabinets for me?' I wouldn't be here without the devotees."
Going forward, Radha has been asked to create several large scale altars for some major temples in the UK.
In the meantime, he says, "I'll continue to strive to bring quality to altars and paraphernalia for deities. I want to make sure that whatever I'm presenting is the best quality possible for Krishna."
Handmade: Britain's Best Woodworker airs on Channel 4 in the UK every Thursday at 8pm.
Find Radha Sivyer online at @RadhaSivyer on Instagram, Facebook, Twitter, and LinkedIn.
[
bhaktivedanta-manor
] [
bhaktivedanta-players
] [
second-generation
] [
television
] [
woodworking
]