for ISKCON News on Sept. 22, 2016
An Illustrated Series Based on the Ramayana by Vrinda Sheth (Author), Anna Johansson (Illustrator).
On August 27th, a new book, the first one in an illustrated series based on the Ramayana, entitled as Shadows of the Sun Dynasty, has been launched in front of hundreds of people in the audience at the Cofrin Theater in Gainesville, Florida, USA, with the participation of the author Vrinda Sheth, a well-known classical Indian dancer and a writer, and the illustrator, her mother, Anna Johansson, a Swedish watercolor artist.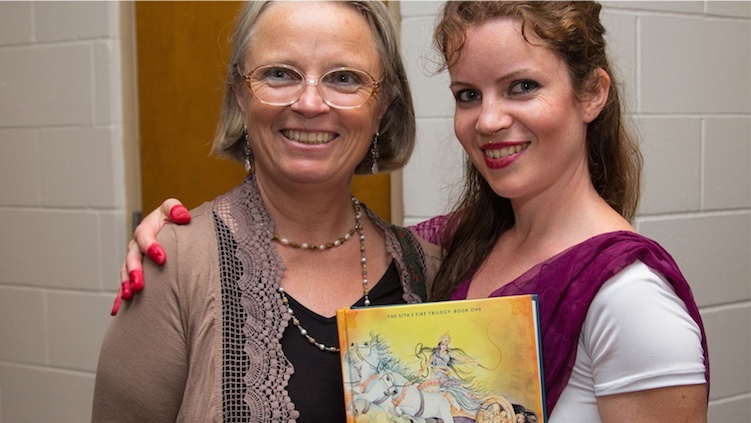 The mother-daughter team: Anna Johansson (left) and Vrinda Sheth.
The book launching was a spectacular cultural event on its own with lively musical performances by Gaura Vani, Vishvambhar Sheth and others, the author's reading some of the most intriguing chapters while beautiful illustrations from the book were projected on the screen, also with bringing some of the most dramatic scenes in the story to life by extraordinary acting and dancing performances by Vrinda Sheth and Anapayini Jakupko.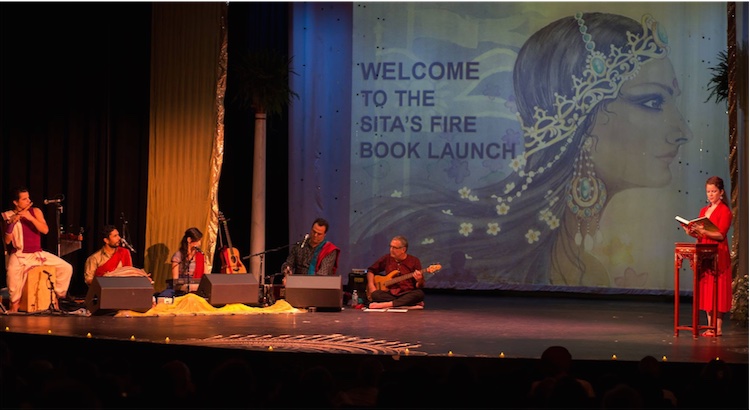 Vrinda reads from the book while there is live music on the stage and illustrations projected on the screen.
The Shadows of the Sun Dynasty is a deluxe illustrated novel adaptation of the Ramayana—the classic Hindu epic—pairing divinely inspired art with intimate portrayals of Rama, Sita, Lakshmana, Ravana, and many more.
In the royal city of Ayodhya, a realm ruled by the Sun dynasty, where peace reigns among the citizens while discord simmers behind the palace walls, a prophecy predicts that a son of the Sun dynasty will slay the immortal Ravana and defeat his demon army—but how will a mere human succeed where all the gods have failed?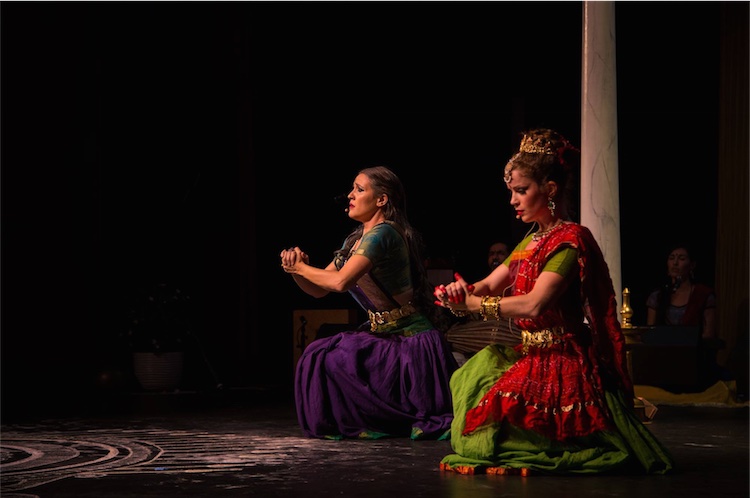 Vrinda Sheth (right) as Kaikeyi and Anapayini Jakupko as Queen Kaushalya did an extraordinary performance.
Meanwhile, Ayodhya's emperor is torn between his own needs and the needs of the empire. His rebellious third wife, Kaikeyi, raised as a warrior, is haunted by her past. A defiant servant, stigmatized by her deformity, is willing to destroy the empire to achieve her own aims. A prince, unaware of his own divine origin, falls in love with a princess so extraordinary even the all-seeing sages cannot fathom her destiny. Shape-shifting blood-drinkers from the celestial realm fill the forests around the city, and the time of prophecy is drawing near—but will the blessings of the gods be enough to fend off the darkness growing in the heart of Ayodhya?
A truly original reimagining of the classic Indian epic, the Ramayana, as told primarily through the eyes of the women behind the throne, Shadows of the Sun Dynasty reveals an entirely new perspective on an ancient story.
Set in a world of kings and queens, celestial battles, invisible foes, and family rivalries, this epic tale forges legends in the fires of betrayal and prophecy.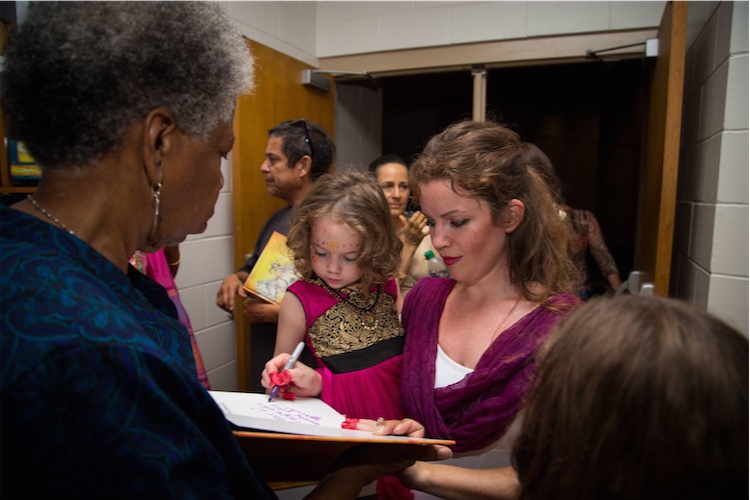 Book signing after the performances.
Some opinions about the book:
"Vrinda Sheth's brand new retelling of the Ramayana brings the great epic vividly to life. She weaves an insightful story around the original narrative, plunging us deeply into the drama filled lives of its many fascinating characters. A highly entertaining read that never loses sight of the profound spiritual themes that run through the revered classic. Moving and uplifting. I can hardly wait for the next two volumes."—KRISHNA DHARMA, author of "The Ramayana: India's Immortal Tale of Adventure, Love, and Wisdom."

"Reader, be prepared for a treat. Vrinda Sheth's Ramayana is far beyond routine story-telling. Her telling is full of the kind of personal detail and insight that comes from knowing her subjects at a heart level." — RANCHOR PRIME, Author of "Ramayana: A Tale of Gods and Demons."

"What especially stands out in this edition of the Ramayana is the celebration of the feminine voice: the female characters who would normally be overshadowed by their male counterparts are now invested with agency and power. The extraordinary positive contributions from such female personalities leaves the reader with a fresh view of this amazing tale." — GRAHAM M. SCHWEIG, PHD, author of "Bhagavad Gītā: The Beloved Lord's Secret Love Song."
* * *
The book could be ordered from Amazon.com: https://www.amazon.com/Shadows-Sun-Dynasty-Illustrated-Ramayana/dp/1608878716
[
anna-johansson
] [
ramachandra
] [
ramayana
] [
sita
] [
vrinda-seth
]