for ISKCON News on Dec. 1, 2018
Argentina saw a unique moment in ISKCON's history on Thursday November 22nd. Two major Ratha Yatra festivals took place at the same time on both sides of the country – one in its capital city Buenos Aires, on the East Coast, and one in Mendoza, on the Western border of the country, at the foot of the Andes mountain range.
Hundreds of people participated in the Mendoza Ratha Yatra, reveling in the color and joy of the procession as Lord Jagannath's chariot made its way around the park's central lake.
Many honored mahaprasadam offered to the Lord of the Universe, including hundreds of kilos of nuts and cherries. Devotees also passed out large quantities of burning incense to people strolling in the park, who were delighted to receive the gift and smell its incredible aroma.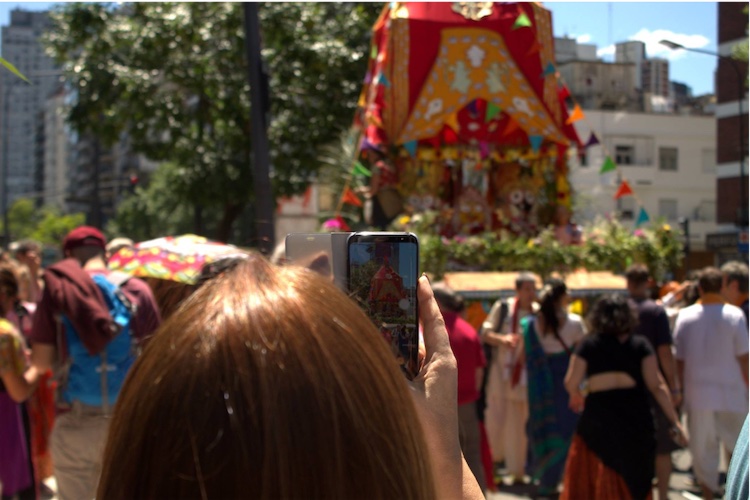 A passerby snaps a photo of the Lord of the Universe
After the procession, people also chanted along with the Hare Krishna maha-mantra as devotees performed kirtan in the park.
Meanwhile in Buenos Aires, the Festival of the Chariots drew over 6,000 people, who couldn't deny the appeal of its singing, dancing, and positive energy. The sunny spring day (spring in Argentina runs from October to March) was an added bonus that yielded a truly unforgettable afternoon.
Before the parade departed from Plaza Las Heras, Indian Ambassador Sanjiv Ranjan offered a lamp to the Deities of Lord Jagannath, Baladeva and Subhadra. Then, accompanied by dancing and chanting of the Hare Krishna mantra, the procession made its way along Avenida Santa Fe.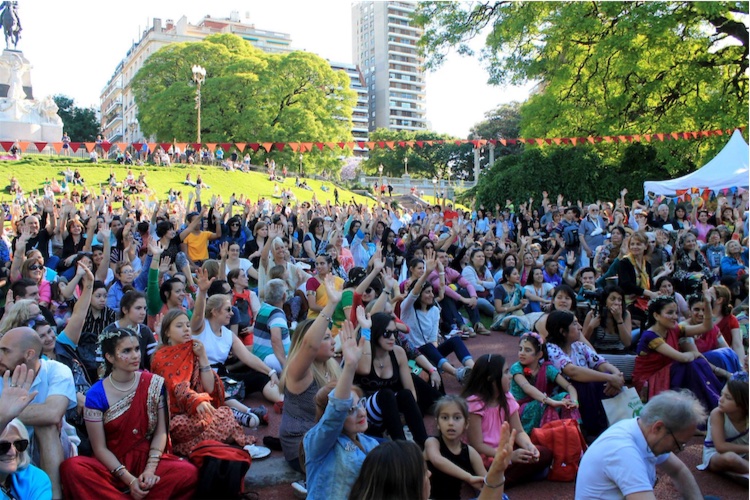 The audience chant along at Buenos Aires Rathayatra
Upon arriving at the Plaza Miter, where thousands of people thronged, long lines of diners formed to receive free trays of vegan food and lemonade with ginger and mint. Other festivalgoers congregated in a variety of different tents to recite devotional mantras, practice meditation or hatha yoga, and purchase books on Krishna conscious philosophy or vegetarian cooking, as well as clothes, accessories and souvenirs from India. Others sampled the vegan food tents, picking up juices, pizzas and vegetarian snacks.
Relaxing on the grass or sitting back in their folding chairs, they then enjoyed the four-hour show from the Ratha Yatra's mainstage.
MC Manohara Syam immediately got the audience on his side and elicited much laughter with his sympathetic delivery and humor. An experienced conjurer himself, his magic show featured incredible card tricks and handkerchiefs that changed colors.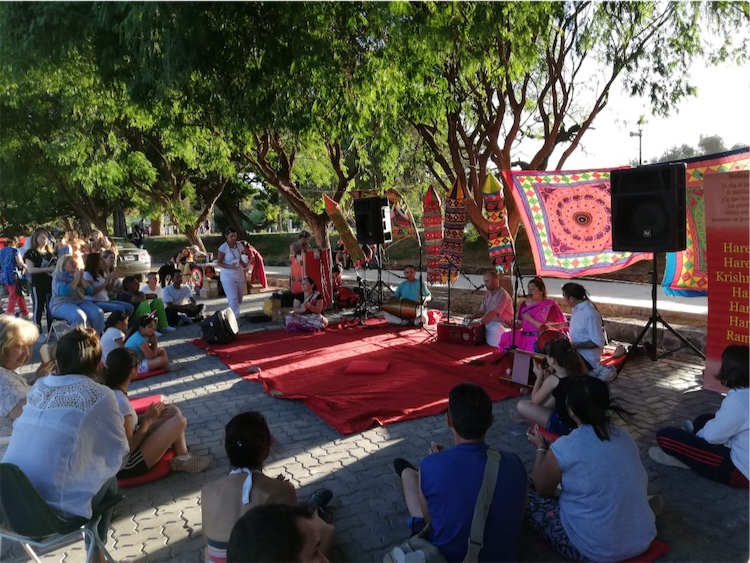 Devotees chant for the public during the Mendoza Ratha Yatra
Among the other offerings were classic Odissi, Bharatanatyam, and Kuchipudi dance; devotional rappers Cause and Effect; and bhajans by German preacher Bhakti Gauravani Goswami and his band.
Another hit was "The Walking Monk" Bhaktimarga Swami, who presented his play "Many Fathers, Many Mothers" about King Chitraketu's son, who came back to life to explain philosophy to his father.
Bhaktimarga Swami also conducted the final uproarious kirtan of the festival.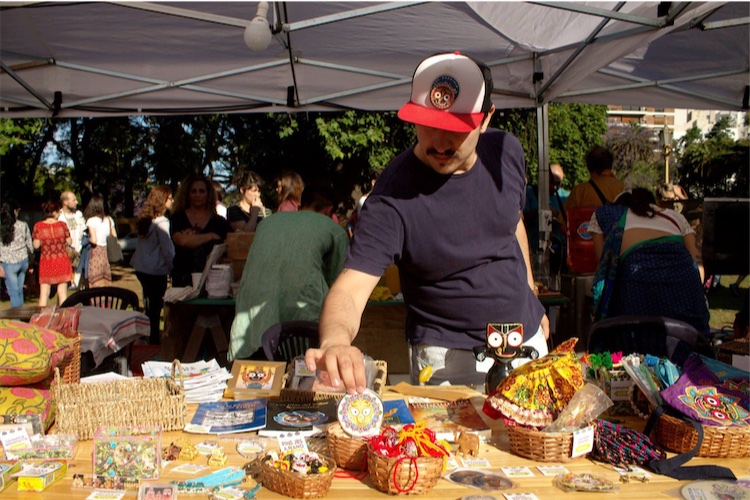 A festival attendee checks out Lord Jagannath souvenirs at Buenos Aires Rathayatra
"Kirtan is such a special union between musicians and audience in which everyone sings, everyone dances and everyone creates an atmosphere of wellbeing and healthy joy," says ISKCON Communications' South American Director Baladeva Das, who was in attendance. "And that just about sums up this November's Ratha Yatra experience in Argentina!"
[
aires
] [
argentina
] [
buenos
] [
ratha-yatra
]