Imagine this – you are a devotee of Krishna trying to follow Srila Prabhupada's teachings and you are one of the over 300,000 Indian, Bangladeshi, or Chinese migrants in Singapore. You are on a meager salary and on a work visa which does not allow you to bring your family or kids into the country and hence you live alone with 10-12 others in crammed dormitory rooms. You perform the backbreaking, 12-hours-a-day work to build Singapore's infrastructure. Then suddenly in late March 2020, the COVID-19 pandemic hits Singapore. The government isolates and locks down all the dorms. You cannot even go out to buy groceries or visit the Gauranga Center (the local ISKCON) for darshana and prasadam. How are you going to get access to prasadam!? And then please imagine this situation lasts over a year. A bit scary, isn't it?
Since the beginning of the global pandemic, the foreign workers in isolated dormitories are the most severely affected demographic in Singapore. More than 90% of the 60,000+ victims infected with COVID in-country live in these dorms (which includes several dozens of devotees). The devotee congregation of Gita Reading Society (GRS) - the local ISKCON organization - has been doing its part to help by delivering prasadam meals and as of the end of April, about 150,000 meals have been delivered to these affected workers.
"It is our duty to serve this hard-working community of migrant workers. Especially the devotees in this community are in dire need of prasadam" said Devakinandan Das, the local GBC representative in Singapore. He added that "Bhakti Charu Swami Maharaja, who departed from this material world last year, desired very much that these devotees be served prasadam, given their long hours of strenuous work and lack of proper facilities to cook and offer bhoga to the Lord in their dormitories. Maharaja also desired that a prasadam restaurant be always running in Singapore to serve the wider community."
The continuing legacy of prasadam distribution in Singapore
To fulfill Maharaja's desire, devotees led by Sanjay Ananda Krishna Das, Dhameshwari Radhika Devi Dasi, Krishna Candra Das, Shanta Nimai Das, and others contributed significant time and money to deliver prasadam to those affected in the dormitories. "For over 15 years Krishna Candra pioneered prasadam distribution in Singapore via Gopal's restaurant and now Sanjay Ananda Krishna has taken the mantel by starting Swaad", said Devakinandan Das.
At the beginning of the pandemic, the devotee team coordinated with local prasadam restaurants - Gopal's and Annalakshmi - to pack and deliver meals to the different dormitories in Singapore. To further make it sustainable, devotees have invested in a restaurant named Swaad in the little India area of Singapore to continue prasadam service to the laborer devotees and the wider community.
Sanjay Ananda Krishna Das said, "These workers are my brothers and I know them well. They normally can afford only S$80-100 per month on their food. Hence, we are grateful to the devotee community as well as many well-wishers and friends who came together to give donations and support this important service that will please Guru Maharaja. We are also grateful to Microsoft for giving us a generous donation towards this noble cause".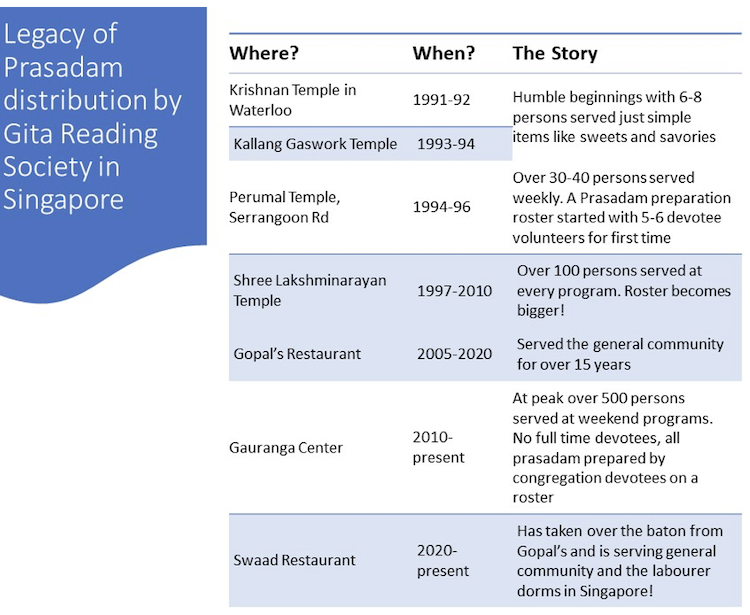 Grateful devotee laborers
Your correspondent had the pleasure of talking with the devotees who live in the dorms and have received prasadam via the efforts mentioned in this article. The outpouring of gratitude from these kind souls was overwhelming. One of them said that he feels this has been lifesaving for him and that he could not survive without the prasadam being delivered to his dorm while another exclaimed that he will be forever grateful for the help he has received from the Singapore congregation. Read at the end of the article a selection of further statements by the devotee laborers.
Swaad restaurant is a platform to sustainably deliver prasadam for the foreseeable future
Although COVID positive cases in dormitories have reduced in the last few weeks, there are still severe mobility restrictions imposed on its inhabitants. Since April the need for prasadam service for foreign worker devotees from Swaad is minimal. The team of devotees running the restaurant, however, remain committed to extending this wonderful service as it becomes needed again. Swaad continues to serve the broader devotee community and the general population, spreading awareness about prasadam - sanctified food.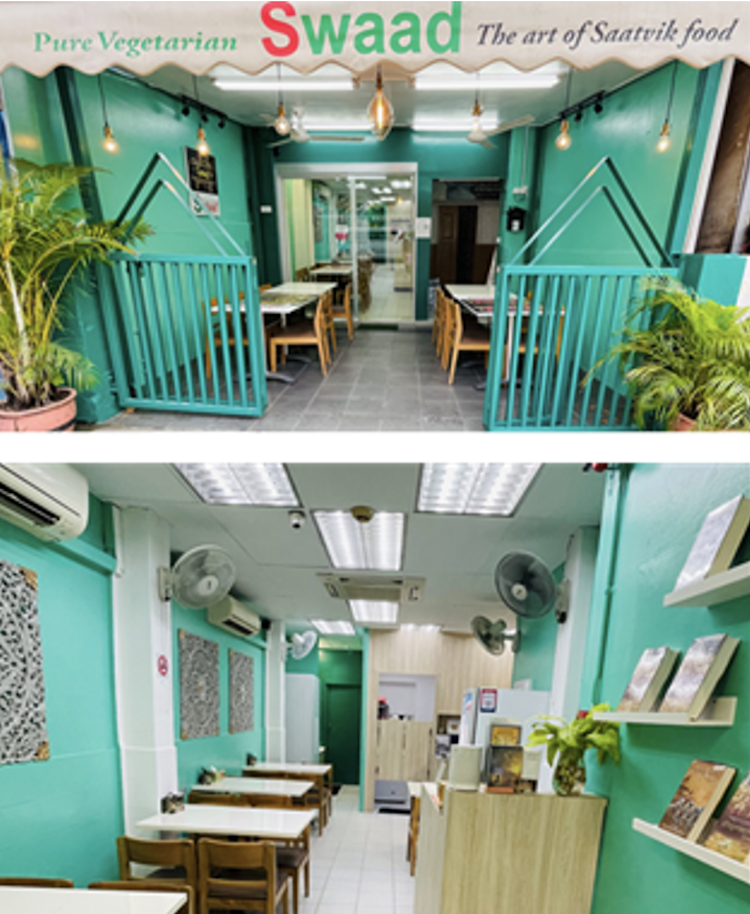 Selected statements by devotees living in dormitories
Premananda Das: On behalf of our devotees in the dorms, I went to GRS for help, and they really saved us by delivering wonderful prasadam throughout the pandemic.
Sushanta Krishna das: We are grateful to GRS for helping us in this covid pandemic time!
Pran Govinda Das: I stay in Tuas South 12 CDP dormitory with few more devotees and we get every day 3 times very nice prasad and also other things which we need for worship to Guru and Krishna. I am really grateful for this service.
Cittapriya Das: I was fortunate to have had the opportunity to taste the nectar of God's nectar in the 2020 high lockdown by the grace of the devotees of GRS.
Sada Shivananda das: We want to thank all Singapore devotees and local devotees. Covid-19 very difficult time prasadam service us by Gita Reading Society, Gopal Restaurant and Swaad Restaurant.
[
migrant
] [
prasadam-distribution
] [
workers
]