for ISKCON News on June 22, 2019
In an inspiring show of cooperation, six ISKCON-affiliated organizations in the New York area collaborated to put on a hugely successful Rathayatra festival this summer – Brooklyn's Sri Sri Radha Govinda Mandir, the Bhakti Center in Manhattan, 26 2nd Avenue, ISKCON of Queens, New Yoga Pitha in the Bronx, and the Yuga Dharma Ashram.
The festival ran from June 7th to 9th, beginning on Friday with two special kirtan events. The first took place in Tompkins Square Park at the Hare Krishna Tree, where Srila Prabhupada and his early disciples held the first outdoor chanting session outside of India on October 9th, 1966.
The four-hour kirtan set saw kirtaniyas of both first and second generations leading, such as Kadamba Kanana Swami, Radhanath Swami, Amala Harinama Das, and Jahnavi Jivana Dasi. About 200 devotees, along with a crowd of onlookers, participated enthusiastically.
"It was a good way to inaugurate the festival by going to Srila Prabhupada's tirtha, and getting the blessings of that sacred tree," says ISKCON Brooklyn vice-chairman Chaitanyananda Das.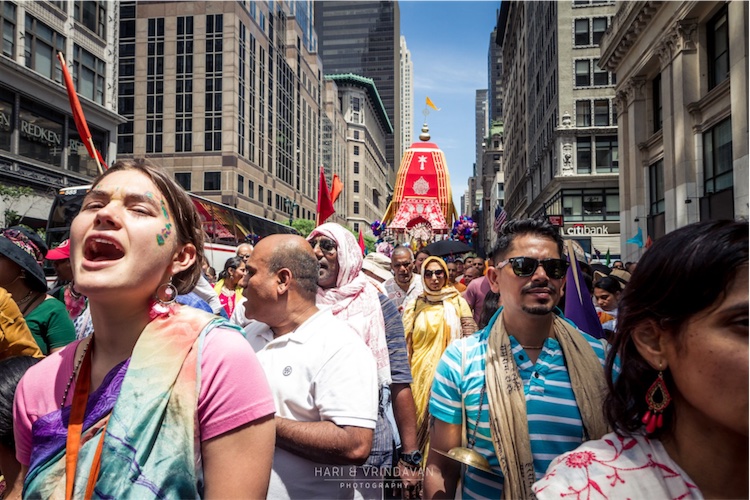 15,000 people participated in the Rathayatra parade which stretched for ten blocks down Fifth Avenue
From 4pm to 8pm later the same day, a second four-hour kirtan was held on a specially erected stage in the heart of Times Square, one of the busiest pedestrian areas in the world.
Against a backdrop bearing Lord Jagannath's merciful smiling face and the words "Hare Krishna Festival," devotees like Madhava Das, Akinchana Krishna Das and Rama Raya Das belted out the maha-mantra.
Many passersby joined hundreds of devotees in chanting and dancing joyfully through the Square. During the chanting, Yuga Dharma Ashram brahmacharis set up a book stall, and distributed many of Prabhupada's books, including full sets. Devotees also passed out thousands of welcome packets with brochures for the festival and temple, coupons for free books and Govinda's lunch program, and prasadam.
Devotees literally jump for joy during the parade
On Saturday, the world-famous New York Rathayatra Parade took place, with three 45-foot colorful chariots carrying Lord Jagannath, Baladeva and Subhadra down Fifth Avenue. The procession passed major landmarks like the New York Public Library, the Empire State Building, and the Flatiron Building on its way to Washington Square Park.
The parade stretched about ten blocks, with about 15,000 people participating, up significantly from previous years. Devotees came from all over North America, South America, Europe, India and Australia, including senior ISKCON leaders like Bhakti Charu Swami, Jayadvaita Swami, Radhanath Swami, Kadamba Kanana Swami, and Vaisesika Das. With them were thousands of Hindus, yogis, and intrigued members of the public who had received flyers.
Upon conclusion of the two-and-a-half-hour procession, everyone gathered at Washington Square Park for the post-parade event. Previously called Festival of India, this year it was known instead as "Hare Krishna Festival."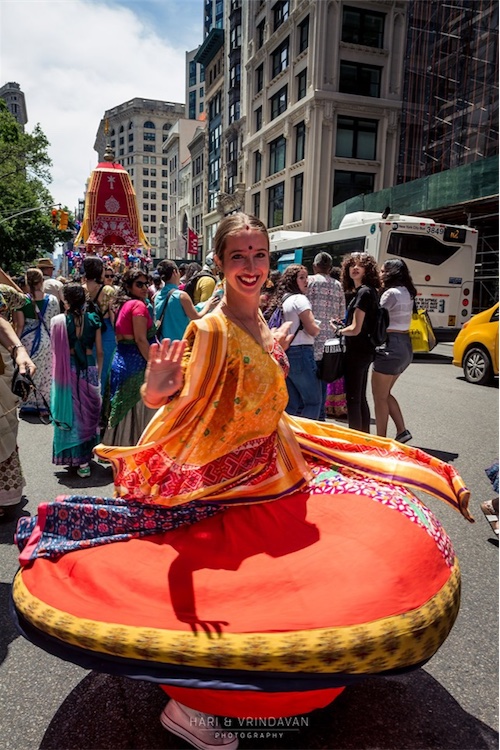 Komala Kumari Dasi dances for Lord Jagannath during the parade
"We thought this was a good opportunity for us to begin the rebranding process and go back to our roots," says Chaitanyananda. "So the whole festival was themed around sharing what the Hare Krishna Movement has to offer in New York City, which is actually being appreciated now more than before."
All the New York Hare Krishna temples and organizations hosted their own booths at the festival, sharing different aspects of their communities and projects. They were also joined by the Gita Nagari farm from Pennsylvania, which ISKCON New York had bought in 1975 in response to Srila Prabhupada's instruction that all city temples should have an affiliated farm project.
Another change this year was the lack of a performance stage – devotees chose instead to focus on the core activity of kirtan as their primary offering for the festival. Two kirtan venues pumped out the Holy Names continuously from 12pm to 7pm. Tulsi Gabbard, Congresswoman for Hawaii and a 2020 U.S. presidential candidate, lead kirtan for fifteen minutes at the main tent, which sat at the center of the park in front of the Jagannath deities. Devotees from the Yuga Dharma ashrama, who chant in the city daily, led at another tent in another section of the park.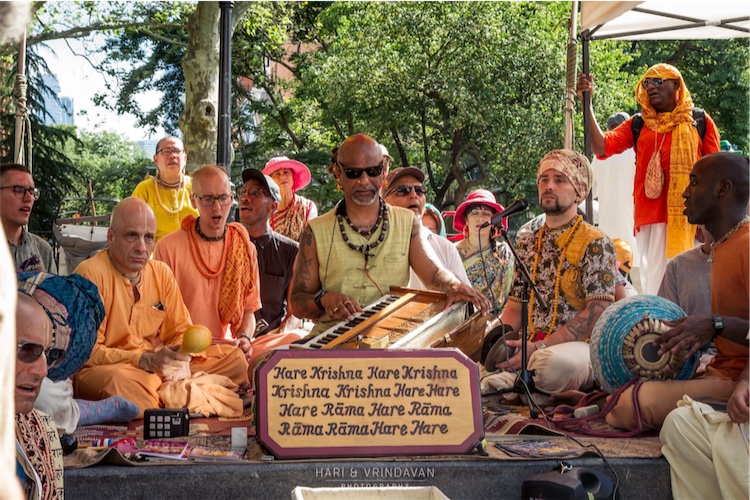 Madhava Das leads kirtan at one of the two kirtan tents at Washington Square Park
Elsewhere at the Question & Answer booth, knowledgeable and senior devotees fielded queries on Krishna conscious philosophy throughout the afternoon.
At the "Refresh Experience," festivalgoers could have a five-minute session with a Bhakti Center staff member in yoga or Ayurvedic marma therapy, mindfulness, and other restorative therapies.
A free feast was served to approximately 9,000 festivalgoers, nearly doubling the amount of prasadam distributed at previous Rathayatras.
A variety of vendors also served out delicious prasadam treats, including Gujarati snacks like pani puri from The Bliss Kitchen in Upstate New York, and comfort food from New Yoga Pitha and Gita Nagari.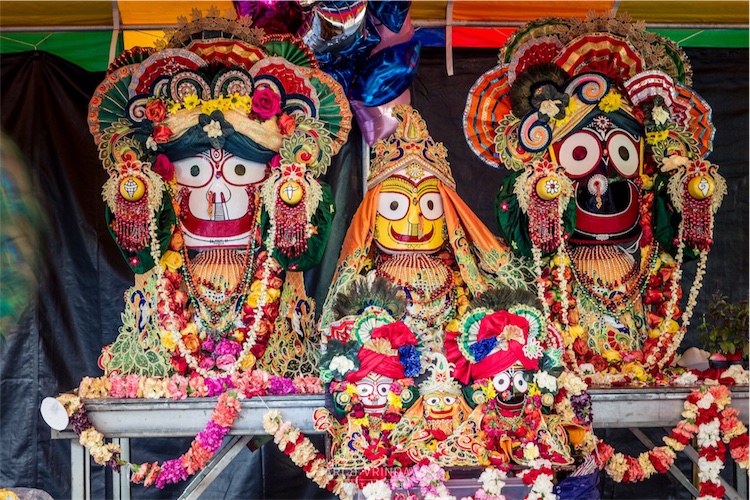 Lord Jagannath, Baladeva and Subhadra beam out from Their altar at Washington Square Park
"All in all the park event was lovely, the weather was wonderful, and devotees were very happy," says Chaitanyananda.
On Sunday, the third and final day of the Rathayatra, 500 festivalgoers tucked into ISKCON Brooklyn's famous post-Rathayatra brunch, with an astonishing seventeen preparations served throughout the day starting at 10am.
Meanwhile devotees weren't done chanting the Holy Names; the final Kirtan Mela ran all the way from 12pm till midnight. The ecstatic celebrations culminated in the first ever Pushpa Abhishek for Sri Sri Radha-Govinda, with pujaris showering Their Lordships with nearly 7,000 flowers, then hurling the offered petals into the crowd. Euphoric chanting, dancing and flower fights continued on into the evening.
This year's New York Rathayatra festival was notable because it was the first Rathayatra since ISKCON took over management of the Brooklyn temple after a series of court cases with the previous management.
After a few years of challenging times in the community, it was uplifting to see Brooklyn and all the other ISKCON temples in New York collaborating for the pleasure of Lord Jagannath and the devotees.
"Everybody could feel that there was a different, more inclusive and appreciative energy at the festival this year," says Chaitanyananda.
[
jagannatha
] [
new-york
] [
ratha-yatra
]