for ISKCON News on July 13, 2016
ISKCON-London launched its 50th Anniversary celebrations in August last year, with a festival celebrating the 50th Anniversary of Srila Prabhupada's departure from India to the West. Now, in this special month, ISKCON's incorporation month, a number of wonderful events have been planned.
What better way to kick-off the celebrations than with the chanting of the holy names? The events commenced with London Mellows kirtan weekend on 9th and 10th July. Kirtaneers from across the UK community came together to make a special offering of 24 hours of kirtan for the pleasure of Srila Prabhupada. It was recorded live by Radha Krishna Records, ISKCON-London's record label, and they will be producing a 50th Anniversary album which will be released later this year.

On the actual incorporation day, 13th July, there was an all-day festival at the Temple. This was a glorious day of celebration and Their Lordships were offered new outfits in honor of the occasion, there were special themed classes, kirtan, maha harinama, and prasadam feast. ISKCON-London joined Bhaktivedanta Manor on a joint initiative themed "Day of Gratitude" to distribute 5,000 cupcakes to commuters at key locations in central London.
(Read BBC-report about the event: http://www.bbc.com/news/uk-england-london-36786023?SThisFB%3FSThisFB)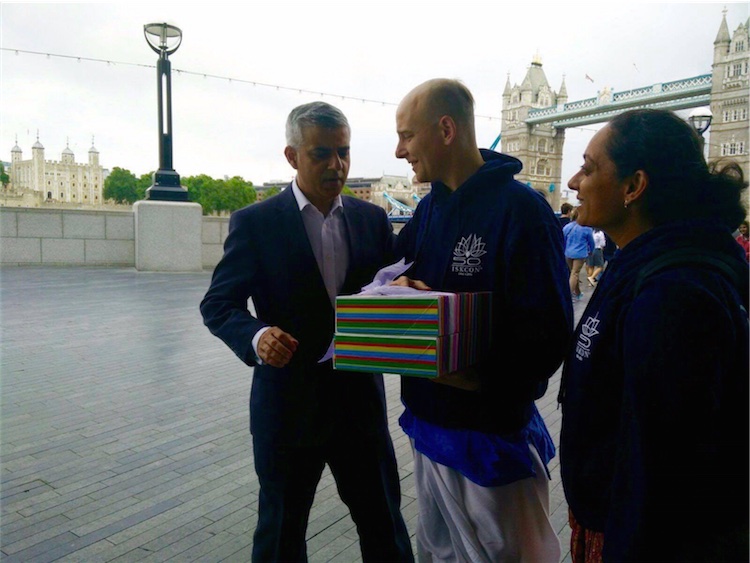 The Mayor of London was given boxes of cup cakes by devotees.
On the evening of 15th July, there will be an evening with Yogesvara dasa who will be launching his new book, 'Swami in a Strange Land' providing the community with an opportunity to further meditate on Srila Prabhupada's mood and pastimes.
The Incorporation Week will end with London Rathayatra on 17th July. Lord Jagannath will bring a splash of spiritual culture to the streets of Central London at the annual street parade from Hyde Park to Trafalgar Square, where the festival will culminate with stage performances, stalls and other festivities. This was one of Srila Prabhupada's favourite festivals that he brought to the West. In honor of the 50th Anniversary, there will be a special 50th booth, literature and activities to raise awareness of ISKCON amongst the public.
Srila Prabhupada emphasised, "Books are the basis of our movement". Any celebration is incomplete without the distribution of books. A 50th Anniversary Book Marathon will take place from 18th to 29th July.
On 29th July there will be an evening of bhajans with Agnidev dasa as part of the ISKCON50 Holy Name Series.
The third summer Open Day of the year will be taking place on 30th July, encouraging the public to explore contributions of ISKCON in the last 50 years. Newcomers are invited to find out more about the philosophy and practices of Krishna Consciousness.

The grand finale will be the Kirtan on the Thames Boat Event on 31st July. This National Signature Event will be a day of chanting, dancing and feasting on a cruise around the famous landmarks of London. Special lineup of kirtaneers will include BB Govinda Swami, Kadamba Kanana Swami, Agnidev dasa, Radha Londonisvara dasa and Jahnavi Harrison.
As well as ISKCON-London community members, Temple Presidents, community members and congregational leaders are expected from UK yatras including Birmingham, Bhaktivedanta Manor, Brighton, Closet Krishna, Crawley, Manchester, Newcastle, Nottingham and more, making it a truly national event. This will be a special event and one of the highlights of the year!
[
book-distribution
] [
kirtana
] [
london
] [
uk
] [
yogeshvara
]