for ISKCON News on Feb. 22, 2019
Renowned industrialists Sajjan Jindal Chairman of JSW group of companies, B. K. Goenka Chairman of Welspun group and Ashok Goel Chairman of Essel group along with Devakinandan Dasa, visited the world headquartes of the International Society for Krishna Consciousness on Sunday 17th of February, in Mayapur, Nadia, India, regarding the proposed plan of ISKCON to set up the Sri Chaitanya Cultural World Heritage Centre (SCCWHC).
Spread over 700 acre, ISKCON has decided to set up a Cultural World Heritage Centre at Mayapur, Nadia, the birth place of Sri Chaitanya MahaPrabhu and the spiritual headquarter of the institution. The construction of a grand temple, Temple of Vedic Planetarium (TOVP) is the first step towards it. The temple is expected to be inaugurated in 2022.
On Sunday morning, the illustrious group arrived at Mayapur by helicopter. They were warmly greeted and welcomed as per the Vedic traditions by senior leadrers of ISKCON Dayaram Dasa, Hrday Caitanya Dasa and other ISKCON leaders. After having darshan and offering arati at the Chandradaya temple the group travelled the entire landscape where ISKCON has planned to set up the Heritage Centre. Madhava Gauranga Das Vice Chairman of ISKCON Mayapur took them to see the Gurukula where where they were treated with sumptuous lunch Prasadam prepared by the students. The honoured guests expressed great appreciation for the beauty of the school.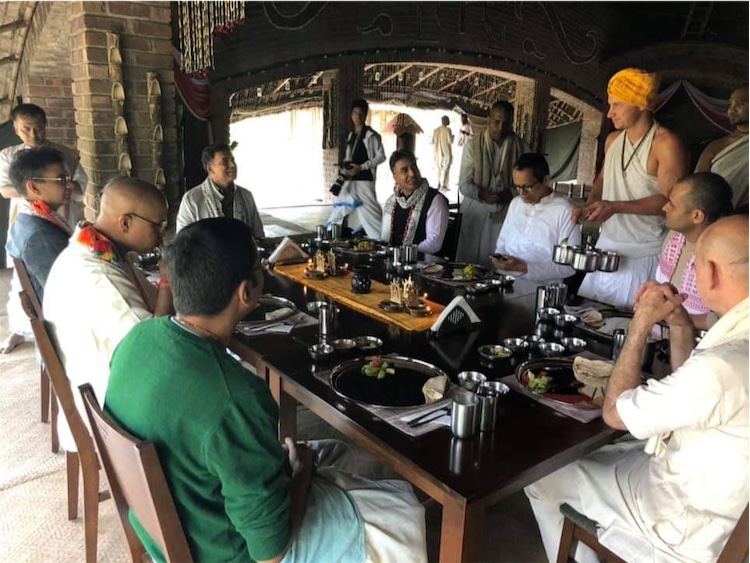 During the visit to ISKCON Mayapur the group also met Mr Alfred Ford, disciple of the founder Acharya of ISKCON A.C. Bhaktivedanta Swami Prabhupada. Mr Ford better known as Ambrish Das in the devotee community exchanged pleasantries with the visiting group of industrialists. They discussed at length the details of World Heritage Centre.
Later the top management of ISKCON shared the masterplan of the Heritage Centre with Sajjan Jindal, B K Goenka, Ashok Goel, Devakinandan Das and others. The masterplan was met with great enthusiasm and appreciation. Devakinandan Das has been meeting these illustrious leaders of Indian industry over many years and had with great fervour convinced them to visit ISKCON Mayapur. After this visit and seeing the holy place of Mayapur Sri Sajjan Jindal along with Sri B K Goenka and Sri Ashok Goel where convinced to assist in the future development of this heritage city, and at the request of Devakinandan Das and other ISKCON leaders, agreed to form a committee to steer its development.
[
chaitanya
] [
heritage
] [
industrialists
] [
mayapur
] [
tovp
]