for ISKCON News on Jan. 17, 2020
On January 10th, 2020, devotees at ISKCON Mayapur celebrated Pusya abhiseka, offering Sri Sri Radha-Madhava and the Asta Sakhis outfits made entirely of flowers, and showering them with baskets and baskets of multicolored flower petals.
In the Skanda Purana 2.2.42, Sri Krishna Pusya abhiseka is described as one of the festivals observed for Lord Jagannath in Puri. The chapter gives an elaborate description of the rituals. In Skanda Purana 2.27.99, the pusya naksatra is also mentioned, wherein it is stated that on a Thursday, Astami tithi, during Sukla-paksa of the month of Vaishakha, in conjunction with the Pusya-naksatra, on that day Lord Jagannath was installed in the original temple in Puri.
Flowers are a special part of the Vaishnava tradition. It is the way to honor special guests. It is the way to honor the spiritual master and the Vaishnavas. It is a form of worship, a form of appreciation. Offering flowers is a simple service for Krishna but it's a deep meditation, whether it is stringing flowers together or pulling them apart, with every flower, meditation should be an offering out of love and devotion to Krishna.
"patram puspam phalam toyam / yo me bhakta prayacchati"
Krishna says "If one offers Me with love and devotion a leaf, a flower, fruit or water, I will accept it." - BG 9.26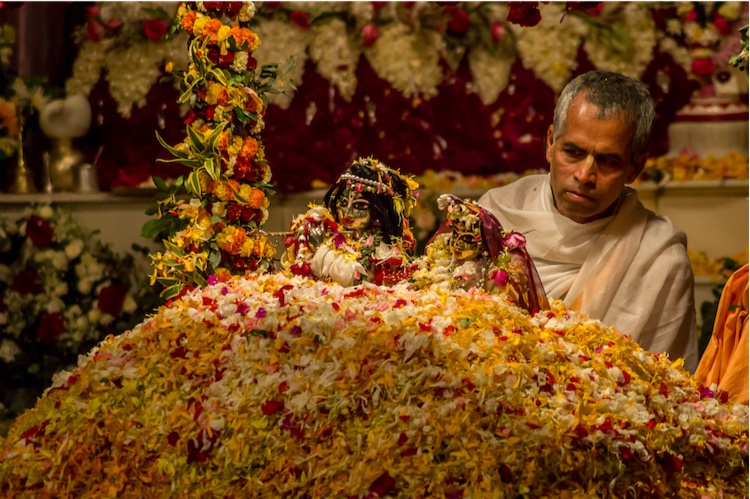 In preparation for the festival, the devotees of Mayapur sit around, plucking out tender petals from different kinds of flowers. There are around five types of chandramallika flowers, three types of marigolds, dopati and dalia flowers and thousands of roses. All the flowers are brought from different parts of India. The plucking proceeds till dusk, as basket after basket gets brimmed with fragrant petals. Whoever it may be, young or old, there is that consciousness of humility, generosity, and devotion in them with each flower petal they pluck—with every single one of them as an offering— and a cry for help to attain the highest perfection of life.
Srila Prabhupada once explained the festival this way: "Krishna was just a toy in the hands of the gopis, so one day the gopis decided that they shall decorate Him. Pusya abhisheka means a ceremony to decorate the Deity profusely with flowers, ornaments, clothes.
After there should be lavish feasting and a procession through the streets, so that all the citizens should see how beautiful Krishna appears."
In the spiritual world the gopis decorate Krishna and Balaram with feathers, fruits, leaves and flowers. Amongst their many gardens in Pushpavan near Kusum Sarovar, every day, just before noon, Srimati Radharani collects flowers from that garden to make beautiful garlands to offer to Krishna when He meets her at Radha Kund.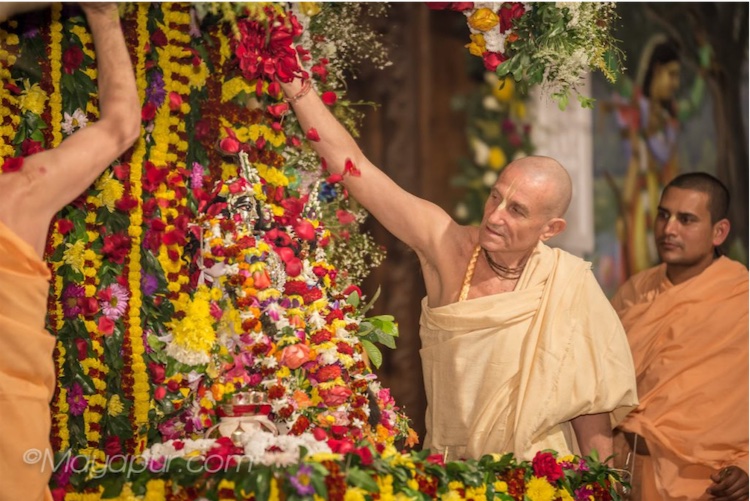 Jananivasa Das was instructed by Srila Prabhupada to celebrate festivals related to the pastimes of the Sri Sri Sri Radha Krishna in a grand way in Sri Dham Mayapur.
Therefore now for the abhisek alone, the devotees make petals from over thirty thousand chrysanthemums or chandramallika flowers in different colors, fifty kilos of dopati flower or impatiens balsamina in colors ranging from white and light pinks and oranges to dark pinks, purples and red, more than two hundred and forty marigold flower garlands in yellow and orange and over forty thousand roses. Now define grand!
Devotees and pilgrims turn up in huge numbers as the festival takes place. When the curtains open both Sri Sri Radha Madhava and Pancha-tattva take their breath away. The temple crowded full of devotees stand astounded for minutes taking darshan and singing to their lordships. They stand decorated in their all new floral outfits, ornaments, flower garlands, Tulsi garlands and anklets. For the skirts alone, the devotees use over five thousand flowers per skirt. Sri Madhava also graces a uniquely special flower outfit which is tailor made perfectly for His tribanga form, as well as flower jewelry and flower mukut pieces for His turban.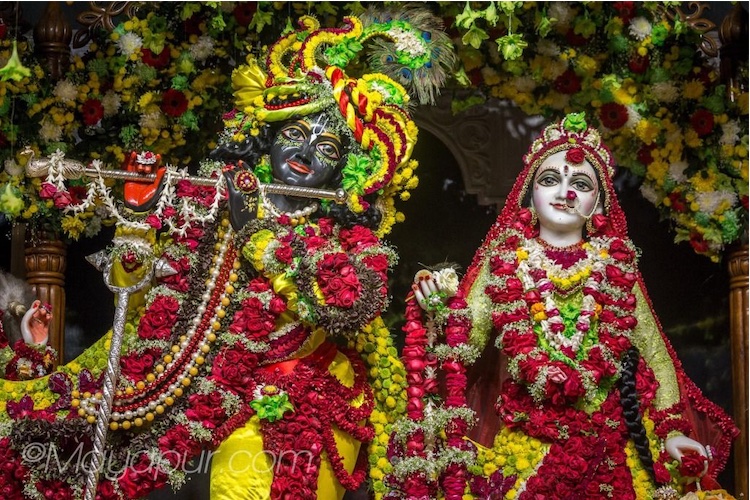 The festival reaches its climax after the sandhya arati, afternoon offering, when it is finally time for the abhiseka, the utsav murtis, small Radha Madahva Deities come forward to everyone's delight and the abhiseka begins, Sri Sri Radha Madhava are then showered in flower petals as mantras and chanting of the Holy Name goes on simultaneously. A beautiful pastime unveiling in front of everyone's astonishment, the deities get fully covered in the mountain of flower petals getting showered from all directions. The devotees chant even louder and the kirtan even faster when it finally comes to an end and Their Lordships return to the altar to be dressed in fresh
Clothes and everyone goes home with the sweet reminiscence of the festival.
[
flower
] [
mayapur
] [
pushpa
]