for ISKCON News on Jan. 19, 2017
An ambitious new ninety-minute documentary film about the life of ISKCON Founder Srila Prabhupada is set to be released in June this summer, and will be a historic event. It will be released in art theaters in twenty key cities throughout the U.S., beginning with New York City.
The film was originally entitled "Acharya," but has been renamed "Hare Krishna: The Mantra, the Movement, and the Swami Who Started It All" after a successful test screening to the public in Gainesville, Florida.
"We gave them a series of titles, and they liked 'Hare Krishna' the best," says director Yadubara Das. "They weren't familiar with the word 'Acharya,' and besides the new title is a better description of the film."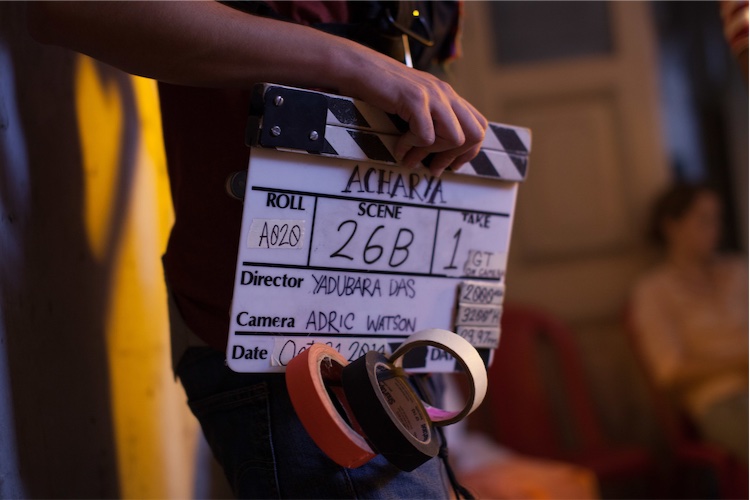 Calling action on the film
The documentary went into production on Srila Prabhupada's appearance day in August 2013 and a release was originally planned for September 26th, 2015, the 50th anniversary of Prabhupada's arrival in Boston.
But Yadubara, a veteran film-maker whose ISKCON classics like 'Hare Krishna People' were greatly appreciated by Prabhupada himself, made a widely supported decision to take his time to "get it right," as he says.
Much of that time and effort was spent trying to step back from the overly familiar material and making sure the film was accessible to the public. While Yadubara's earlier film 'Your Ever Well-Wisher' was aimed at an internal devotee audience, the main goal for this one is to introduce the general public – who may be familiar with "the Hare Krishnas" – to the person behind it all.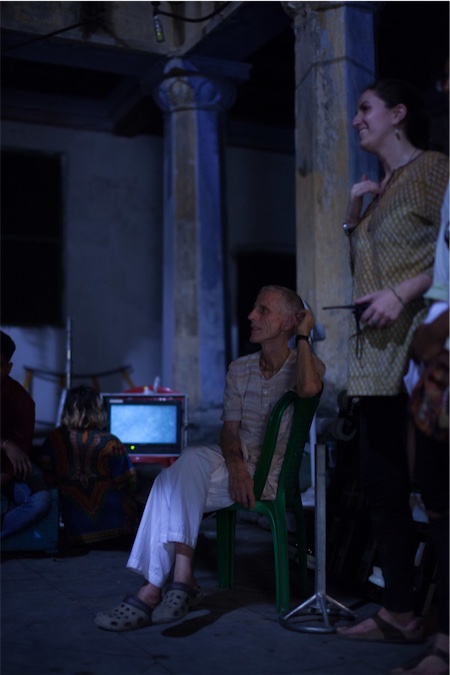 Director Yadubara Das oversees a scene
"Hardly anyone knows who Srila Prabhupada is," says Yadubara. "We hope to change that."
To achieve this goal, Yadubara amassed an extremely talented team. The director himself made his first film in 1974. His wife, co-director and screenwriter Visakha Dasi, is a professional photographer and author. Working with them was a largely younger crew: Producers Jessica Heinrich, who previously worked at BBC Worldwide in Sydney, and Lauren Ross, a film student; editors Krishna-Shakti Sanchez and Hilary Zakheim; and set designer Kuvaleshaya Zakheim.
"Hare Krishna" is an epic, moving and inspirational story shot in an up-to-date 16:9 widescreen format and created with interviews, location shots, re-enactments and archival footage.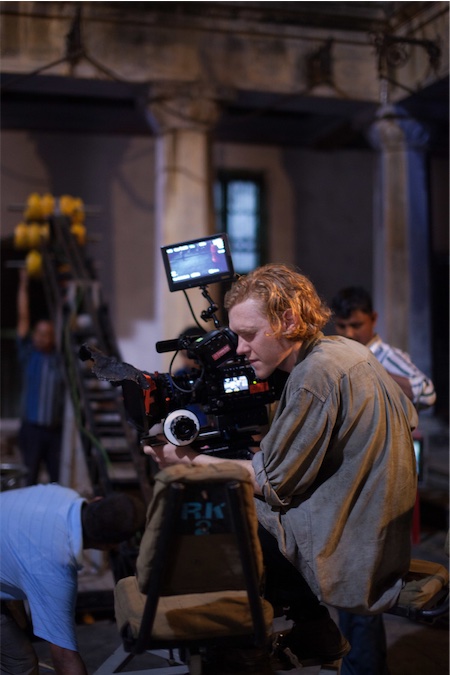 Cinematographer Adric Watson shoots a scene
It begins with Prabhupada's braving the Atlantic Ocean in 1965 at 69 years old and his arrival in New York on the Jaladuta. It then flashes back to his childhood and the fateful meeting where his spiritual master, Srila Bhaktisiddhanta Sarasvati, ordered him to preach in the West.
Next, we see how Prabhupada, penniless and alone, began to inspire a generation of youth disillusioned by commercialism and the Vietnam war, and against all odds formed an unstoppable spiritual revolution.
We see how ISKCON was established in New York City and the early days at the "Matchless Gifts" storefront in 26 2nd Avenue. And we see how Prabhupada and his pioneer disciples expanded ISKCON around the world, from San Francisco, to London, where they met and influenced the Beatles, to Russia, to India, the site of the movement's Vaishnava roots.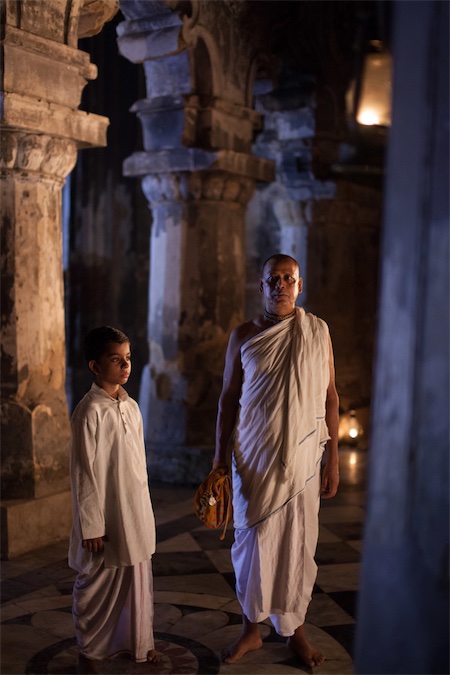 Young Srila Prabhupada with his father Gour Mohan De in a re-enactment
Throughout, there is incredible archival footage – from the first ISKCON center, to Prabhupada traveling around the world and speaking with reporters, to George Harrison singing My Sweet Lord and meeting Prabhupada.
There are re-enactments of key moments from Prabhupada's youth like his childhood Rathayatra festival, and of later moments in New York City, Los Angeles and of course his dangerous Jaladuta journey. "Kuvaleshaya built a Jaladuta set with the gangplank Srila Prabhupada walked up, all in our backyard in Alachua," says Yadubara.
There are also many fresh new interviews, with early devotees like Mukunda Goswami, Shyamasundara Das, Malati Dasi, Yogesvara Das, Govinda Dasi, Hari Sauri Das, and Rukmini Dasi speaking for a modern audience, along with professors like Tom Hopkins, Graham Schweig and Edwin Bryant.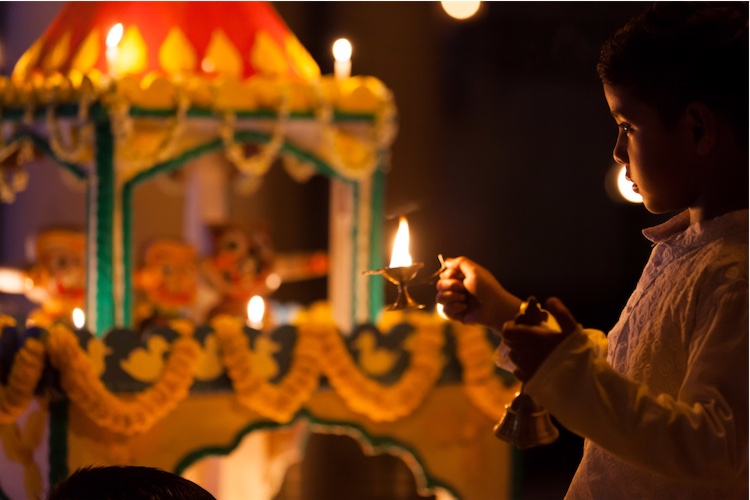 In a re-enactment, Srila Prabhupada offers a lamp during his boyhood Rathayatra festival
Although the film only covers the extraordinary achievements Prabhupada made during his twelve years in the West, we are brought up to the modern day in the credits, which show images and text with incredible statistics about the amount of temples Prabhupada's society has built, books and plates of prasadam it has distributed, and more.
"Making the film was intense and hard work – there are thousands and thousands of decisions you have to make," says Yadubara. "But it was also wonderful to be absorbed in Prabhupada like that. It was a constant meditation."
"Hare Krishna" is already garnering influential fans. A recent screening at actor Nick Nolte's home was a hit. Meanwhile, Oscar-nominated director Paoloa di Florio—who directed 2014's award-winning documentary on Paramahamsa Yogananda, "Awake," said, "Prabhupada is so powerful and it's an incredible story."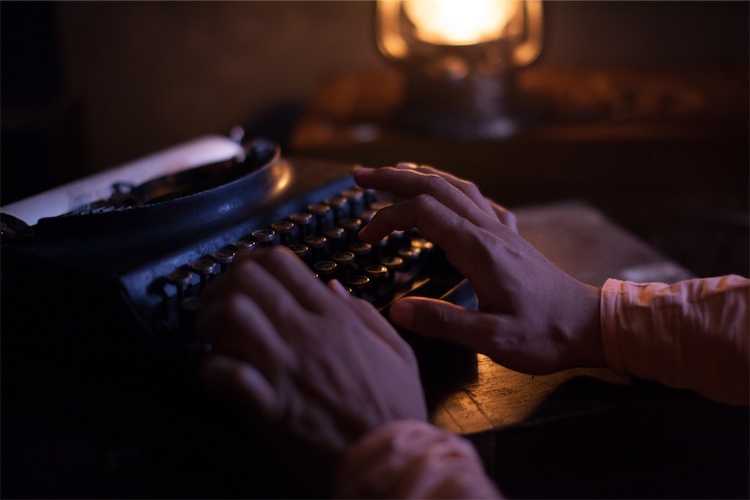 Srila Prabhupada types his books during the early days in India, in one of the film's re-enactments
Di Florio and her producer Peter Rader, in fact, assisted as consultants on "Hare Krishna," which their film "Awake" has in many ways paved the way for. They also connected Yadubara with their distributor, Abramorama, who recently distributed Ron Howard's Beatles documentary Eight Days A Week and will advertise "Hare Krishna" on radio, newspaper and TV.
"Rader and di Florio's film ran in hundreds of theaters across the country, and they feel that our film could do even bigger than theirs," says Yadubara.
Part of the reason for this is that "Hare Krishna" already has a built-in audience of ISKCON devotees and congregation across the country.
Also, in addition to media advertising, the makers of "Hare Krishna" will supply temple presidents across the U.S. with information packs, and ask them to organize devotees to let their friends outside ISKCON know about the film.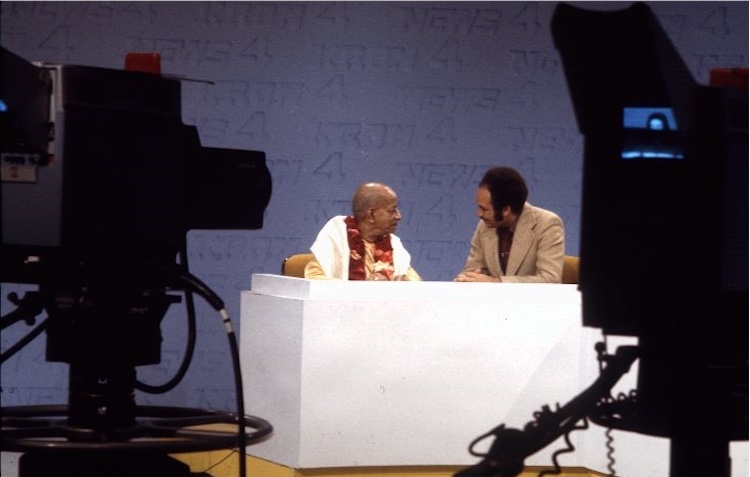 Srila Prabhupada is interviewed on television during the 1970s
Of course, amongst the general public, the yoga community, New Age people, spiritual seekers, and those who grew up during "the Hare Krishna Explosion" are also expected as an audience. There's also a major effort to make the film appeal to youth.
As well as the theater run, the film will be entered into many major film festivals – it's already accepted into Illuminate, the world's premier film festival for conscious cinema.
Later this year or early next year, it will become available on digital download and on a DVD packed with extras.
"With so many terrible things going on in the world right now, the time is right to introduce Srila Prabhupada's life and teachings to the public," Yadubara says. "They can help a lot of people. And we do hope to reach up to 100,000 people with this film, in a very short time. And not just casually – they're going to pay money, sit in the theater and watch the film. That's a big dose of inspiration from a saintly person. This is a historical opportunity, one we don't want to miss."
Yadubara and his team have chosen to self-distribute through Abramorama rather than the more traditional route of having the film purchased outright by a distributor. They're doing this in order to retain the rights to the film so that they can tailor their distribution strategy and share Prabhupada's story with as many people as possible.
To learn more about their plan and to contribute towards distribution costs, please visit https://www.generosity.com/fundraising/acharya-marketing-and-theatrical-distribution.
[
acharya
] [
documentary
] [
films
] [
vishakha-dasi
] [
yadubara
]