for ISKCON News on Dec. 28, 2016
On December 12th, Peruvian devotee Bhadra Rupa Das was presented with an honorary doctorate by the National University of Education, Peru at the Peruvian Parliament in Lima. But he quickly turned what was set to be an event in his honor into one in praise of Srila Prabhupada, ISKCON, and ISKCON's 50th anniversary.
The prestigious Parliament setting was a rare opportunity, as the honorary degree is normally presented at the university itself. The ceremony, which turned out to be one of the most significant ISKCON 50 events in South America, was also broadcast all over Peru by national television station Channel Seven.
Bhadra Rupa Das is a flutist in Incan and Western styles, and an innovator who created his own flute incorporating both traditions. He was bestowed the honorary doctorate due to his contributions to the world as a teacher, composer, researcher, flutist, and philanthropist.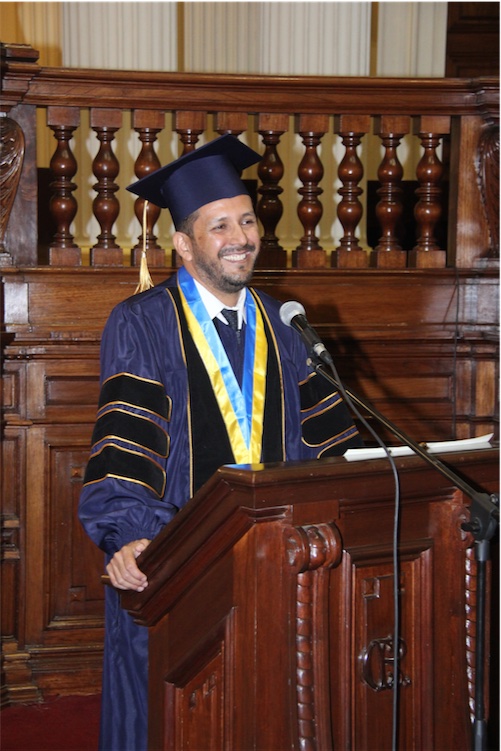 Bhadra Rupa Das speaks about Srila Prabhupada and ISKCON's 50th anniversary
Attending the ceremony in the largest room at the Parliament were David Aponte, the Mayor of Lima's Chaclacayo district; Lucio Avila Rojas, president of the Parliament's education commission; and Admiral Davico Portilla, one of the chiefs of the Peruvian Navy.
Also in attendance were cultural ambassadors, representatives from the United Nations and the World Wildlife Fund, executives from Bhadra Rupa's record label Sony Music Japan and professors from Geneva University in Switzerland and the National University in Peru.
Many deans and vice rectors of the National University were there in full academic regalia, and the university rector Dr Luis Rodriguez de los Rios presented Bhadra Rupa with his medal and diploma.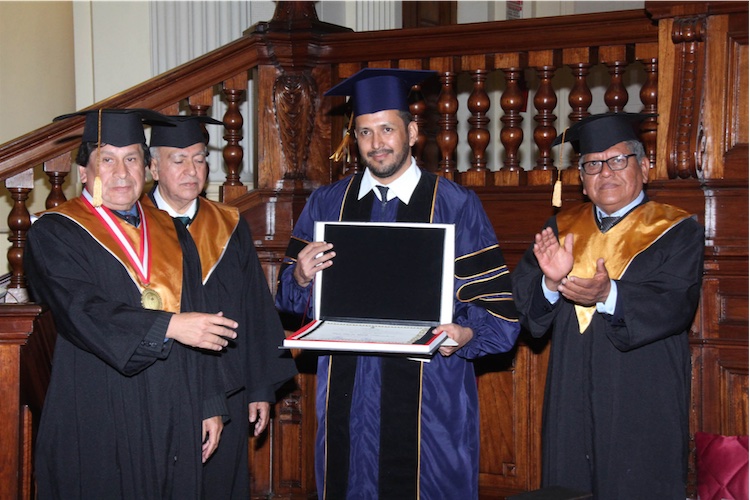 Bhadra Rupa Das with his diploma and the rector and vice rectors of the National University
Bhadra Rupa then spent most of his twenty-minute speech praising Srila Prabhupada. He began with an introduction to Vaishnava philosophy, and explained that while the Inca culture of South America and Japanese culture had both inspired him, it was the Vaishnava culture and philosophy that most impacted his life.
He then described in detail how Srila Prabhupada had brought this spiritual message from India to America, braving a month-long steamship journey across the Atlantic at the age of 69 and suffering two heart attacks.
Soon after, in 1966, Bhadra Rupa said, Prabhupada incorporated the International Society for Krishna Consciousness. From New York, the society spread all over the world and is celebrating its 50th anniversary this year.
"Today, Srila Prabhupada's literary contributions – including the Bhagavata Purana and many other works – have been translated into dozens of languages," said Bhadra Rupa. "516 million copies have been published and produced worldwide for large universities and cultural centers, and their teachings are seriously adopted by many academics outside India, and by people of non-Hindu descent around the world."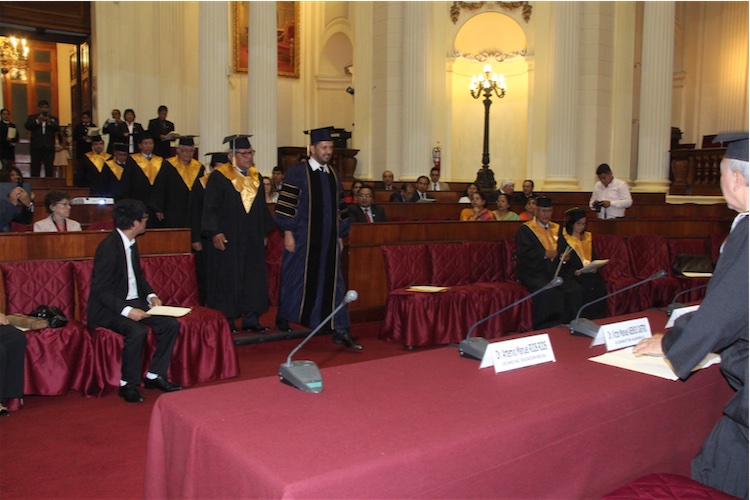 Bhadra Rupa enters in ceremonial style
Bhadra Rupa added: "I have had the honor to learn from the best teachers in the world in Japan, South America, India, and Europe. But I can only say that four of them have really been the foundation of everything I am. The first one is Srila Prabhupada. The second is my guru Jayapataka Swami. The third is my mother, and the fourth my father."
The speech was met with resounding applause. Following it, Lixin Chen, a professional singer and cultural ambassador from China, sang the Srila Prabhupada pranam mantra and the Hare Krishna maha-mantra, accompanied by sitar, tambura, flute and tabla.
The guests deeply appreciated the slow, meditative and beautiful kirtan, which brought tears to many eyes. As it washed over them, the rector leaned over and whispered to Bhadra Rupa, "Thank you so much for bringing me these great musicians. Now I am in a world of peace and joy."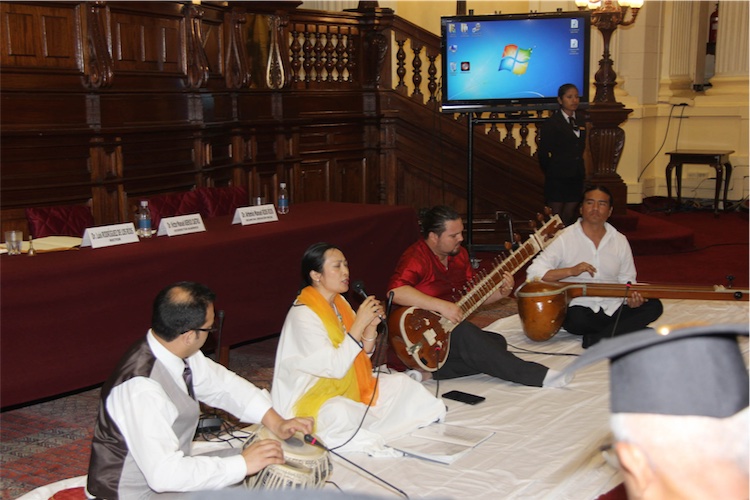 Chinese cultural ambassador Li Xin Chen sings the Hare Krishna maha-mantra
Finally, the rector thanked Bhadra Rupa for the work of his foundation, which spreads the Srimad-Bhagavatam, the maha-mantra, and prasadam, and announced that the foundation had prepared a gourmet vegetarian meal for them all.
Rama Raghava Das, one of the best vegetarian chefs in Peru -- known by his culinary peers as "Chef Rama" – served up the prasadam spread, which included gourmet subjis, gulabjamuns, and malpura. There were also prasadam versions of Andean and Amazonian cuisine such as seviche. Everyone then made a toast with a prasadam grape juice cocktail.
After the event, many of the honorable guests piled astonishing praise upon Srila Prabhupada, ISKCON and Krishna consciousness.
Peruvian Navy Admiral Davico Portilla commented that Bhadra Rupa's determination, intelligence and patience must come from his training as a Hare Krishna monk. "Your spiritual master, Srila Prabhupada, must be such a wonderful person, and must have great universal spiritual teachings with no borders or sectarianism," he said.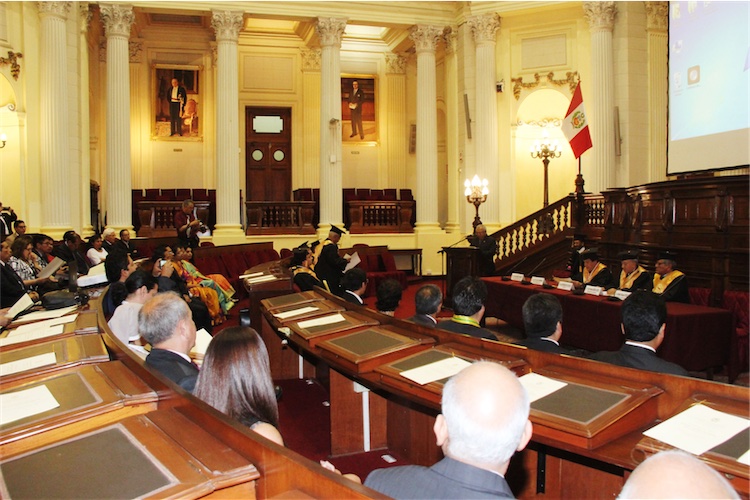 The ceremony is underway at the Peruvian Parliament
The Admiral had already been aware of ISKCON by seeing devotees chanting on the streets and distributing books. "But after your speech," he said, "I am impressed that Srila Prabhupada's teachings can also be presented at the governmental level, and can be used by the leaders of the nation!"
David Aponte, Mayor of Chaclacayo and national secretary to the political party of the President of Peru, said, "I am so sure that all this power you had in your life comes from your so disciplined spiritual life, especially as a Hare Krishna monk."
He added that he would try and arrange a meeting with the President of Peru, so that Bhadra Rupa could tell him about his life story and Prabhupada's teachings. "The power of a person comes from purity, and not from all our political nonsense," he said in an astonishing quote.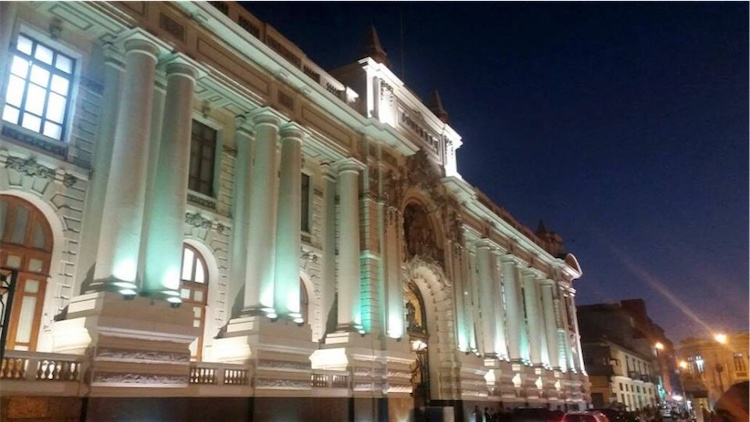 The Peruvian Parliament, where the ceremony took place
Meanwhile, comments from Dr. Luis Rodriguez de los Rios, the rector of the National University of Education, were no less stunning. "You have awakened my fire of service attitude," he said. "Your life's example comes from the teachings and example of the most important of your masters, Prabhupada, who brought all this amazing scientific spiritual knowledge from India: we are spiritual souls with an eternal relationship with God, Krishna."
"It would be an honor to be a member of your foundation to support your spreading this wonderful spiritual knowledge taught by Prabhupada," he added.
Finally, Ms. Sachi Yamagishi, Bhadra Rupa's manager from his Sony Music Japan record label, said, "I have been chanting one round of the Hare Krishna maha mantra every day for the last year, and I have stopped eating meat. Do you know why? Because I am reading Prabhupada's Bhagavad-gita in Japanese every day, and I feel so peaceful and happy by reading it."
She continued, "I am honored and impressed by your speech at the Parliament, especially because you have presented the Vaishnava philosophy which comes from Srila Prabhupada's teachings, pure love for God. ISKCON has done wonderful work to spread his teachings all over the world in the last fifty years – so I'd like to give my best wishes for ISKCON's 50th anniversary!"
[
bhadra-rupa
] [
parliament
] [
peru
]