This year, we celebrate the 125th anniversary of the appearance of His Divine Grace A.C. Bhaktivedanta Swami Prabhupada, Founder-Acharya of ISKCON, born in 1896 in Calcutta. Leading up to his Appearance Day or Vyasa-Puja on August 31st, ISKCON News is commemorating the occasion with a series of articles glorifying his achievements, contributions, and qualities.
Srila Prabhupada's achievements are towering and numerous: He built 108 temples; authored over 70 volumes on the Krishna tradition; initiated 5,000 disciples; circled the globe 14 times; and opened farm communities, restaurants, and more.
One of his sometimes overlooked qualifications, however, is his skill in communication. In a Powerpoint which has been presented at the ISKCON Leadership Sanga (ILS) and GBC College, ISKCON Communications Minister Anuttama Das called Srila Prabhupada "The Greatest Communicator."
Not only did Prabhupada directly focus on winning people's hearts and bringing as many to the process of bhakti as possible; but he was also an expert in creating and sustaining, as the Communications Ministry puts it, "favorable environments for advancing the goals of the Krishna consciousness movement."
"If you make some of the big Government officials interested in our movement then our strength will increase," Prabhupada wrote to Tejiyas on August 15th, 1973. "Because we are in the material world sometimes we require that help. Another point is that if a government officer becomes our admirer or member then many others will follow, so try to make them sympathizers."
Prabhupada's Flexibility

These efforts began early on, when Prabhupada was trying to fulfill his guru Srila Bhaktisiddhanta Saraswati's instruction to preach Lord Chaitanya Mahaprabhu's message while still in India.
"He wrote letters to dozens of very important people in India," Anuttama Das says. "He corresponded with the then President of India Sarvepalli Radhakrishnan in the early 1960s and sought the help of big publishers to get his books printed. In June 1964 in Delhi, he met with Lal Bahadur Shastri, the Prime Minister of India, and presented him with a copy of Srimad-Bhagavatam Volume One."
In his early days in the U.S., Prabhupada showed his humility, kindness, graciousness, and flexibility in creating a favorable environment for the sankirtana movement. According to the Srila Prabhupada-lilamrta, while staying with Gopal and Sally Agarwal in Butler, Pennsylvania in the fall of 1965, he arrived at their apartment one evening before Sally had had the chance to clean up her non-vegetarian dinner. When she said, "Oh, Swamiji, we have just cooked meat, and the smell will be very disagreeable to you," Prabhupada replied, "Oh, think nothing of it. Think nothing of it."
"He was so gentle, accommodating, and kind," Sally Agarwal told Satyaraja Das for 2007 Back to Godhead magazine article. "He played with Kamla and Brij. He just loved children, even when Brij teethed on his sandals! He just laughed and had a good sense of humor about everything. Sometimes he would tell us of his mission, but he always respected my Methodist background, never trying to convert me or to push his beliefs on us…. We came to love his sincerity, his knowledge, and his warmth. I cried when he had to leave Butler."
Building Relationships with the Larger Society

Throughout his preaching, Prabhupada met with an astonishing number of important personalities, including two Indian Prime Ministers, Lal Bahadur Shastri, and Indira Gandhi; several governors and Chief Ministers of Indian states; the Mayor of Geneva; Beatles George Harrison and John Lennon; a member of the US Senate; a Police Lieutenant; a Formula One race car driver; a Catholic Bishop; and numerous religious leaders, media reporters, and academic scholars. In fact, all Srila Prabhupada's books include appreciative reviews from scholars.
"Prabhupada understood and taught by his practical example the need to build relationships with the larger society," Anuttama says. "We're not meant to be isolated. We're meant to get out there, interact with people in the world, and bring Krishna-conscious solutions and values into the corporate boardrooms, political process and educational fields."
In preparation for his meeting with Indira Gandhi – which unfortunately had to be cut short – Srila Prabhupada made a list of items to discuss with her, including how Krishna consciousness could help solve practical problems in the world such as race relations, water, and air pollution, overpopulation, food scarcity, and inflation. Meanwhile, according to author Yogesvara Das, Prabhupada was a very curious person, always asking questions in order to learn things that worked in the various countries he visited, and to understand people—his audiences—better.
Speaking with Affection and Genuine Concern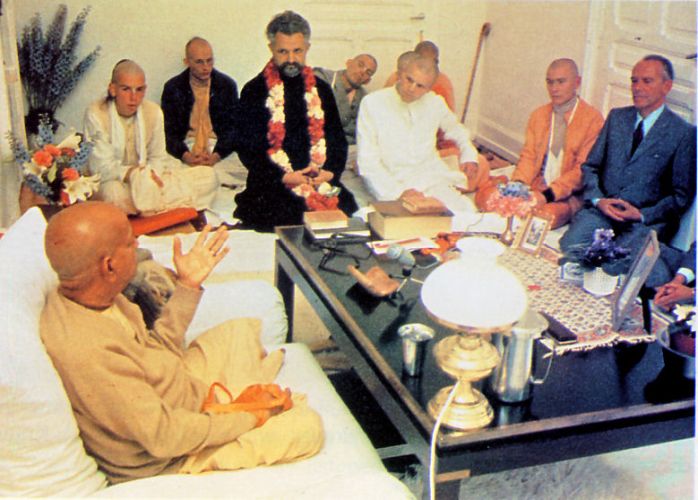 Another element of Prabhupada's expertise in communication was that he could speak strongly when preaching but always did so with affection and genuine concern, which was felt by the people he spoke with.
According to Giriraja Swami's book "I'll Build You A Temple: The Juhu Story," Prabhupada expressed his philosophical differences with one Swami Chidananda during a conference on the Bhagavad-gita. Despite these differences, the book explains, "Swami Chidananda also felt blessed by Prabhupada's affection and Krishna consciousness."
Some years later, that same Swami met with ISKCON's Radhanath Swami and told him of his deep appreciation and respect for Srila Prabhupada and the wonderful things he had done to spread bhakti throughout the world. Radhanath Swami recalls that Swami Chidananda also asked to hear about Prabhupada's life story. When he heard about Bhaktisiddhanta Saraswati instructing Prabhupada to spread the message of Sri Chaitanya throughout the world, Swami Chidananda "became so emotional that he jumped out of his seat, stood up and raised one of his arms in the air, and, tears flooding his eyes, said, 'That was not just an instruction: that was divine prophecy… He did it! He actually did it!"
"Sometimes we try to imitate Prabhupada's strength," Anuttama comments, "but we're not always so good at imitating his love."
Communicating with Respect and Cooperation
When communicating with religious leaders, Srila Prabhupada addressed them with respect and humility, expressing his desire to cooperate with them to spread love of God.
Opening his letter to Pope Paul VI on August 3rd, 1968, Prabhupada wrote, " 'Your Holiness: Please accept my respectful humble obeisances at Your lotus feet."' He continued, "Unfortunately, at the present moment people…. are gradually declining in God-consciousness. This tendency is very much deteriorating, and because Your Holiness is the Head of a great religious sect, I think we should meet together and chalk out a program for cooperation…. if you think that a meeting with You will be beneficial for the human society at large, I shall be very much pleased if Your Holiness will grant me an interview."
Prabhupada's Expertise in Connecting with Different Audiences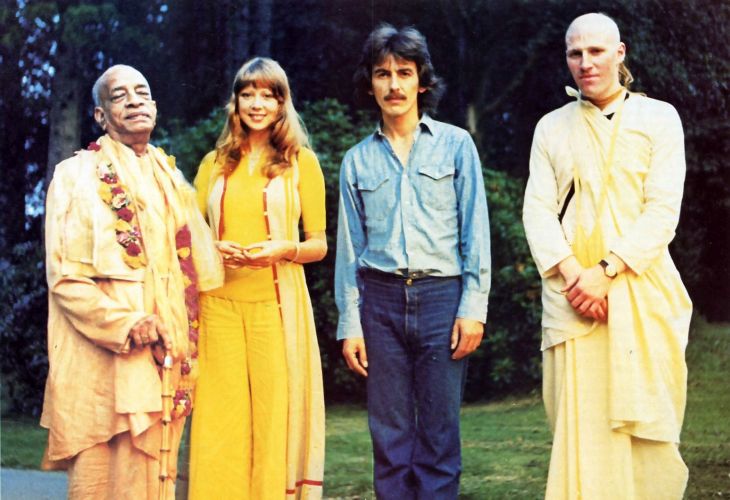 Srila Prabhupada knew how to connect with a wide variety of people, introducing Krishna consciousness expertly according to his audience. As related in the Lilamrita, when George Harrison asked if he should shave his head and move into the temple, Prabhupada replied that he should continue to be a singer and encourage people to chant Hare Krishna through his music. At the famous Mantra Rock Dance in San Francisco in 1967, Prabhupada had well-known counterculture poet Allen Ginsberg lead the chanting rather than doing it himself. And when speaking at a school in Montreal in 1968, Prabhupada used an expert analogy that connected with his audience, asking a young student where his hand, head, and leg were, then asking the boy where he himself was. When the student seemed stumped, Prabhupada explained that we are not the body but the soul within.
Learning How to Communicate From Srila Prabhupada
As ISKCON members, we can learn from Srila Prabhupada how to communicate our Krishna-conscious message with others, and how to create a favorable environment for the Hare Krishna Movement.
"The ISKCON Communications Ministry envisions five principles of communications," says Anuttama. "1) We should follow Prabhupada's teaching and example; 2) We should act according to time, place, and circumstance, as Prabhupada did and taught; 3) We should be proactive in reaching out to others – we can't wait for things to happen; 4) We should seek to create mutually beneficial relationships – we should not only look for how we can benefit but also make sure it's a win-win for everybody, and 5) We should always be examples of proper behavior and character."
The Communicator's Prayer
Srila Prabhupada's mood in communicating with others is perhaps best understood from his poem "Markine-Bhagavata Dharma," written aboard the steamship Jaladuta at the completion of his journey to the US in 1965.
Sometimes referred to within the ISKCON Communications Ministry as "the Communicator's Prayer," the poem is filled with Prabhupada's meditations on how to communicate Chaitanya Mahaprabhu's message to the Western World.
"How will they understand the mellows of devotional service?" Srila Prabhupada writes. "O Lord, I am simply praying for Your mercy so that I will be able to convince them about Your message…. O spiritual master of all the worlds! I can simply repeat Your message, so if You like You can make my power of speaking suitable for their understanding."
[
iskcon-communications
] [
prabhupada
]