for ISKCON News on June 16, 2017
Jaya Chaitanya Das, 30, recently went from being a hip-hop producer to ISKCON's top book distributor in the U.S., selling 85,000 of Srila Prabhupada's books in one year.
Now, he has come up with an innovative new program that shows young Americans today may be more interested in staying in ISKCON's brahmachari ashrams than we might think.
Using the slogan "Be a Monk till Monday," Jaya Chaitanya's basic idea is to give young people a unique experience that doesn't lock them into a commitment. There's no old school "join and shave your head" pressure here, rather a friendly invitation from a peer to try out something new over the weekend.
"I just ask students in colleges, 'Hey, you ever thought about becoming a monk?'" he explains. "They say 'No, I never thought about it.' Then I'm like, 'Would you like to try for a few days, see what it's like?' And you can see their face light up, and they go, 'Wow, that's actually really cool, I think I would like to try that.'"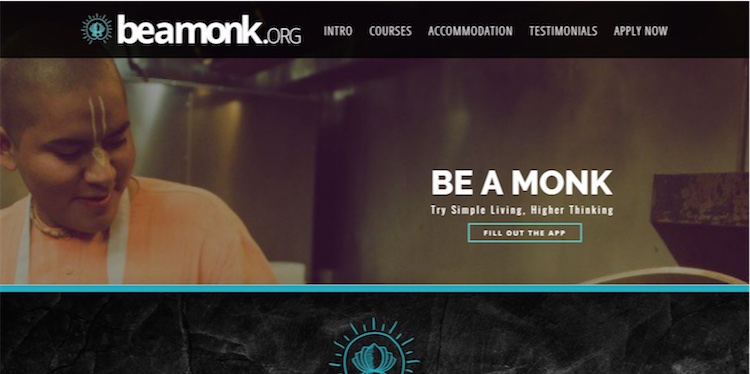 Students can fill out an application at BeAMonk.org
Jaya Chaitanya himself says his own period of testing out ashram life was like the training scene from superhero movie Batman Begins, where Bruce Wayne learns from his teacher in the Himalayas. "I remember watching that movie as thinking, 'That's so cool, he's really developing himself from within.' I felt I was doing the same. And I'm sure lots of people want to go through that type of training too."
He's right. Jaya Chaitanya has only just launched his slick website beamonk.org, and already twenty to thirty applicants are being considered for the program. Meanwhile five or six have already participated, living at the ISKCON Los Angeles temple for several days.
The program is offered as a free one day to one week training period (usually Thursday to Sunday) including meditation programs, philosophy classes, and temple service. More specifically, participants attend morning programs and Bhagavatam class, chant japa, serve in the kitchens, go out on Harinama and book distribution, and spend time with senior devotees like Brighupati Das. One element that is particularly fulfilling to students is the selfless volunteer experience of serving prasadam to 500 people at the Sunday Feast.
Participants also get free room and board, vegetarian/vegan meals, and meditation beads, songbooks, and other spiritual gear to help them with their journey.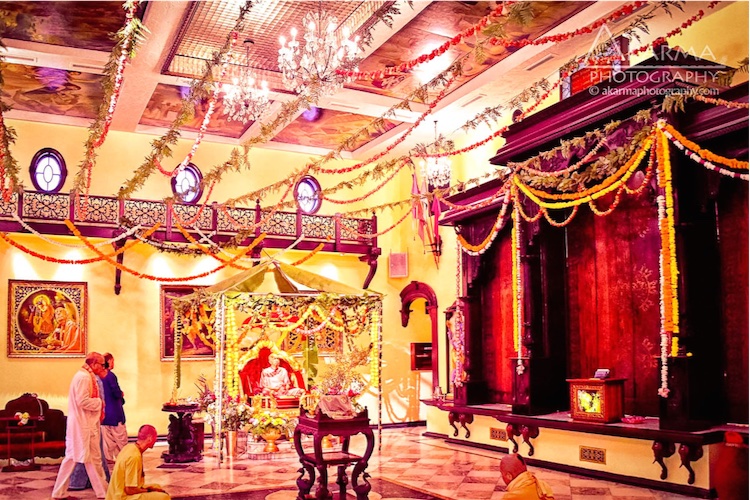 Students do mantra meditation in the beautiful LA temple
The response has been incredible. Manuel Gutierrez, a student in environmental engineering at Citrus College, was so inspired he wrote a glowing two-page testimonial on his experience. "For my stay at the temple, I only have positive memories," he wrote. "The monks were more than inviting, the food was delicious, and the experience was nothing short of spiritually wholesome. To those considering testing the waters before committing to become a monk, I highly recommend it."
Manuel now lives a little too far to regularly visit the temple, but he watches all the programs live via webcam and says he plans to return next summer.
Not all the participants are students. Actor and Youtuber Kevin Wu (Kevjumba) wrote, "I came to find great hope from the temple when I still lived in LA. I was alone and seeking a spiritual path. I'm very thankful for my experience in meeting the monks and practicing the lifestyle. It has helped me greatly and will stay with me forever."
Meanwhile Chris Marsh, a dad in his forties who runs his own construction business in North Carolina, already knew about Krishna consciousness but had no idea how to go to a temple. When he came across beamonk.org online, he flew straight to LA from North Carolina and stayed in the ashram for three months. "They were the best three months of my life," he says.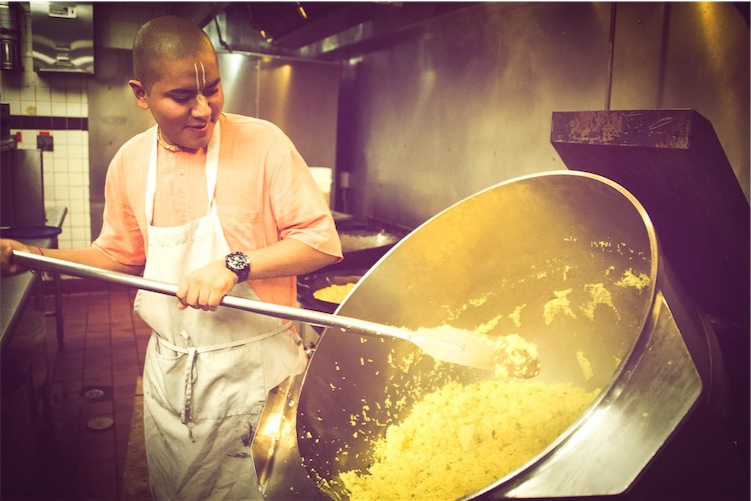 And they serve in the kitchens, getting the chance to feed 500 people a pure vegetarian healthy meal every Sunday
Some people discover that ashram life is their calling. Demetrio Landeros, a student at Ventura College, received a copy of Science of Self Realization from Jaya Chaitanya and became a vegetarian overnight. He then enrolled in the Be A Monk program and was so blown away by his experience that he did shave his head. Today, he lives in the ashram full-time and chants sixteen rounds of the Hare Krishna mantra daily.
"I used to hear people yelling all the time, now I hear the peaceful sounds of singing glories to God," he says. "I used to smell filth where I lived, now I smell flowers at the temple. I used to eat junk, but now I get to eat really healthy! I recommend everyone to try this program of a lifetime!"
Be A Monk is still in the beginning stages, with lots of developments on the way. Currently it is only available for men, but Jaya Chaitanya is looking for senior female teachers to guide a women's program.
He also hopes to build the program to the point where rather than one student at a time, groups come to stay and participate in a Bhakti Sastri-style introduction to Krishna consciousness, with many senior devotees teaching specialized seminars.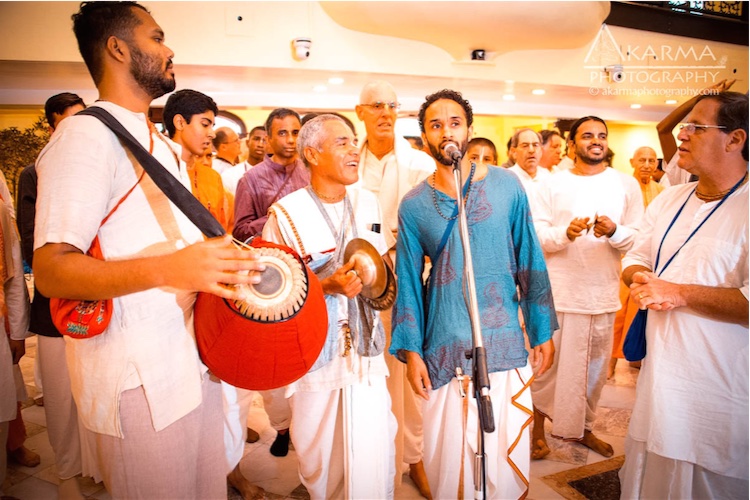 They dance and sing joyously
Meanwhile, Be A Monk is already spreading across the country. Jaya Chaitanya says leaders in ISKCON temples with the best introductory programs have contacted him asking to represent "Be a Monk" in their location. So the future will see websites such as beamonk.org/az for Arizona, and beamonk.org/sd for San Diego. Location-specific applications will come in to these regional websites, which will be customized with their own picures, videos and testimonials.
Jaya Chaitanya is excited. "This program works because people are won over by experience – and that's what we thrive on. Our movement is a movement of personalism and love, music and dancing and amazing food. So it's like we have the best of everything – people just don't know about it yet."
[
la
] [
los-angeles
]