for ISKCON News on Sept. 16, 2019
A new restaurant under the "Radha Govinda" brand, "Mandala by Radha Govinda," opened on the 11th of September in Ljubljana, Slovenia's capital city.
The stunning 350 square meter (3,757 sq ft) space is in a prime spot in the city center and offers healthy vegan prasadam to cater to current trends.
A large variety of dishes from Indian, Balkan, Slovenian and Mediterranean cuisines, changing daily, are available from the salad bar and hot bar, along with a selection of sweets including cakes and raw desserts.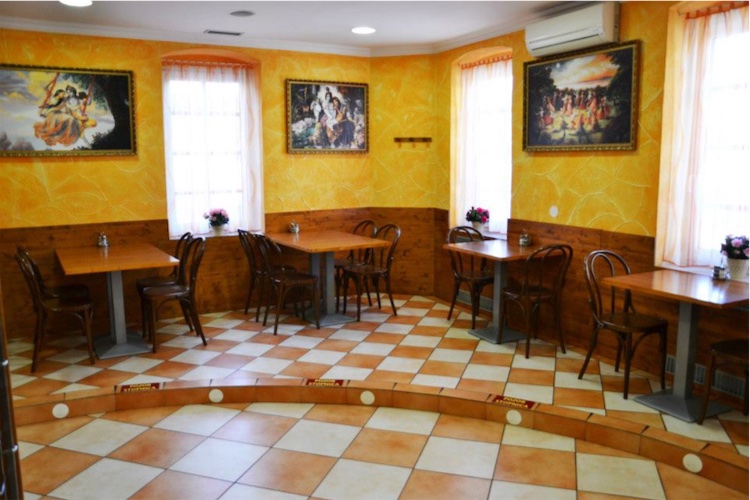 The original Radha Govinda restaurant near the Ljubljana temple
"We use coconut sugar and date, agave and maple syrups for sweets rather than common white or brown sugar," says director and founder Mrgendra Das. "And we only use spelt flour."
Welcomed by a beautiful little deity of Giriraj Maharaja, customers enter the bright, peaceful space with its wood furniture, plants, and lots of glass and natural light. They can then choose to sit in seven different colorful zones featuring red, orange, yellow, green, blue, indigo or violet furniture, with the walls and ceiling decorated with mandalas (intricate sacred circles) of the same color.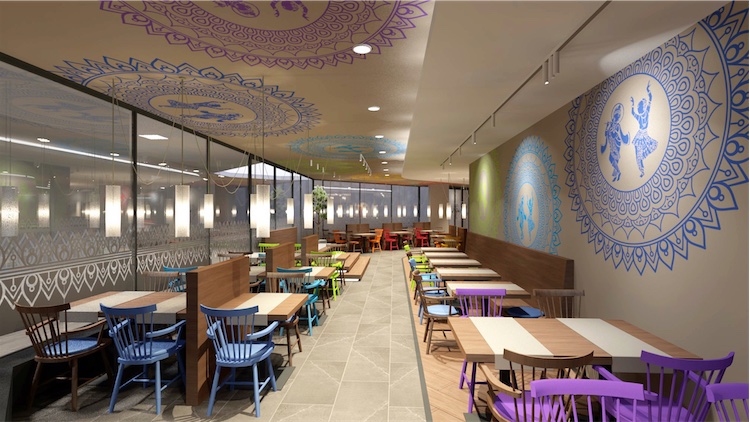 Guests at Mandala can choose to sit in different colored 'zones'
Each mandala depicts Radha and Krishna dancing in the center, surrounded first by Vaishnava and Vedic symbols such as tilak, om and tulsi leaves; then Slovenian national symbols such as the heart, Linden leaf, and Triglav mountain; and finally symbols of healthy and vegan cuisine like carrots, cherries and apples.
The restaurant offers its clientele of tourists and local businesspeople a self-service system that allows them to get their plate, pay and begin eating within five minutes, giving office workers the chance to dine during their short half-hour lunch breaks. Later, from 5 to 9pm, there's more classic a la carte dining and thematic evenings.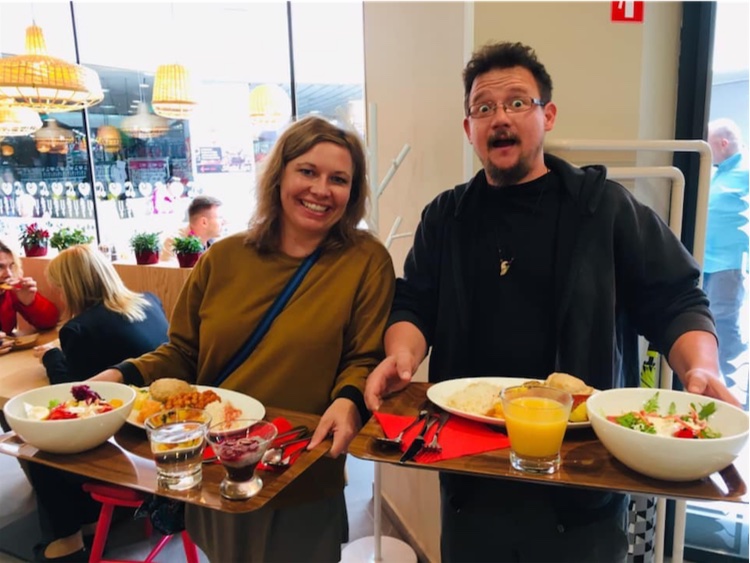 Happy customers at Mandala
Thirty-two lucky raffle winners got to sample all this early on September 3rd with an exclusive dinner and cooking course with Mrgendra Das. On September 5th, devotees were invited for a free lunch. Meanwhile the grand opening, on September 11th, drew 600 people, who were all impressed with the ambience and delicious food.
The third "Radha Govinda" restaurant in Ljubljana, "Mandala" is the culmination of many years of hard work by Mrgendra, going all the way back to childhood.
"As a small boy, I loved to cook, and would spend a lot of time in the kitchen with my father, who was chief cook in the Slovenian army," he recalls. "At the age of seventeen, in 1991, I met the devotees, and then joined ISKCON in 1992. The first service they gave me was in the kitchen – they saw some potential in me."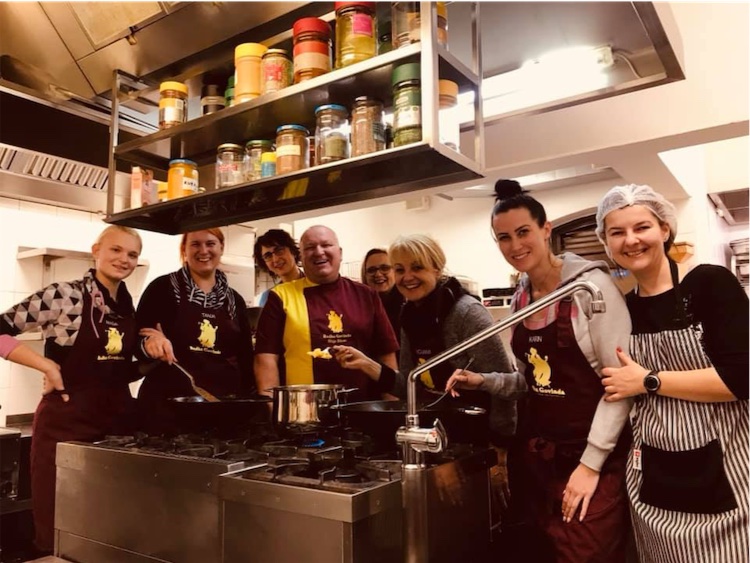 Mrgendra Das (center) with the staff at Radha Govinda's
With the Ljubljana temple's prasadam distribution company, Laksmi, Mrgendra began cooking thousands of samosas, pizzas and sweets and distributing them to shops and schools throughout Slovenia. People enjoyed his cooking so much that soon, they began to ask for recipes.
"But when I did, they still weren't satisfied, because it was not the same," he says. "So I had the idea to start offering cooking courses."
Upon getting married and becoming a householder, Mrgendra and his wife dedicated their lives to distributing prasadam, running cooking courses and starting a lunch delivery service. His Radha Govinda Academy became so popular that the Slovenian President's chief of staff attended it, bringing prasadam back for the President to eat.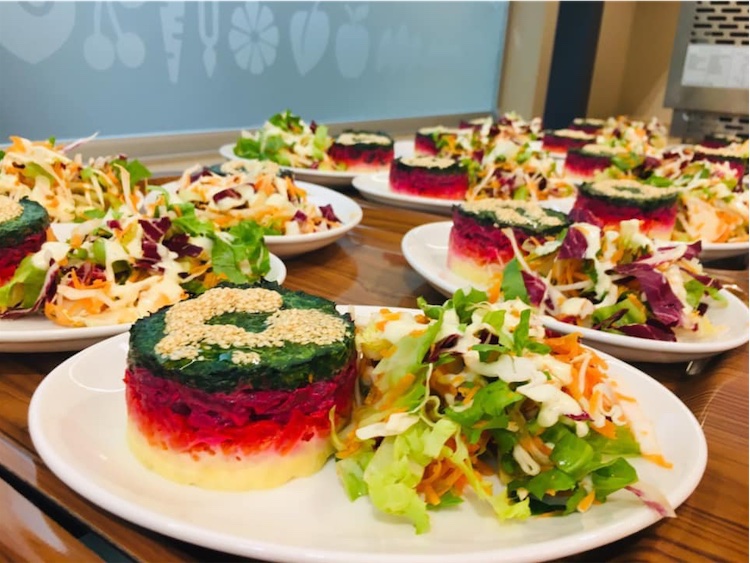 Healthy gourmet dishes at Mandala
In 2008, with the demand ever rising, Mregendra opened the first Radha Govinda restaurant in Šiška, Ljubljana's most populous district, next door to the ISKCON temple New Yoga Pitha.
Although it isn't vegan, Radha Govinda has a similar self-service system to Mandala, offering thirty different dishes every day including a salad bar. The hot dishes include Mediterranean cuisine like lasagna, pasta, pizza, calzone and gnocchi; Indian such as subji, rice, papadam, kichari, samosa, kachori and dokla; and traditional Slovenia and Balkan dishes. The sweet bar features different sweets every day, such as luglu, halava, vegan cake, fruit salad, cookies, srikand, and malpura.
Radha Govinda also offers cooking courses, caters weddings and other events, and has its own line of natural products, including pasta, ghee, and Gopalada – a healthy alternative to Nutella made with carob, coconut butter and maple syrup.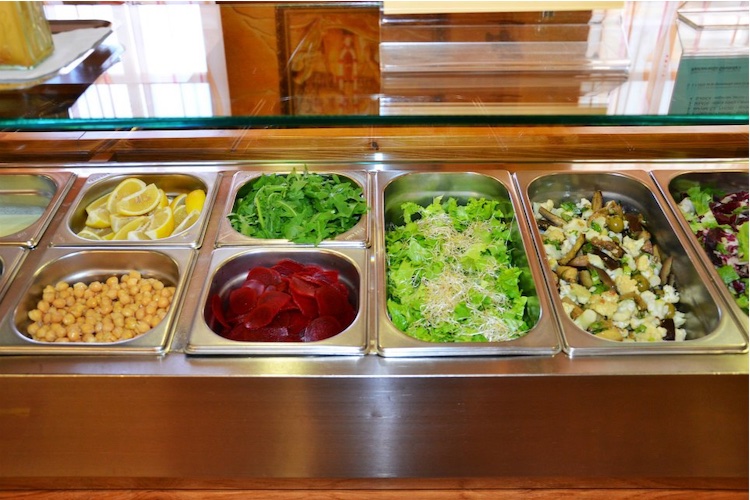 Salad bar at Radha Govinda

"We produce these kinds of things ourselves, because we want to offer really pure food to Krishna and then to the people, not just buy everything from outside," says Mrgendra.
Symbolizing this devotion are the beautiful Sri Sri Radha Govinda forms that welcome customers as they enter – and occasionally, the small festivals that are held in the restaurant, wherein everyone offers lamps to Them. Meanwhile, behind the scenes, every dish is offered to resident Sri Sri Gaura Nitai Deities.
In 2016, Mrgendra opened his second restaurant in Ljubljana's BTC City, a shopping and entertainment complex of over 500 stores. Named "Veggie Embassy Radha Govinda," it's a small but stylishly appointed fast food kiosk where diners can enjoy a large variety of options at outside tables.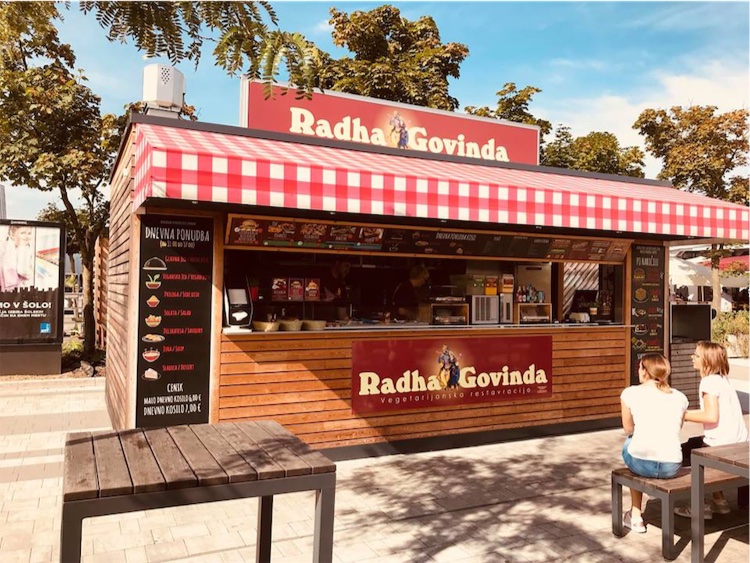 The Veggie Embassy Fast Food kiosk
"We call it Veggie Embassy, because it brings exposure to our mother restaurant," says Mrgendra.
Along with lunch items like rice, subjis, savories, salads, soups and sweets, the kiosk also serves lasagna made with Radha Govinda's own homemade pasta; Balkan specialtyBörek, a flaky pastry filled with spinach and cheese; paneer "steaks;" and French fries.
Then there's the three signature burgers, that have to be tasted to be believed. The Bliss Burger, first created in 1993 by Mrgendra's cooking teacher Bimala Dasi, is made with a homemade wholeweat sesame bun, carrot, Radha Govinda's own mayonnaise, salad, and tomato. The Red Beet Burger is made with beetroot, purple beet mayonnaise, pumpkin seeds and pumpkin oil, and is especially popular in the autumn. And finally, there's the Govinda Burger.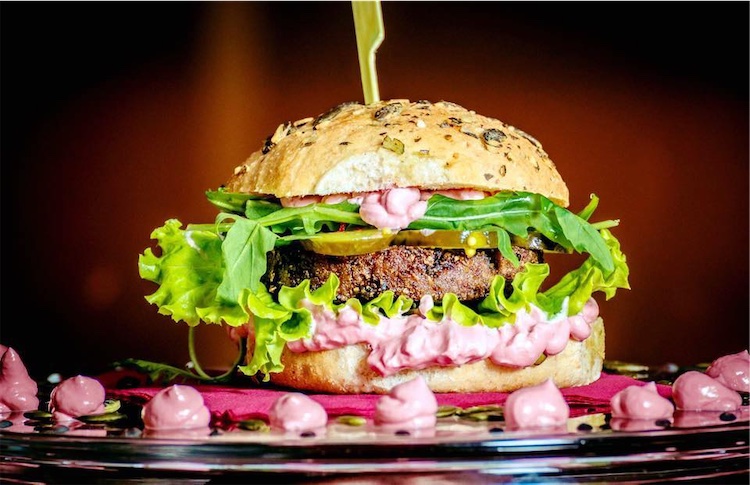 The Red Beet Burger at Veggie Embassy
"It's kind of a play on words, because people are always asking for a beef burger, which in Slovenian is called 'govẹ̑dina,'" says Mrgendra. "So instead, we give them the Govinda Burger, made with seitan, and they love it very much."
Now with a third restaurant opening (all three are staffed by devotees), Radha Govinda prasadam is making a real impact on Slovenia.
"Although over 70% of our customers are not vegetarian, they like to eat our food, because they find it tasty, and afterwards they feel light and full of energy," Mrgendra says. "What's more, they really appreciate when I explain in our cooking courses and on TV interviews the three energetic levels with which we cook. The first is the physical level, which satisfies our tongue and gives us nutrition. The second is the subtle level, the consciousness that goes into our food when we prepare it with love. And the third is the spiritual level – we offer the food, which cleanses it of negative energies and karma."
He grins. "People love these explanations – and, of course, the food that results from them!"
* * *
Visit Radha Govinda restaurants on Facebook: https://www.facebook.com/Govindas.Ljubljana/
Check out Mandala's website: www.restavracija-mandala.si
And the original Radha Govinda restaurant: www.radhagovinda.si
[
ljubljana
] [
restaurant
] [
slovenia
]