for ISKCON News on March 11, 2016
ISKCON devotees in Kanyakumari, the southernmost district in Tamil Nadu state and in mainland India, are in the process of holding fifty Gita Yajnas for ISKCON's 50th anniversary.
"In this program, our aim is to distribute 5,000 copies of Srila Prabhupada's Bhagavad-gita As It Is, and to have recipients take an oath during a fire ceremony to read at least one page daily," says organizer Vikrama Govinda Das.
"We also plan to distribute prasadam – sanctified vegetarian food -- to 10,000 people, and to reach out to a minimum of 20,000 people through Harinama Sankirtana, chanting on the streets."
Devotees started the program in December 2015 on the occasion of Gita Jayanti – the day when Lord Krishna spoke the sacred text Bhagavad-gita to the warrior Arjuna. So far, they have conducted eleven yajna programs.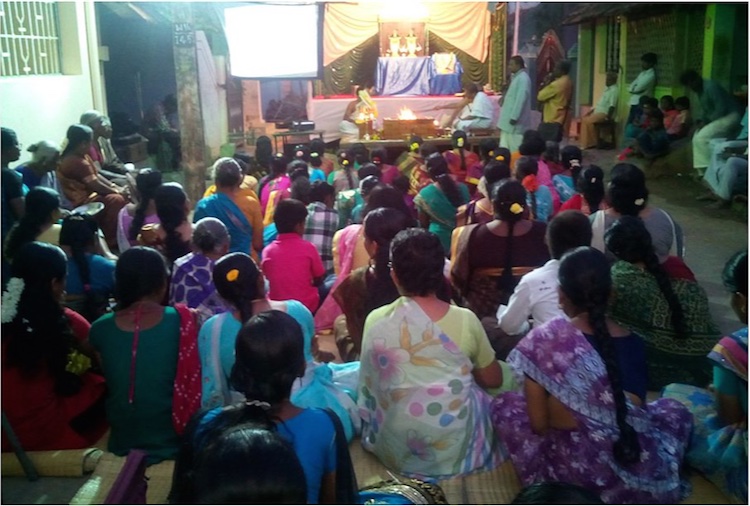 Local townspeople attend a Gita Yajna in Pattariar St
These took place in the towns or neighbhorhoods of Chetty Street, Pallivizhai, Myladi, Manakkarai, Nesalavar Colony, Theroor, Kottaram, Pattariar Street, Mandaikkad, Vadiveeswaram, and Boothapandi.
During the programs, devotees distributed 1,143 Bhagavad-gitas, and nearly 1,720 people took an oath to read a minimum of one page daily. Around 3,220 people snapped up plates of prasadam, 4,650 got the chance to hear Harinama kirtan, and many also received japa beads to chant the Hare Krishna mantra on.
"Our devotees are still working hard to conduct yajnas in the remaining 39 locations," says Vikrama Govinda. "This is an offering of love to Srila Prabhupada for ISKCON's 50th anniversary, and we pray that we complete these fifty Gita Yajnas with the blessings of all the Vaishnavas."
[
bhagavad-gita
] [
gita
] [
tamil-nadu
]