for ISKCON News on July 27, 2018
An eighteen-year-old devotee has turned a debilitating disease which could have led to despair into an opportunity to delve deep into Krishna consciousness, inspiring many. But her journey hasn't been an easy one.
Growing up around ISKCON temples in Gujarat, Ujjain and Pune where her parents Parasurama Das and Shyamangi Radhika Dasi served, Mohini Madaan was born with a genetic condition called muscular dystrophy.
Symptoms didn't show themselves immediately. But when Mohini walked later and differently, her parents realized something was wrong.
At seven, she was diagnosed. Her particular type of MD left her limbs weak, and she was never able to run and jump like the other kids. By thirteen, she could not walk at all and had to use a wheelchair.
From early on, however, the fact that she could not do any extra-curricular activities drove Mohini to be top of her class at school.
"She wanted to excel in life and be the best at something," says her sister Aishwarya. "Her health was always pulling her down, but she was a fighter."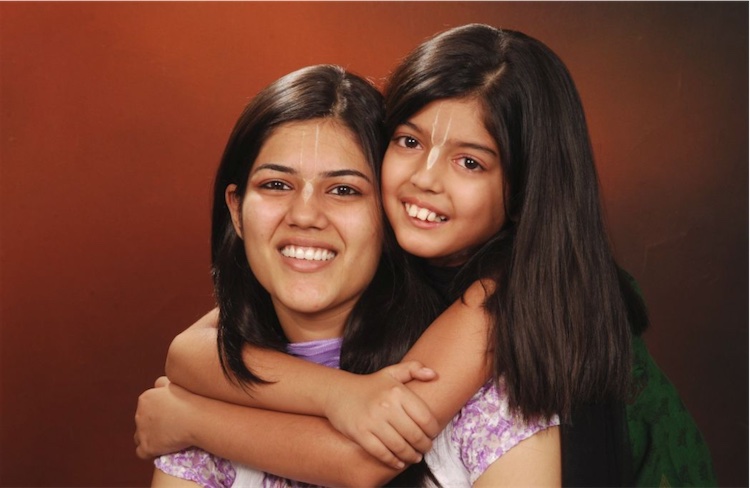 Mohini (right) as a little girl with her sister Aishwarya
In March 2016, at the age of sixteen, Mohini contracted a fever while doing her board exam. During art, she was practically crying with exhaustion, and her hand was shaking. But she wouldn't give up. She finished the exam, then allowed herself to be taken to hospital.
Doctors found that Mohini had a lung infection. But when she proved allergic to antiobiotics, they didn't know what to do. Finally, by combining a treatment called magnet therapy with diet and allopathic medicines, she was able to return home.
There, she expressed her anger and frustration at not being able to achieve what she wanted at school to a visiting Bhakti Charu Swami. "Why is Krishna doing this to me?" she said.
"Wait for Krishna's plan," the Swami replied. "He always has your best at heart."
When at last Mohini got to continue her exams, she had to dictate her answers to another girl because she couldn't hold the pen. Unbelievably, despite her condition, she got 94% in her most important subject of commerce and 95% overall.
The young girl with the big heart drew the attention of India's biggest-selling newspaper, The Times of India. Coming to interview her, they published an article under the headline: "Teen Fights Debilitating Genetic Disorder to Rise Above Ordinary."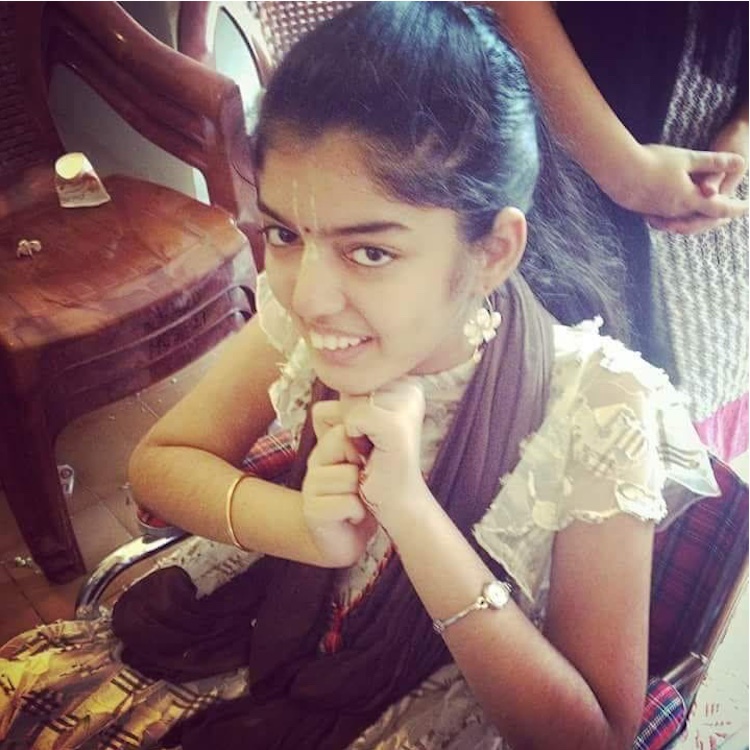 Mohini
Mohini was heartened, feeling that Krishna wanted her to serve Him by inspiring others. But this realization transformed her goals. Once, she had wanted to start her own fashion design business, and like most young people desired money and fame. "I want a house so big that I have to drive a car from one end to the other," she would tell her sister Aishwarya.
Now, Mohini shifted the laser focus she had in her studies to Krishna consciousness. She read books, listened to lectures and watching memories of Srila Prabhupada on Youtube.
On Vyasa Puja day in 2016, she wrote to Prabhupada, "You are the life and soul of your disciples – when will you become my life and soul also? I want to completely surrender to you and Krishna, and serve all the devotees."
Her prayers yielded an unusual experience. Two days later, she suddenly began crying and feeling a lot of separation from the late ISKCON guru Tamal Krishna Goswami, whom she had only seen talking about Srila Prabhupada in Siddhanta Dasa's "Memories" series of videos. She was confused, because she had never met him, but the feeling remained, so intense that she couldn't sleep.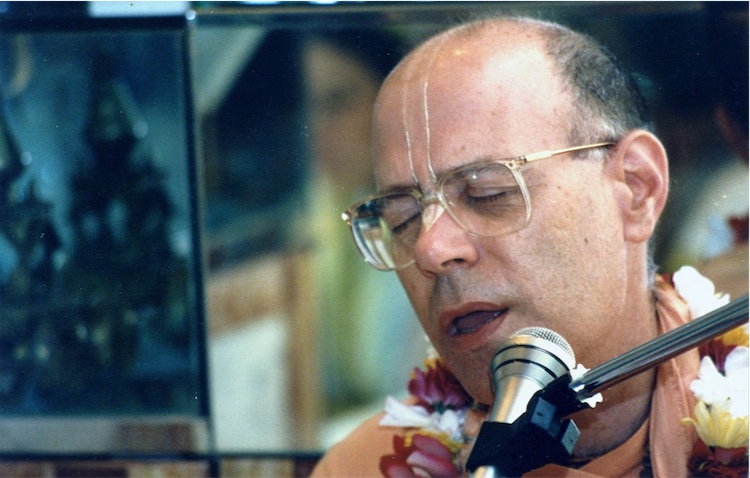 Tamal Krishna Goswami, who deeply inspired Mohini
Mohini began watching every Tamal Krishna video she could find, listening to every lecture, connecting with his disciples on Facebook, and even meeting some of them in person. Inspired by his teachings and legacy, she started a Facebook page called Tamal Krishna Goswami Nectar Drops, as well as a Whatsapp group.
Her groups brought together disciples who had not communicated in fifteen years, since their guru passed away. For many, the pictures and quotes Mohini posted were deeply meaningful. "This is exactly what I needed to hear right now," devotees would tell her.
Brimming over with ideas on how to serve, Mohini began making contacts to plan a reprinting of Tamal Krishna Goswami's book Servant of the Servant, and visited his Samadhi in Mayapur to pray for more inspiration.
But then a weak immune system and excess of carbon dioxide in her lungs landed her in the ICU. Doctors said she would have to be on artificial respiratory support for the rest of her life. Then they dropped the bomb, confiding in her parents that she might only have a few months to a year left.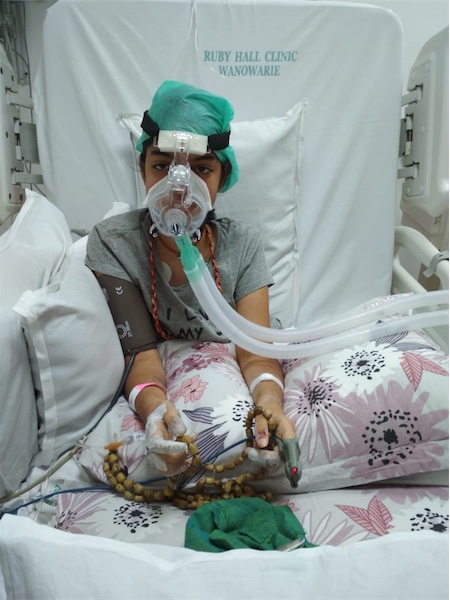 Mohini takes to her japa beads in the ICU
After much soul-searching and consulting with Visvarupa Das of Bhaktivedanta Hospital, a friend of the family, Mohini's parents decided to share the news with her. Although the process of acceptance took time, working through fear and tears, she was grateful to know how long she had so that she could plan.
"I never want to be complacent again," she said. "I just want to utilize every single day of my life in a systematic, Krishna conscious way."
At the top of Mohini's list of hopes was visiting Dallas, where Tamal Krishna Goswami had been based and where he had many disciples. The epic journey was a concern with her condition. Upon hearing of her strong desire, however, Dallas temple president Nityananda Das helped make all arrangements, including ensuring her proper care and comfort during her visit.
When Mohini arrived, all of Tamal Krishna Goswami's disciples were excited to see her, welcoming her with open arms. She reciprocated by spending her first forty days in Dallas meeting them, mostly one on one.
While there, Mohini also took the biggest step in her spiritual life. At first, when she was advised to take initiation from a living guru, she struggled with the idea. "Her heart was sold out to Tamal Krishna Goswami," says Aishwarya.
But through TKG's own lectures, Mohini eventually understood that it was what he would have wanted. And on Sunday July 8th, at the age of eighteen, she received first and second initiation simultaneously from Giriraja Swami, who had also long been an inspiration and support for her. Her new name, he told her, was Madana-mohana-mohini Dasi, after her beloved Radha Madana Mohana Deities.
Giriraja Swami pushes his beloved disciple in her wheelchair
During the initiation, Giriraja Swami shared some of a letter Mohini had written to him expressing her gratitude in the face of incredible trials and tribulations.
"The last eighteen years have been a wonderful journey," she wrote. "Almost every day was a struggle; but now looking back at them, I really grew in my Krishna consciousness. Those years are like an embroidered cloth – all I could see were messy threads; now I am able to see the real, beautiful design."
"I have taken births in so many bodies, and though I don't remember even one of them, I am getting this feeling that this has been the best life ever," she added. "It wasn't so nice materially, but spiritually, I couldn't have asked for better. I could not even imagine how wonderful Krishna consciousness could be. I could not imagine getting this close to Krishna and His dear devotees!"
Madana-mohana-mohini also expressed her trademark determination. "I don't want to waste the opportunity I have," she wrote. "I don't want to take even a single moment in Krishna consciousness for granted. Whatever little time I have, I want it to be filled with pure, selfless love for Madana Mohana and His devotees; unmotivated, uninterrupted pure devotional service."
With words like these, Mohini's future in this life – and beyond – is very bright. And her example will always be a huge inspiration to all of us as we face life's toughest challenges and try to become more dedicated in the service of the Lord.
"I never imagined I would feel so attached to a disciple as I am to Madana-mohana-mohini dasi," says her guru Giriraja Swami. "But my attachment to her, and her Krishna consciousness, have made me detached from my body and from anything outside the transcendental loving service of the Lord. I have been inspired to want to be a better servant, to take more shelter of the holy names and the Deities so I can better serve her and, with her, Srila Prabhupada and Tamal Krishna Goswami and their Lords, and ultimately all living entities. I pray to serve her—and them—eternally, life after life."
[
disease
] [
giriraj-swami
] [
mohini
]