for ISKCON News on Dec. 1, 2017
Since 2007, the Bhaktivedanta Book Trust's training center for new book distributors – Colegio Bhaktivedanta in Mexico – has been gradually strengthening book distribution culture in Latin America. Now, with visible results all over the continent and two new centers on the way, this innovative idea seems to be reaching its turning point.
Colegio Bhaktivedanta was established by Aravinda Das, the BBT manager for Central America, and Latin American BBT Trustee Hanuman Das. Both had been Vaishnava Training and Education teachers, and felt that educating devotees in Srila Prabhupada's books and practical techniques was the way to make a big difference in the book distribution landscape.
With the kind use of land owned by Trilokanath Das on his Nueva Bahulavana property in Cueramáro, between Mexico City and Guadalajara, and a house belonging to Krishna Gauranga Das, the two established a resident Bhakti Sastri training program.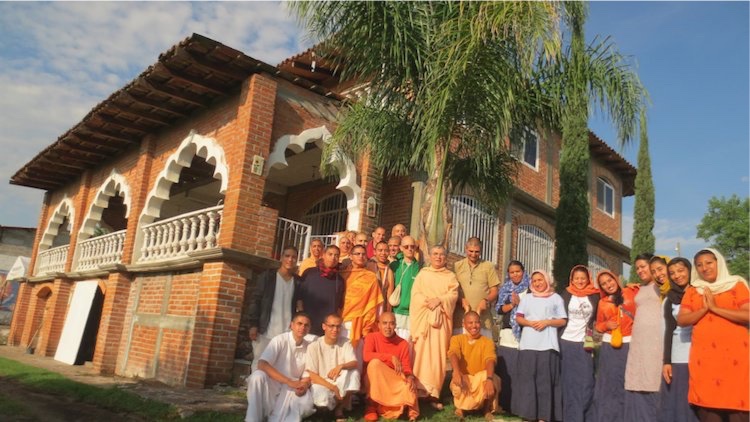 Students outside one of the Colegio Bhaktivedanta buildings
It wasn't easy for local temple authorities to let their best book distributors go for three months of the year, but eventually they were convinced that this would be an investment that would pay off.
They were right.
Today, Colegio Bhaktivedanta is a thriving community of students, teachers, book distributors and even the offices of the local Mexican BBT branch -- which moved its operations from Mexico City to Cueramáro several years ago to be right next to the action.
The center has a classroom, temple room, residential ashrams, and kitchen in Krishna Gauranga's house. For three months every summer, teachers headed by Gokulananda Das teach the Bhakti Sastri program which covers the Bhagavad-gita, Upadesamrita, Bhakti-Rasamrita Sindhu and Sri Ishopanishad. Returning students study a different canto of Srimad-Bhagavatam each summer.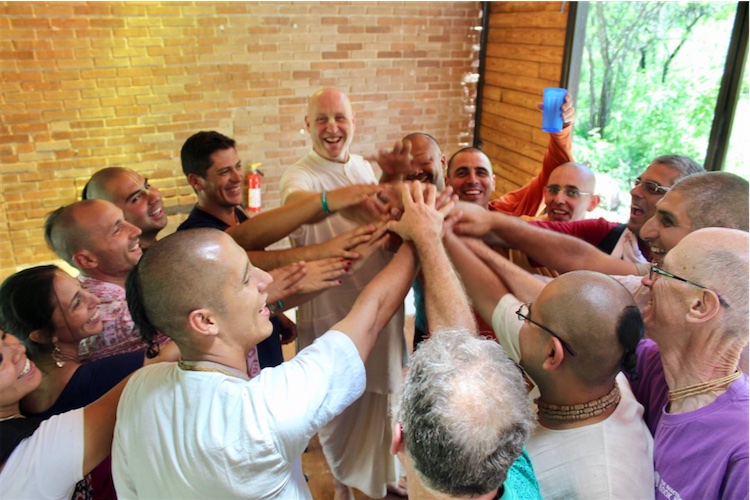 During a visit, Vaisesika Das gets Colegio Bhaktivedanta students and teachers motivated to go out on book distribution
The program is drawing youthful, enthusiastic devotees – some brand new bhaktas and bhaktins, some second generation. This past summer, fourteen men and women from Mexico, Uruguay, Colombia, Honduras and Chile, mostly in their early twenties, took the Colegio's course and dived into Srila Prabhupada's books.
Life at Colegio Bhaktivedanta is busy and completely absorbing. From Monday to Friday, students rise for mangala arati at 5:00am, attend the full standard ISKCON morning program, eat breakfast, and start classes at 9:30am. Each class lasts for one hour, with ten-minute breaks in between. After lunch at 2:30pm, students do homework and prepare for the next day's studies. In the evening, they have kirtan and eat prasadam, go to sleep, and then start it all over again.
On the weekends, practical training in book distribution is the focus. Friday evenings see devotees discussing techniques and challenges. Then on Saturdays, they leave at 6:00am to distribute books in nearby cities, returning at 9pm for a pizza feast.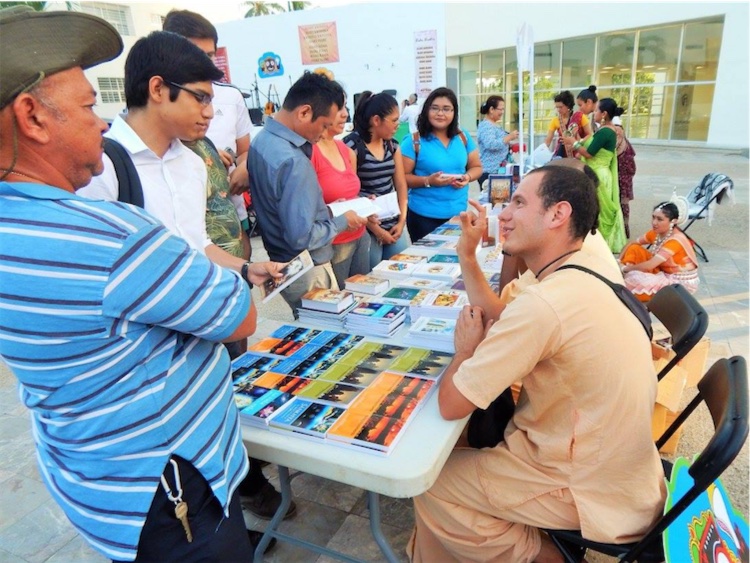 Meghasyama Das talks to book table customers while on tour in Villahermosa, Tabasco
"They go out with experienced devotees, who take care of them and teach them," says BBT Trustee Hanuman Das. "Since they are studying Prabhupada's books, they feel really enthusiastic about sharing them – and they're thrilled after selling just five or six books on their first day. A week later, they're doing ten, then twenty, and by the end of the summer, some are distributing seventy to eighty big books a day! So they really taste the nectar!"
After the three-month summer program, education can continue year-round. Students can first choose to go on the two-week Bhaktivedanta Bus Tour, visiting different cities in the area. This year, 15 young devotees traveled to Mexican cities like San Luis Potosi, Querétaro and Tulancingo from August 25th to September 7th. At each city, they held programs at universities and yoga studios with bhajan, Bharatanatyam dance, a play, and a rousing kirtan finale that had everyone chanting and dancing. They also staffed prasadam and book tables, distributing dozens of books to attendees.
In between programs, Colegio Bhaktivedanta students held Harinamas on city streets and distributed books and prasadam they cooked themselves.
"They become very vibrant distributing Krishna in one way or another," says Hanuman.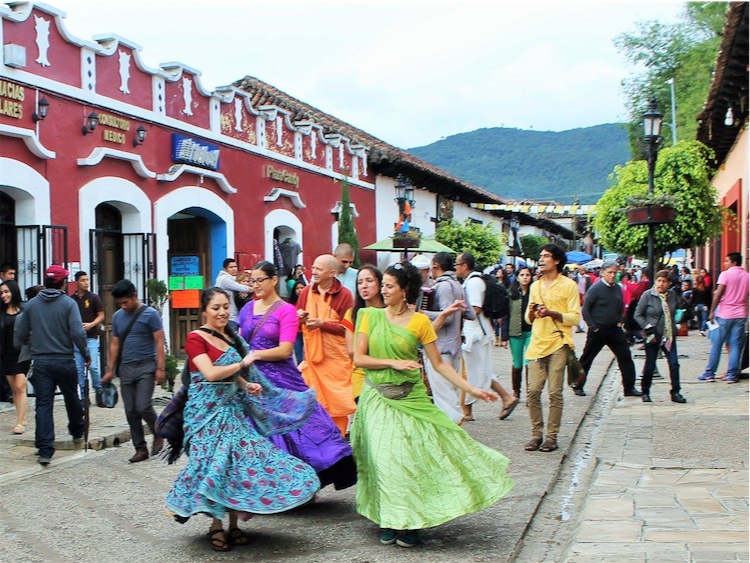 Students go out on Harinama Sankirtana
After the bus tour, students will participate in the Christmas Prabhupada Marathon. Around nine will then continue on into the spring, traveling to other South American countries to distribute books.
"This spring the boys will go to Chile, and the girls may go to Costa Rica," Hanuman says. "We'll coordinate with temple presidents in those countries. Our students' mission when they travel abroad is to help other countries either spark a book distribution program or boost already existing ones."
Students can decide to stay on even beyond this too, and have Colegio Bhaktivedanta help them find a direction in their lives long-term. Over the years, several male and female students have married each other, with the college providing a holistic training program to ensure smooth transition into the grihasta ashram. Some couples have stayed to make a life at Colegio Bhaktivedanta and are now serving at the BBT, the college, or both. Others have returned to their countries and started their own preaching centers there with the support of the college.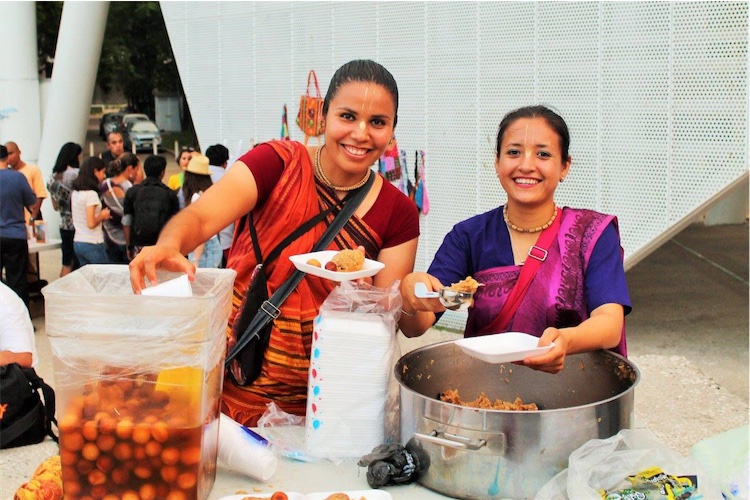 Serving prasadam with a smile while on tour
According to Hanuman, even those that take on other jobs and have busy family lives retain an understanding that "part of being a devotee means sharing Prabhupada's books with others." Many take time off to participate in the Christmas Marathon, or use their vacations to distribute books.
"Our objective is to create sastra sevakas – devotees who study, live, distribute, share, or publish Srila Prabhupada's books, keeping that attitude of service to the books wherever they go in life," Hanuman says.
So far, since Colegio Bhaktivedanta opened, it has sent between 75 and 100 of these sastra sevakas out into the world.
The effects have been astonishing.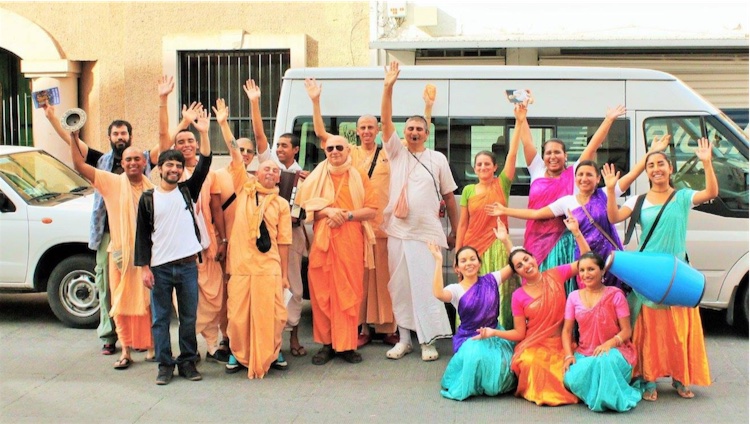 On the 2015 Bhaktivedanta Bus Tour in Chihuahua, Mexico
In Mexico, the number of books distributed has tripled as a direct result, to around 300,000 a year. Nearly half of these are distributed by Colegio Bhaktivedanta students or alumni. Book distribution has also increased in places like Honduras and Colombia due to the efforts of alumni from those countries.
And the numbers are only set to grow. Within the next three years, the college plans to establish at least two other training centers: one in Northern South America, possibly in Colombia or Ecuador, and another far south, in Chile, Argentina or Bolivia. The closer proximity to young devotees in those countries is likely to attract more to enroll.
"We're also working with local temple presidents, who will recommend their new devotees to train in our colleges," Hanuman says.
In the meantime, the original Colegio Bhaktivedanta in Mexico, which so far has been using a house kindly loaned by Krishna Gauranga Das, is building its own campus, funded by book distribution. Constructed with environmentally-friendly materials, it will include a temple room, ashrams for men and women, a boutique store, and three or four classrooms.
The college and its subsidiaries have big long-term hopes.
"Our dream is to live in an ISKCON where there's a culture of service to Srila Prabhupada's books," Hanuman says. "We believe in the power of education to make cultural shifts. And we think that if we can contribute a little bit in that direction, Prabhupada will be more than happy. Because he wanted devotees to systematically and deeply study his books, live their teachings, and share them with others."
[
bbt
] [
book-distribution
] [
latin-america
] [
mexico
]