for ISKCON News on Oct. 13, 2017
The Chief Minister of Madhya Pradesh, Mr. Shivraj Singh Chauhan, visited ISKCON Ujjain on 6th of October. He was greeted by a large group of devotees chanting the Hare Krishna Mahamantra. As he stepped out of his car, he became so inspired by that kirtan that he also started dancing. Bhakti Charu Swami garlanded His Honourable Chief Minister and welcomed him.
During a private meeting Bhakti Charu Swami informed the Chief Minister about ISKCON's mission and Srila Prabhupada's teachings. He talked about how he was invited by the then Minister, Sushri Uma Bharati, to open a temple in Ujjain, but her initial promises were not met. However, he stayed on and started the project on the piece of land that the government had offered to ISKCON. Upon hearing that, the Chief Minister assured him of all of his support.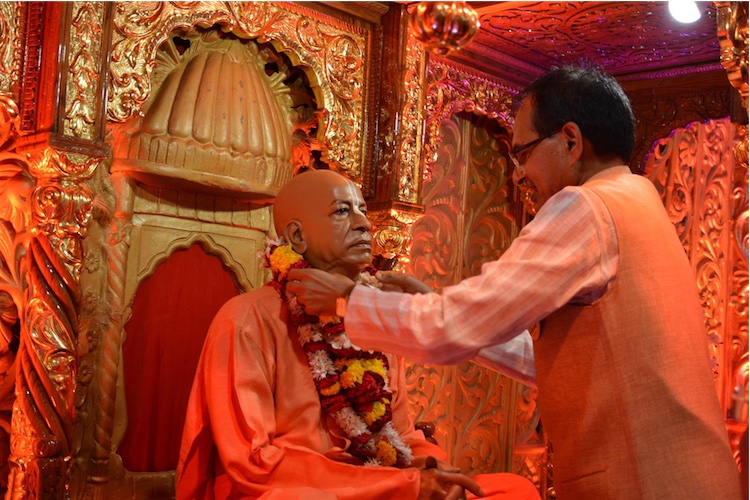 Mr. Shivraj Singh Chauhan garlanding Srila Prabhupada
ISKCON's Governing Body Commission's (GBC) mid-term meeting is going on in Ujjain now and when Bhakti Charu Swami told the Chief Minister about that, he expressed his desire to also participate in that meeting.
While introducing the Chief Minister, Bhakti Charu Swami mentioned how the Chief Minister assumed his office practically when ISKCON also inaugurated the temple in Ujjain about 12 years ago. Since then the Chief Minister has remained in the office for 3rd consecutive term and under his able leadership, Madhya Pradesh had progressed so remarkably.
The financial capital of Madhya Pradesh, Indore and the State capital, Bhopal, holds first and second positions in the cleanest cities of India and Ujjain being the 9th. During the Kumbha Mela, one of the most prominent festivals, in Ujjain, last year, the government spent about a billion dollars to facilitate that festival, giving Ujjain city a tremendous boost.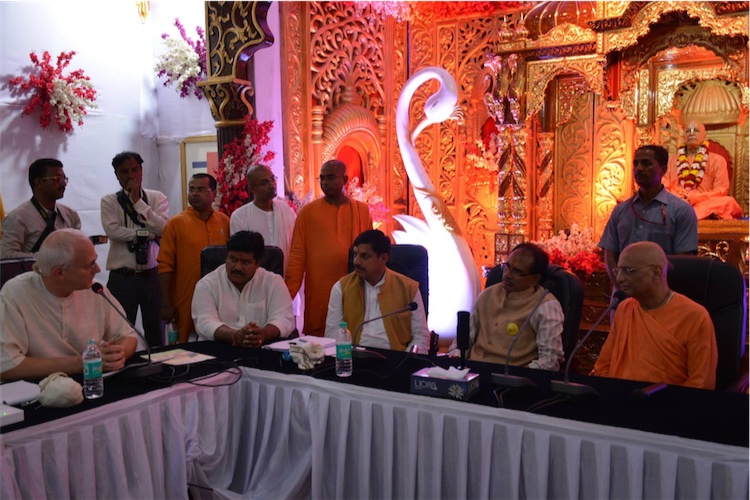 The Chief Minister of Mahdya Pradesh in the midst of ISKCON GBC members
The Chief Minister spent about half an hour in that meeting sharing very sweet and freindly exchanges with ISKCON's GBC members. In his speech, the opening sentence was, "my first identity above the Chief Minister of Madhya Pradesh is that I am a devotee of Sri Krishna."
Mr. Chauhan was gifted a Bhagavad Gita, a set of Srimad Bhagavatam and Krishna Art Book.
After having the darshan of Sri Sri Radha Madanmohan, Krishna Balaram, Jagannath Baladeva Subhadra, Prahladesha Narsinghadeva and Gaura Nitai and garlanding Srila Prabhupada, the Chief minister left the temple while hundreds of devotees were chanting the Hare Krishna Maha mantra surrounding his car.
[
gbc
] [
madhya
] [
pradesh
] [
ujjain
]