for ISKCON News on May 9, 2019
Hosted by a second-generation devotee, new Youtube talk show "The Inspire Show" is a witty, creative and enlightening take on the late night chat show format.
On the show, Balaram Nityananda Das, who also runs Bhaktivedanta Manor's outreach department in the UK, interviews a variety of ISKCON devotees about the challenges they face, what their spiritual perspectives are, and how those perspectives help them overcome their challenges.
Balaram hopes the show will not only bring the devotee community together, but also appeal to the general public.
"I try to picture what it would be like if Kadamba Kanana Swami went on the Tonight Show with Jimmy Fallon," he says. "And I try to create the kinds of conversations that would be relevant to everyone, regardless of whether they're a devotee or not. Hopefully everyone can benefit from them. People want to be happy, and I think we have the answers to how – the Bhagavad-gita is basically a manual on how to be happy!"
New episodes of The Inspire Show are posted every Sunday at Inspire By Balaram on Youtube and Facebook.
Introduced by energetic announcer Radha Sivyer, the show is fresh, youthful and creative. Balaram appears at the beginning at a typical talk show desk wearing a suit and tie; he has a sardonic sense of humor and cracks jokes.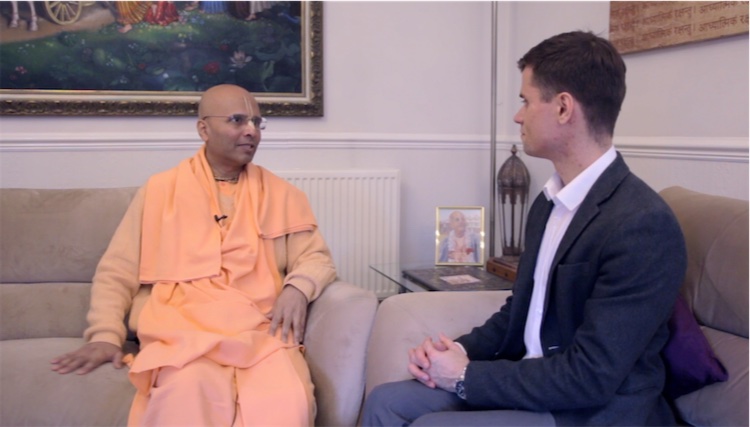 Balaram interviews Bhakti Rasamrita Swami in the latest episode
Episodes often open with short comedic films that offer some insight into Bhagavad-gita philosophy. The five-minute pilot sees Balaram talking to his own mind and intelligence, both represented by differently dressed versions of himself. His intelligence encourages him to be disciplined and motivated, while his mind tries to discourage him and remind him how "useless" he is.
The second episode also begins with Balaram interviewing his own mind, who says he has had a change of heart after meeting a monk, Kadamba Kanana Swami. The rest of the episode features a half-hour conversation with the Swami, as he shares some of the challenges he's faced in his spiritual life, why he left the beautiful city of Amsterdam to live in the austere Indian village of Vrindavan, and what his upcoming novel is about.
Episode three is a talk with Akhandadhi Das, former temple president at Bhaktivedanta Manor. Akhandadhi is a high achiever and a very busy man, now running the Buckland Retreat Center in Wales, as well as The Science and Philosophy Initiative, which is attempting to prove the existence of the soul through science. In the episode, Balaram comments on what he calls the millennial habit (he including himself in the category) of being lazy and unfocused, and asks Akhandadhi to share some tips for his generation on how to focus more and achieve more in life.
The fourth episode sees Balaram and Bhakti Rasamrita Swami sitting down to discuss a key principle from the great historical epic "The Mahabharata" – the psychological good vs bad within all of us.
Another upcoming episode will include an interview with Bhaktivedanta Manor cowherd Sanj Gohil, who shares why cow protection is important, why he loves cows, and why he volunteers so much of his time at the goshala.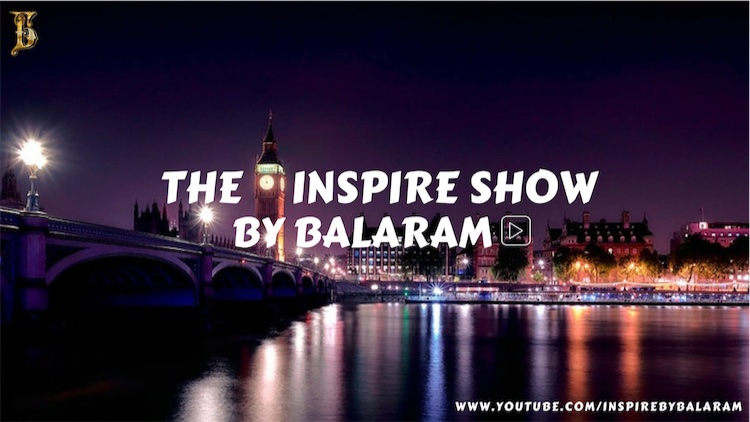 The Inspire Show Title Card
Going forward, Balaram wants to interview as many devotees as possible – especially those who may not otherwise get the chance to speak.
"The devotee who washes the pots, for instance," he says. "Or there's one devotee that bakes the bread every day at the Manor. And one day he just came up to me and was like, 'Do you know why we count our rounds every day?' And I was like, 'I dunno.' And he shot back, 'So that Krishna can count on us.' So every single devotee has little nectar drops to share, and I want to capture them on the show."
Alongside regular episodes of The Inspire Show, Balaram is also making short films for his Facebook and Youtube pages. His next one imagines what it would be like if someone going through a rough period in their lives got the chance to speak to Krishna.
In addition he posts quotes, pictures and wisdom nuggets on Instagram that further fill out the meaning and essence of The Inspire Show. A recent post shared differences between the antagonist, Duryodhana, and hero, Yudhistira, of the epic Mahabharat and asked, "Who will you choose to be?"
"Hopefully we can make the philosophy of the Bhagavad-gita easier to understand, in a format that's fun, visual, and shows how to apply the teachings to your life," Balaram says.
* * *
Watch The Inspire Show on Facebook here: https://www.facebook.com/inspirebybalaram/videos/
And on Youtube here: https://www.youtube.com/user/PerezBalaram3/videos
[
bhaktivedanta
] [
entertainment
] [
manor
] [
uk
]