for ISKCON News on July 14, 2019
In honor of ISKCON's 50th anniversary, two award-winning film were produced. While Yadubara Das' film the Hare Krishna! presents Prabhupada's extraordinary life, an ISKCON Communications Ministry documentary The Joy of Devotion directed by Krisztina Danka (Krishna Lila Dasi) of Karuna Productions picks up where the other film leaves off and captures Prabhupada's worldwide impact, and gives an overview about what ISKCON is today, featuring dramatic, personal and very inspiring stories of devotees around the world and the difference they are making in society.
How does a young woman in South Africa adjust her newfound passion for Indian spirituality with her Zulu tribal background? What convinced the Soviet regime to stop persecuting Krishna-devotees? How to find joy in helping Mumbai slum kids getting fed and educated? What is a Florida elementary school teacher devotee's greatest fear in life? What was the key for Prabhupada's success according to Harvard scholars? How did devotees in Hungary turn a barren, tic-infested sheep run into Europe's largest eco-village? How does a British rock star use his talents in spreading the Holy Names around? What do Brazilian devotees do with rainforest birds confiscated from smugglers?
The Joy of Devotion from Karuna Productions on Vimeo.
The film also features exclusive interviews with some of the best-known scholars to ever study ISKCON and Vaishnavism, including Frank Clooney from Harvard University, Thomas Hopkins, Larry Shinn, and others.
Now, in time for the upcoming Janmasthami and Srila Prabhupada Vyasa Puja festivals, ISKCON Communications Ministry offers centers around the globe the opportunity to entertain and inspire their congregation by screening the hour-long 'The Joy of Devotion' film.
For a limited time, until August 25th, a copy of the film and the unlimited public screening license is available for 50% off, a discounted price of $54, and could be ordered here: https://www.joyofdevotionfilm.com/hold-a-screening.
With the promo code VYASAPUJA the 50% off promotion is also valid for home streaming:
https://vimeo.com/ondemand/thejoyofdevotion
The film is now available in English, Spanish, Italian, Portuguese and Hungarian.
Along with the film the Communications Ministry provides free downloadable posters and flyers.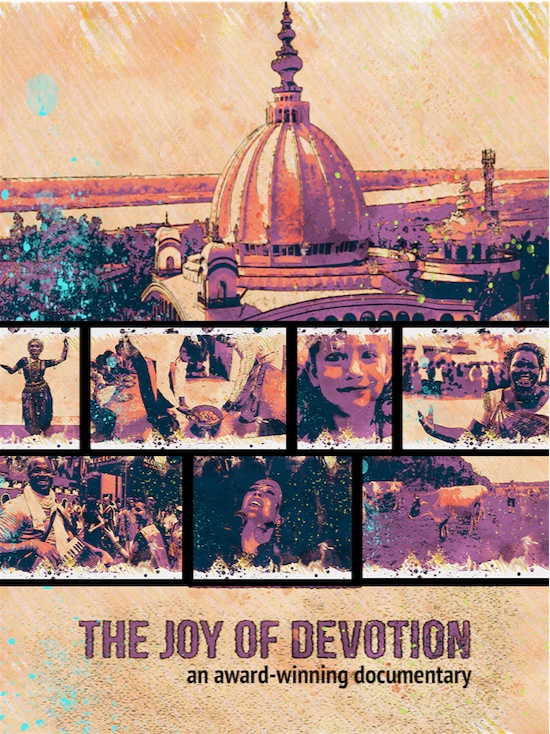 * * *
"At the conclusion of the Joy of Devotion film, the interviewee says "I don't want his [Srila Prabhupada's] mission to go in vain." This sentence summarized for me, as it must for all followers of Srila Prabhupada, the mission of life: Srila Prabhupada's gift of pure devotion must be delivered to the suffering souls of this world. When it is, both the recipients and the donors will be blessed with the joy of devotion, a joy that has no equal either in this world or anywhere beyond." - Sivarama Swami - ISKCON Governing Body Commissioner
"It was most inspirational to see how much ISKCON has achieved over the last 50 years, and continues to achieve. Often we are not aware of just how much is going on all around the world, so seeing this beautifully-made film really brings that to light." - Srutidharma dasa - Temple President, Bhaktivedanta Manor, UK
"In an exciting, relatable, and fun way, the Joy of Devotion puts us in touch with ISKCON's presence and diverse activities throughout the world. And the film introduces us to an international array of brilliant and sincere devotees. These devotees – the men and women the film highlights – are spiritually vibrant and uniquely individual. Hearing from them, we appreciate their motivation and dedication; we feel infused by their enthusiasm. And the substantial points the film's many scholars make firmly establish the authenticity and depth of Srila Prabhupada's teachings and movement. The Joy of Devotion is a valuable contribution to the Hare Krishna movement!" - Visakha Dasi – Author, photographer
[
documentary
] [
film
] [
janmasthami
] [
joy-of-devotion
] [
vyasa-puja
]