for ISKCON News on May 9, 2017
Smashing expectations, around 2,300 people attended the three-day festival opening the new Vedic-style ISKCON temple in Baltimore, Maryland from April 28th to 30th.
They came from India, England, and all over the U.S., and included local congregation and public as well as many Srila Prabhupada disciples who had previously served in Baltimore.
After 43 years of worshipping in the same small house, devotees were delighted to see the brand new $3.6 million, 12,000 square foot temple with its three storeys, Vishnu-engraved pillars and entrance flanked by bas-relief Gaura Nitai.
The new temple was needed as the Baltimore congregation has vastly outgrown it over the past few years – an exciting reminder that ISKCON is actually growing rather than dwindling in parts of the U.S.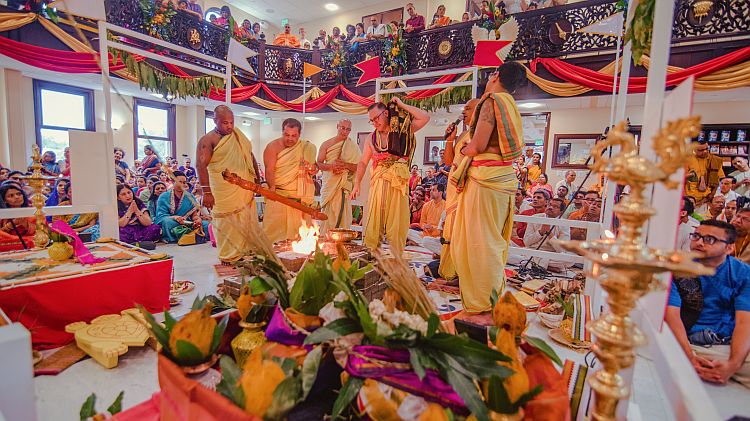 A team of devotees welcomed everyone with open arms, anointed them with tilak, and presented them with programs outlining the festival schedule.
The festival grounds included a Bhakti Lounge tent teaching mantra meditation to first-timers, a book table, and snack booths. Because even the spacious new temple room could not accommodate all the crowds, a basement cultural hall and large tent outside both projected the main ceremonies on screens.
Inside, tasteful flower decorations and colorful cloth hangings added to the beauty of the temple room, with its intricate architectural details and wrap-around windows letting in natural light.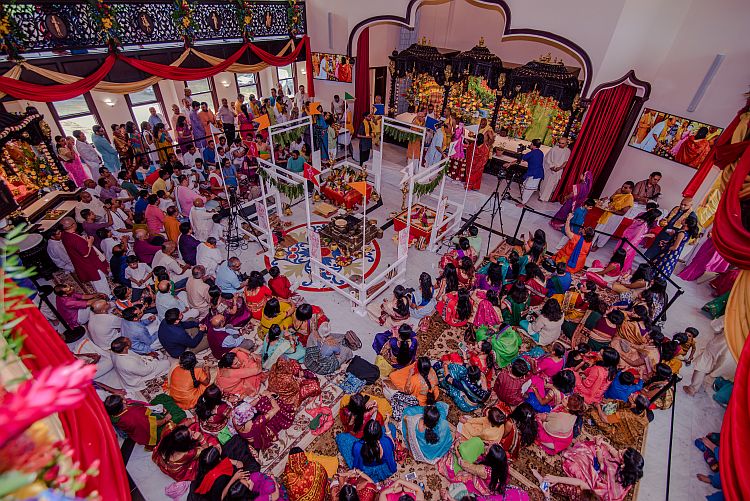 Flags and an artistically designed mandap cordoned off the sacred yajna area from the crowds. Inside it, priests in traditional attire performed elaborate fire ceremonies throughout the three days to purify the temple for the Lord's entrance.
As they did, ecstatic kirtan by Gaura Vani, Visvambhar, Tulasi Harrison, Mukunda and others created an exciting and devotional atmosphere.
The festival culminated with a huge celebration on Sunday. It began with the Prana Pratistha, or eye-opening ceremony for the new Deities of Sri Sri Radha Madhava.
Sri Sri Nitai Gaurasundara and Sri Sri Jagannath Baladeva Subhadra were then carried in a jubilant procession from the old temple, with devotees holding hands on either side and showering Them with flowers.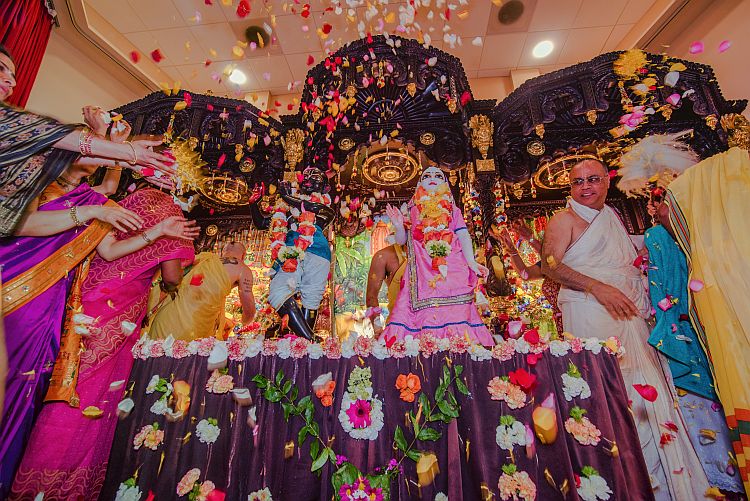 All three sets of Deities were welcomed and bathed in an elaborate abhisekha ceremony. They were then revealed in gorgeous outfits, installed on Their new ornate wooden and gold leaf altars, to a rapturous crowd.
"The whole temple was packed – people were spilling out of the temple room, downstairs and outside for the final, ecstatic kirtan," says president Nila Madhava Das.
The festival was recognized by many guests as especially well-organized, and the temple opening hit the front page of leading local newspaper the Baltimore Sun.
Now devotees say the major new temple will allow them to serve their community with outreach opportunities they were missing out on with the previous, too small building.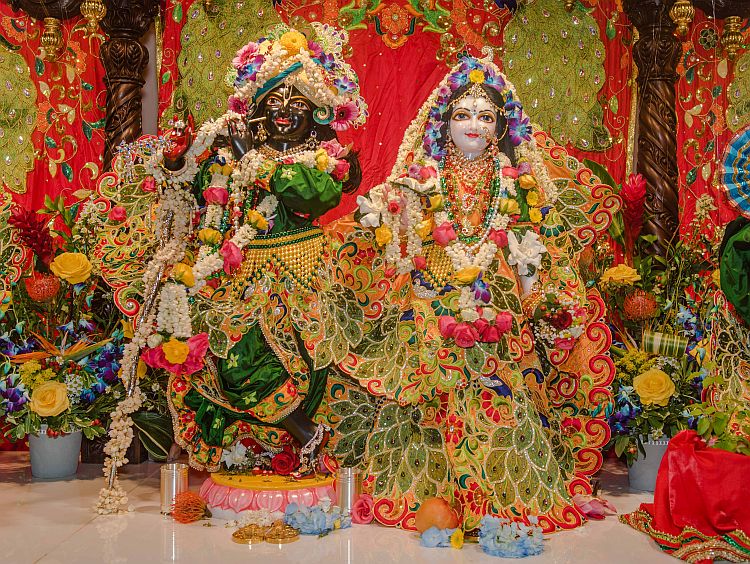 "Srila Prabhupada said that no one should go hungry within a ten-mile radius of any ISKCON temple," Nila Madhava quotes. "Now we have a commercial kitchen where we can cook for 600 people at a time. So we'll be bringing hot prasadam meals to homeless shelters as well as to battered women and veterans in the area."
Baltimore devotees will also expand their college outreach programs beyond the six they are already doing, and increase the efforts of their Bhakti Lounge in reaching Western audiences.
"We want to connect with the whole local community, and help them understand what the Hare Krishnas are all about!" Nila Madhava grins.
[
baltimore
] [
installation
] [
new-temple
]