for ISKCON News on Sept. 20, 2019
Thousands of devotees from all over Ukraine and Moldova flocked to Koblevo, a Black Sea resort near Odessa, to attend Ukraine's Bhakti Sangam festival from September 12th to 16th.
Launched in 1996 by Niranjana Swami and starting with an attendance of only 400, it grew to become one of ISKCON's biggest festivals, with an unbelievable 12,000 devotees participating at one point.
With less devotees having the funds to travel since the Russo-Ukranian war began in 2014, and foreigners having to apply in advance for special government permission, numbers have reduced somewhat, but remain impressive.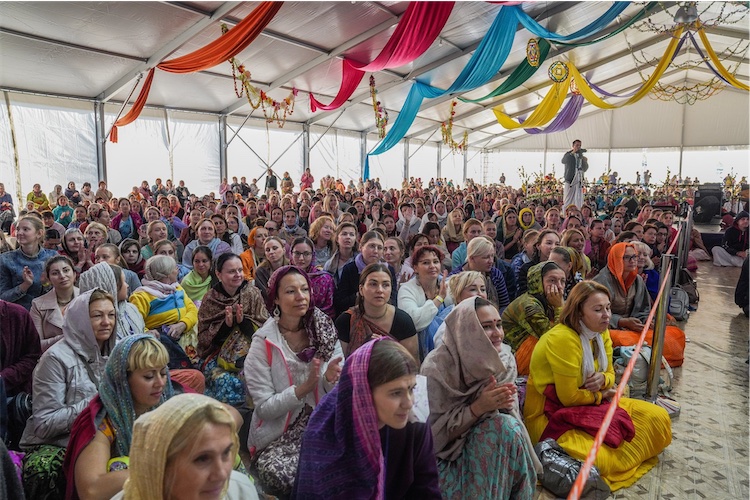 Thousands of devotees packed into the huge pandal
The sweetness, meanwhile, continues to climb. This year's festival, organized by Gaura Purnima Das from Kiev, focused on cultivating a service mood and caring for the devotees.
There was no set admission price – devotees donated what they could to cover costs. Everyone was encouraged to feel a sense of belonging and ownership of the festival, and to share responsibility for its success. All services were done on a volunteer basis.
In the giant outdoor kitchen, some 100 devotees could be seen cutting vegetables and cooking three and a half tons of prasadam a day over wood stoves.
200 people served out tasty prasadam meals of rice, dahl, paneer subji, bread, halava and drinks.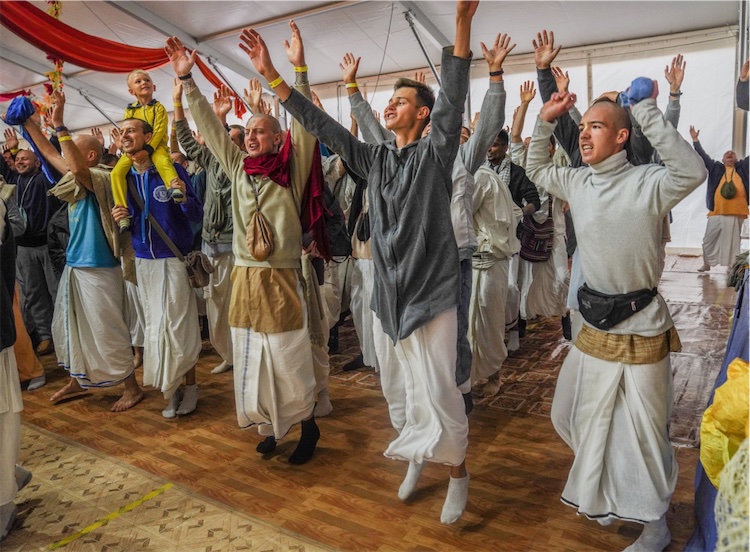 Jumping for joy
A special "Krishna Market" operated on a donation basis, with no fixed price for its wealth of saris, dhotis, kanti malas, japa beads, beadbags, jewelry, incense and spices.
"Our goal is not money – our goal is to satisfy the devotees," says Acyuta Priya Das, zonal supervisor for Ukraine and Moldova. "And in so doing we're also trying to teach the devotees how to live a happy life in service by giving."
Serving the Lord was, of course, also the focus. Inside the festival's 16,000 square foot main pandal, decorated with colorful draped cloth and mandalas hanging from the ceiling, was a raised platform with a gorgeous altar for lifesize Gaura Nitai Deities.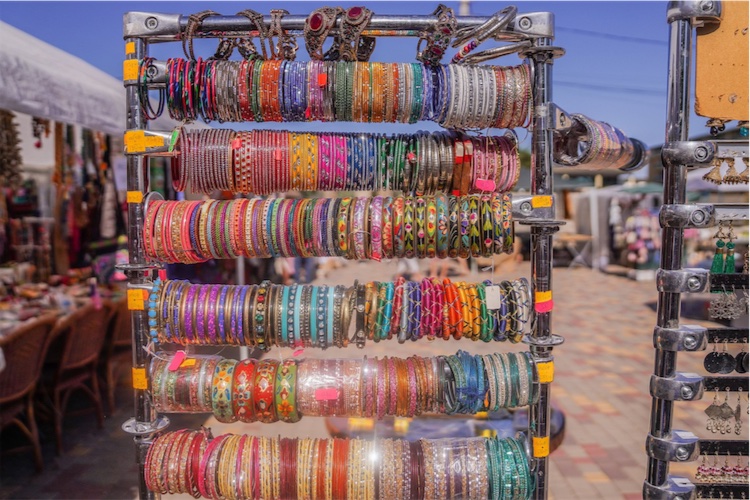 Some of the wares on offer at the Krishna Market
On Their right was Srila Prabhupada's vyasasana; on Their left, a seat for the morning speaker, with a large screen showing the speaker so that everyone could see. In the center of the pandal, meanwhile, was a small stage for kirtan leaders.
Each day, after the full morning program, there were four seminar slots at once in different locations, with an astonishing array of senior devotees delving into a wide variety of topics.
Many dived deep into the Vaishnava scriptures. Both Bhaktivaibhava Swami and Bhanu Swami discussed Srila Bhaktivinode Thakur's Jaiva Dharma. Bhakti Bringa Govinda Swami spoke on Sanatana Goswami's Brhad Bhagavatamrita, and Brijabasi Das on Srila Vrindavan Das Thakur's Chaitanya Bhagavata.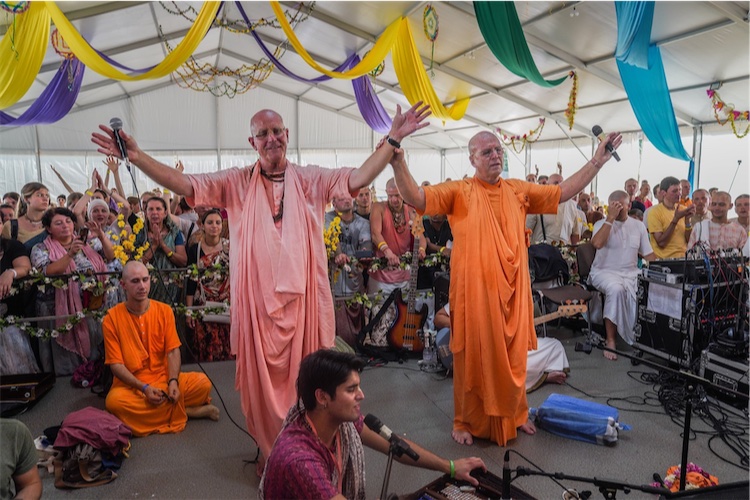 Indradyumna Swami and BB Govinda Swami dance blissfully in kirtan
The Srimad-Bhagavatam, in particular, was a major source for many seminars. Acyuta Priya Das spoke about The Science of Surrender to Krishna in the Bhagavatam; Dvidja Govinda Das about the Cosmology of the Fifth Canto; Indradyumna Swami about the story of Dhruva Maharaja; and Devamrita Swami about Lessons from Kaliya and his Wives.
Some topics were more practical; these included Prahladananda Swami's Purpose Centered Life; Sivarama Swami's Preach to Serve, Serve to Preach; Dhirasanta Goswami's Japa Workshop; Jayadvaita Swami's The Vanaprastha Adventure; Bhakti Prabhava Swami's The Vaishnava Culture of Respect; and Devaki Dasi's Being in Harmony with the Other Gender.
Others explored ISKCON's history, such as Yadubara Das with his Forty-Five Years of Filmmaking in ISKCON; and Srutakirti Das, who entranced everyone with his stories of his time as Srila Prabhupada's servant.
In the evenings, everyone – thousands of devotees – came together for about three hours of kirtan.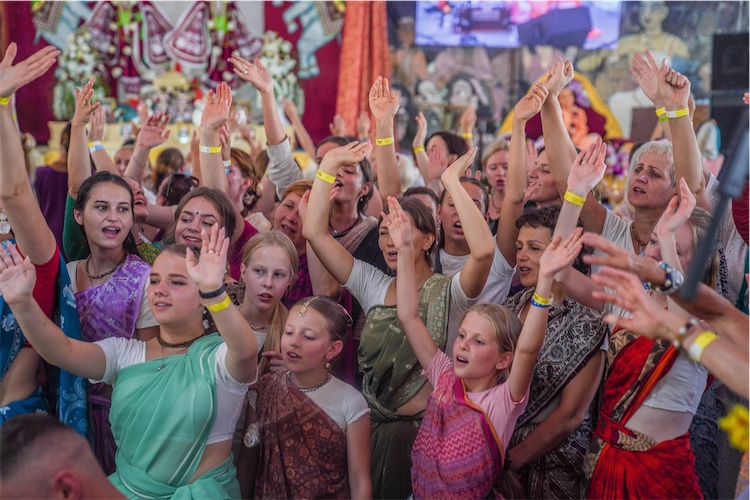 The mood was ecstatic
"There were very ecstatic, happy kirtans led by B.B. Govinda Swami, Niranjana Swami, Sivarama Swami, and Devamrita Swami," says Acyuta Priya. "They were accompanied by mridanga, kartals, harmonium, flute, violin, bass guitar, and of course an ocean of very blissful devotees!"
As it has been for decades, the Bhakti Sangam experience this year was life changing.
"All the devotees were in ecstasy," Acyuta Priya says. "Because they are serving at the festival for free, it creates a very nice family mood, along with a culture of respect, honor and service amongst the devotees. And that's something very special."
[
bhakti-sangam
] [
ukraine
]