for ISKCON News on Aug. 4, 2016
Tens of thousands of young rock music lovers with Mohawks, tattoos, leather jackets and piercings eating prasadam, dancing joyfully in front of Jagannath's Rathayatra cart, snapping up Prabhupada's books and singing Hare Krishna straight from their hearts.
Welcome to Krishna's Village of Peace at Polish Woodstock.
Running from July 13th to 16th this year, Krishna's Village is an ISKCON success story, one of the biggest outreach efforts in the world. It's been part of Woodstock since the music festival's inception 22 years ago in 1994, when organizer and renowned philanthropist Jurek Owsiak saw a similar vision in traveling preacher Indradyumna Swami.
"They both wanted to give Polish youth something more than just entertainment," recalls Nandini Dasi, who manages Indradyumna Swami's Baltic Sea Coast summer tour with her husband Jayatam. "Owsiak said, 'I want to add some color to my festival – would you be interested in sharing your message and helping other people to be as blissful as you?"
Woodstock began with around 30,000 participants in total, and 120 devotees working in Krishna's Village of Peace. With its promotion of non-violence, a drug-free lifestyle, and reciprocal service – Owsiak fronts the cash for the festival and the youth of Poland raise it back in one street collection day – it was a perfect fit for the Hare Krishnas.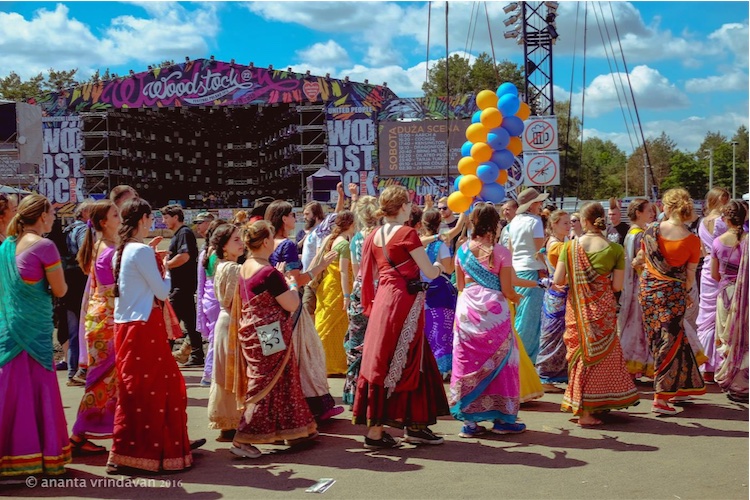 And so flash forward to this year, as an unbelievable 850,000 people attended Woodstock, with 550 devotees serving out 100,320 plates of prasadam in their Village.
"There are only three stages at Woodstock – the main stage, a smaller music stage, and our Krishna's Village of Peace stage," says Indradyumna Swami. "So when the kids get tired of the wild music, dancing, and dirt, a lot of them spill into our Village where there's a sense of serenity, culture, higher knowledge, fun and cleanliness."
The cleanliness is not just metaphorical – Village of Peace is the only site at Woodstock that has a full-time cleanup crew of twenty-five devotees, constantly picking up 'every single piece of garbage' and popping it into plastic bags.
Meanwhile Village of Peace is also where youth can find entertainment that has variety far beyond the usual heavy rock music. In a giant 180 x 75 foot tent, this year they watched epic theatrical productions of 'SitaRama' and 'Vrindavana' featuring dance, music, acrobatics and aerial ring acts; a minimalistic theatrical Gita show; a magic show that dazzled with swords and fire; the love story of Usha and Anniruddha told through dance and aerial rope acts; martial arts using classic Indian weapons like the chakra; amazing physical feats with the Yoga Duo; and a brand new avant-garde hip-hop dance drama on the Lord's ten incarnations.
"Srila Prabhupada said, 'We'll take over the world by culture,' and so we've been trying to refine our cultural presentation over the past 27 years of our Polish tour, which holds festivals along the coast every summer," says Indradyumna Swami. "We've gathered a large pool of extremely talented devotees from throughout Europe, and have managed to get a pretty professional show going. One time someone said to me, 'You're almost as good as Cirque du Soleil. But while you may not be quite on their level, the difference is that you guys have a message, and so I prefer to come see you.'"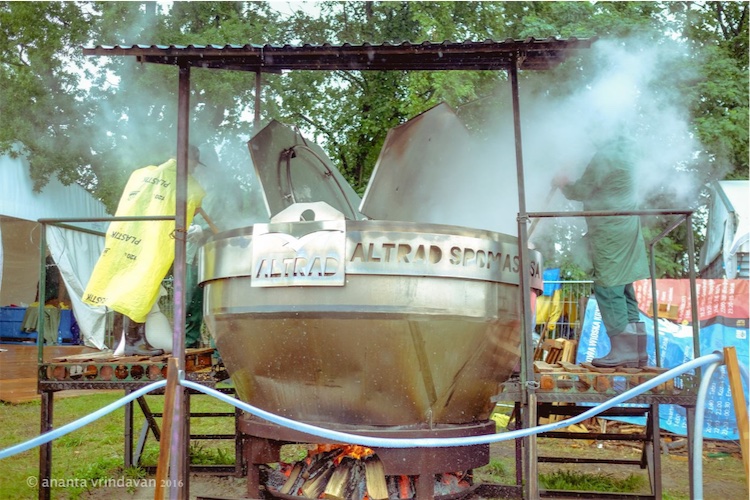 As well as its theatrical spectacular, Village of Peace also features about fifteen tents depicting various aspects of Vedic culture, where festivalgoers can get gopi dots or henna, purchase devotional clothing, learn yoga or meditation, and even get their fortunes read by devotee astrologers who take them to the point of chanting Hare Krishna on beads as the ultimate solution to all life's problems.
This year there were also philosophical lectures on the mainstage by Chaturatma Das, Sri Prahlad Das, and Indradyumna Swami, and a Question and Answer tent routinely filled with a couple of hundred young people at any one time asking questions about Krishna consciousness.
And then there were the over 100,000 plates of prasadam.
"Teams of devotees from all over Eastern Europe, the U.S. and Australia cooked the meals in kitchens at three local schools and brought them to the festival," says Indradyumna Swami. "Some cooked subji live onsite in a huge 3,760-liter pot, stirring it with a massive spoon, which was very attractive for the kids to see. We had six or seven long lines of people coming to take prasadam every day."
Last but certainly not least, there were the kirtans.
In the Mantra Yoga tent, running twelve hours a day, devoted chanters like Badahari Das, Sacinandana Swami, Madhava Das, Mahatma Das, Acyuta Gopi Dasi and Indradyumna Swami led back-to-back ecstatic kirtans with up to one thousand youth joining in from 4pm till 1:30 in the morning. And on each of the four days of Woodstock, devotees took Jagannath's colorful chariot on a beautiful, celebratory Rathayatra parade through the festival site.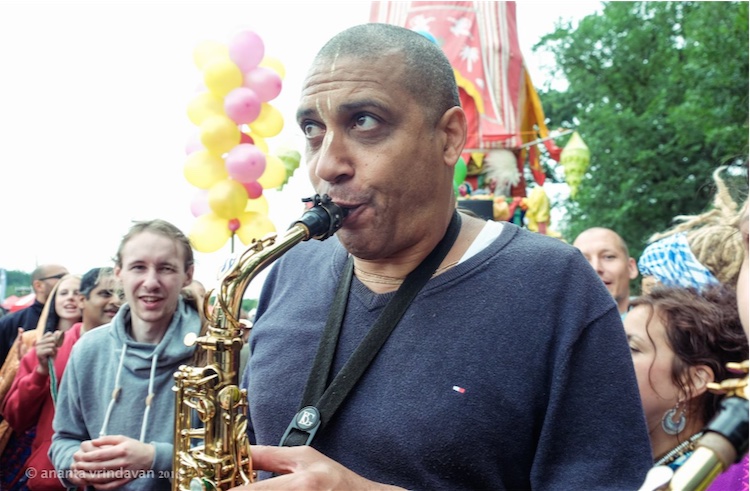 During both of these efforts, video footage shows young rockers dancing in synchronized moves with the devotees, jumping up and down with their arms in the air, swaying with their eyes closed and earnest expressions of meditation on their faces, and taking the mic to sincerely chant the maha-mantra themselves. The deeply moving sight has to be seen to be believed.
"Many of these kids have been coming to Krishna's Village of Peace for three, four, five years in a row, and they keep coming back to experience our kirtans," says Indradyumna Swami.
One of the keys to Village of Peace's success is that the devotees' mood is one of service and sharing with people – not preaching to them.
"We try to give our message with love and respect, and don't consider people to be lower or knowing less than us," says Nandini.
Building relationships with the Woodstock crowd in this way has seen festivalgoers evolve from simply looking at the devotees; to asking questions; to dancing with them; to this year, for the first time, taking the mic and singing the maha-mantra. Also, interestingly, although devotees do not do active book distribution on the festival site – along with their theme of not preaching – people this year did purchase over one thousand of Srila Prabhupada's books at their book tent.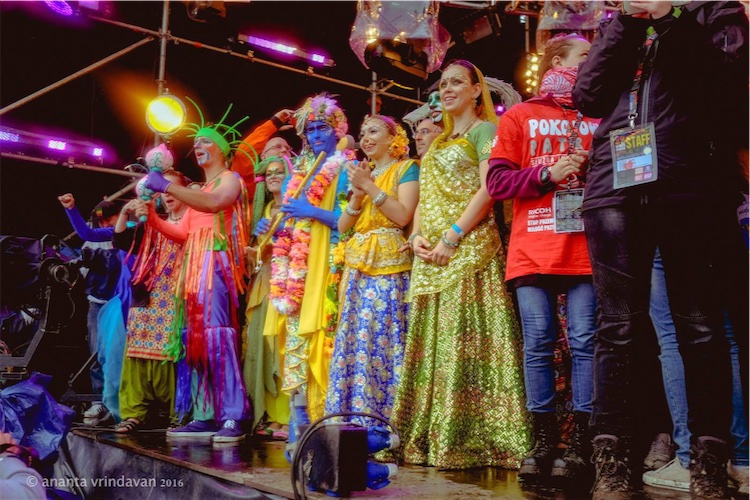 "It takes time, but giving them that Krishna conscious experience is really changing people's lives," says Nandini.
As for the devotees who participate, they gain a lot from the unique experience too.
"As Jesus said, it is better to give than to receive," says Indradyumna Swami. "We don't come here just to enjoy the festival ourselves, as we do in our temples on Janmastami or Radhastami. This festival is for the people, and our mood is to share with them and serve them."
Of course, devotees do get to participate in the festival too, but most of their focus is on service.
"Devotees are coming from far away and just working so hard, cooking prasadam, setting up the tents, picking up the garbage in the fields," Indradyumna Swami says. "But when they look out and see people relishing the prasadam, dancing with abandon in the kirtans, pulling the ropes in the rath, that's where our happiness comes from. We enjoy seeing the people enjoy Krishna consciousness. That's our satisfaction."
This special higher taste has drawn devotees young and old to help at Woodstock for the past two decades. And today, although the number of volunteers is higher than it once was, organizers say they're still praying each year that they'll get enough to keep Krishna's Village of Peace operating at the same high level.
So they're inviting devotees all over the world to come, participate, and even bring the successful format home to recreate it in their own countries.
"I often say that just as every Christian should go to Jerusalem once in his life, and every Muslim should go to Mecca, every ISKCON devotee should come to Krishna's Village of Peace at Woodstock," Indradyumna Swami grins.
[
festival
] [
indradyumna-swami
] [
poland
]