After a successful school year of keeping all students safe during the Covid-19 pandemic, the TKG Academy in Dallas, Texas held a graduation ceremony on May 27th that felt "triumphant," according to Vice Principal Gopi Gita Dasi. During the event, three students who had attended TKG Academy since preschool graduated from Twelfth Grade, while the rest of the school's thirty-three students received end-of-year certificates.
Throughout the year, Covid safety protocols such as masks, social distancing, hand washing, and air filtration systems inside the classrooms were in place. "The school Principal Nrtya Kisori Dasi and I really firmly believe that Kalachandji protected our students, and protected our community, as not one child got Covid during this entire time," Gopi Gita says.
At the end of such a challenging year, it was a relief to be able to hold the outdoor Graduation Ceremony without masks, as local mask mandates have been lifted and most of the adults in the school community have been vaccinated.
The ceremony was held at the stage in Kalachandji's Park, situated near the ISKCON Dallas temple, and between TKG Academy's Krishna House campus for Lower Elementary and Early Childhood students, and the Gaura House for Upper Elementary, Middle School and High School students.
Honored guests included ISKCON Dallas Temple President and Chairman of the School Board Nityananda Das; former Principal Jayanti Dasi; School Advisors Rtadhvaja Swami and Visvambhara Das; and Prabhupada disciple and former teacher Bir Mala Dasi.
Opening the event, MC and Principal Nrtya Kishori Dasi recognized each teacher and volunteer for their year of service during Covid, while Nityananda Das welcomed everyone. Students from each class, beginning with Early Childhood and going all the way up till Twelfth Grade, then ascended the stage one at a time to receive a certificate from Rtadhvaja Swami along with words of recognition and "qualities" from their home room teacher.
Gopi Gita explains the "qualities" system: "One of the core principles at TKG Academy is to encourage cooperation rather than competition. By encouraging cooperation, you increase a child's internal motivation, while by making a competitive environment, you decrease a child's internal motivation, because you're extrinsically rewarding them. So children end up doing an activity or excelling in an area because of the recognition for it, instead of the sheer pleasure of it. That's why we decided that instead of giving students rewards for highest achiever or best in math, we would recognize their soul qualities."
Thus at the ceremony, each student was recognized for a prominent quality they had displayed during the school year, such as tolerance, humility, kindness, compassion, perseverence, effervescence, ingeniuity, affability, or chivalry. Along with recognizing the quality in their student, the home room teacher also described how the child had shown the quality throughout the year, recounting specific acts such as, "I noticed how every time another child had difficulty with such and such, you would go and take care of them." This practice encourages teachers to really "see" their students rather than just recognizing them for external success, and blossoms positive qualities within the child.
"While project based, inquiry based, and thematic education that encourages internal motivation is the focus of every lesson at the school, external outcome are also shown," Gopi Gita points out. "Standardized Test scores from 2021 have returned and from an initial glance, results are higher than the past eight years statistics: one out of three of our students are in the top 5% of the country. Three out of four students are in the top 10% of the country."
At the end of the ceremony, three students who had attended TKG Academy since Pre-K, all the way up to sixteen years old in Twelfth Grade, graduated from High School – Arjuna Penate, Gandiva Penate, and Nitai Prana Schomaker. The three were also completing dual enrollment, and were the school's first group of graduating students in many years.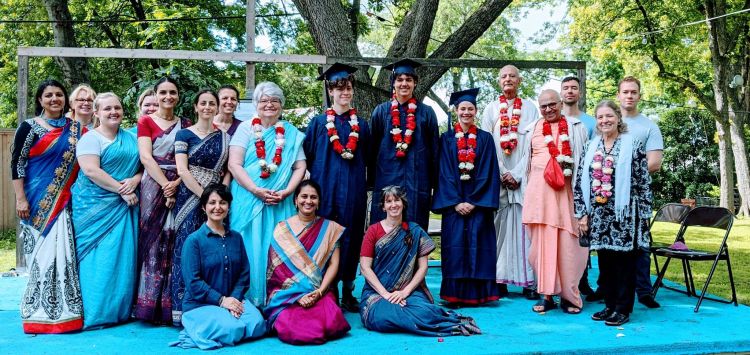 High School Learning Coach Divya Lila Dasi introduced the graduates, who each then delivered beautiful speeches. Arjuna thanked each of his teachers for the unique lessons they had taught him, and described how he had grown as a person from their guidance.
"This school has been integral to who I am today," he said. "Something I believe every kid needs growing up is to establish a connection to God, and have an understanding of the world we live in, which this school fully provided. One of the main things I'll be taking away from my time here is that Krishna is the center of our lives, and that connections to Him can be seen everywhere."
He added: "Looking back, I can see how fortunate I always was to be able to go to a school where so much effort and love was put into our education. I have made lifelong friends from my classmates, and feel I have a place in the community."
His sister Gandiva said: "This school gave me a good education, a community, and a second family. The teachers were my parents, and the classmates were my siblings." She enthusiastically praised her Language Arts teacher Krishna Priya Jani, art teacher Savitri Dasi, history teacher Narayan Das, morning scripture teacher Gopi Gita Dasi, and High School Learning Coach Divya Lila Dasi, and explained, "I was able to gain love for learning, because every teacher I've had was able to give me a little bit of their love for the subject." She concluded, "Every time I think of my years here, I can look back with a smile."
Nitai Schomaker also thanked all his teachers in detail, including Mani Manjari Dasi, who oversaw Makerspace at the school. "I really enjoyed Makerspace," he said. "I remember the CAD design class, where you designed 3D objects on the computer. I designed a foldable, portable chess board in that class, and then printed it on my 3D printer." Nitai now sells novelty chess sets manufactured using a 3D printer on Etsy, and thanks Mani Manjari for getting him started on that road.
"But more than anything, I just want to use all these material skills for Krishna," he said. "After Krishna talks about the importance of work [in the Bhagavad-gita], He stresses that the only type of work that will make one happy is devotional service. Luckily, my teachers engaged me in devotional service from the very beginning…. I pray that by Prabhupada's mercy I can develop my own Krishna consciousness, so that one day all the lessons I've learned at TKG Academy can be put into helping his ISKCON movement, and help him take others back to Godhead."
Former Principal Jayanti Dasi also spoke at length about the High School graduates; as did former teachers Mani Manjari Devi, Vrinda Priya Devi, and Narayan Penate. Also speaking was Rtadhvaja Swami, who has visited the school regularly every year since the graduates were three years old, making sure that TKG Academy students were happily engaged in their studies and in their Krishna consciousness.
As far as the graduates' futures are concerned, Gandiva wants to become an MD and pursue a medical career, so she will be continuing her Bachelor's Degree. Arjuna is considering many options, including finishing his college education, entering the army and following in the footsteps of his brother, Narayan, who is a Captain. And Nitai is pursuing a Degree in Electrical Engineering at UTD. All three graduates wish to pursue initiation, and to increase their personal sadhana practices.
Meanwhile the graduation ceremony was a special day for the teachers and staff too. "We felt honored to be able to guide a child from age three all the way to age sixteen, multiplied by the triumph of managing and navigating a school year during the pandemic," Gopi Gita says. "And it culminated in a real feeling of gratitude and accomplishment for all of us."
TKG Academy staff are now planning for the next school year, which has has already seen a more than 60% increase in enrollment.
Watch Nitai Schomaker's graduation speech here: https://www.youtube.com/watch?v=jQbZEkl78ZI&t=1s
Watch Arjuna and Gandiva Penate's graduation speeches here: https://www.youtube.com/watch?v=qSpEcR5Li5E
For more information, visit https://www.tkgacademy.com/
[
education
] [
school
] [
tkg-academy
]