for ISKCON News on Feb. 9, 2018
Christmas 2017. Toronto, Canada was colder than the North Pole, dropping to -22C for the first time in recorded history. Schools closed. People stayed home from work. Outdoor New Year's Eve celebrations were canceled. The roads were treacherous.
But none of this stopped ISKCON Toronto devotees from venturing out to deliver Srila Prabhupada's books during the six-week Prabhupada marathon, from November 19th to December 31st. Not only that – by the end of the marathon, they had smashed their goal of a 10% increase in book distribution for the seventh year in a row, remitting an impressive $78,000 to the BBT. And they were ranked 4th in North America in the 2017 BBT report.
Toronto Sankirtana leaders understood this couldn't be achieved by just a few book distribution "warriors" alone. They launched a campaign inviting everyone in the community to participate in whatever way they could. An inspirational video featuring Srila Prabhupada, GBC Bhaktimarga Swami and sankirtana strategist Vaisesika Das set the mood. Over 200 buttons with the slogan "Yes I'm In" were printed, and everyone was encouraged to wear them.
In addition, four main goals were set, some of which allowed devotees to contribute without going out in the cold.
The first was to complete a full reading of Our Family Business, an educational and inspirational book about book distribution by Vaisesika Das.
"Every morning, we would read installments of ten to fifteen pages a day," says Radhamohan Das, co-sankirtan leader with his wife Shyama Mohini Dasi. "It was the glue that kept us all going."
The second goal was to sponsor 10,800 Bhagavad-gitas for placement in hotels, motels, prisons, and hospitals, as part of the Sastra Dana program.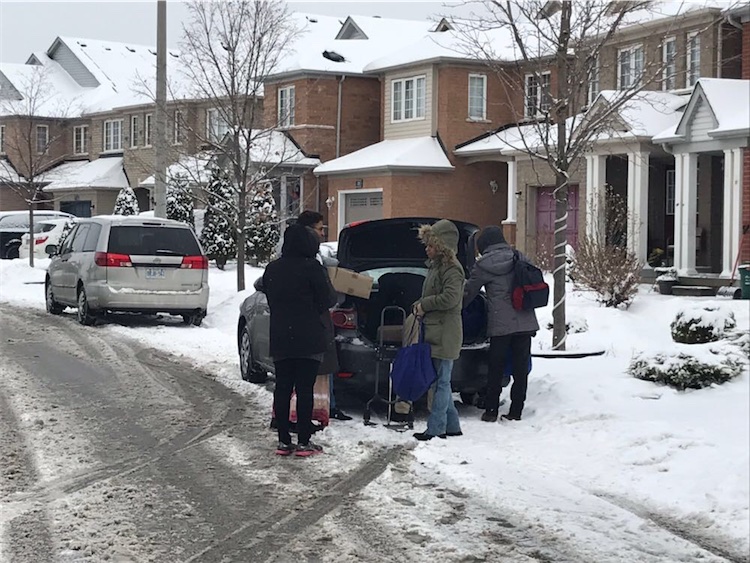 "We focused on Sastra Dana every Sunday Feast during the marathon," says Radhamohan Das, "And we smashed our goal – we got sponsors for 13,200 Gitas!"
The final two goals required tackling the elements head-on. The third was "108 outings." For this, some devotees went out on their own, standing on the street in subzero temperatures or finding shelter in subway stations. One devotee, Mahabhagavat Das, was single-handedly responsible for over 40 of the 109 outings achieved by the end of the marathon.
The fourth goal was extremely ambitious – to distribute 108 full sets of Srimad Bhagavatam and Sri Caitanya Caritamrita. As with all Marathon endeavors at ISKCON Toronto, it was a team effort.
Those devotees who could not go out worked hard by constantly calling their colleagues, friends and family across North America and getting commitments for full sets from them. Others who could not spare the time for phone sales sponsored sets to be installed in libraries and schools.
Then there was the dedicated group of sankirtana devotees who had to go out into the bitter cold to convince people to purchase full sets. These devotees prepared before the marathon by getting training from ISKCON Silicon Valley set distribution experts Sri Krishna Purusottama Das and Malini Dasi.
Out in the field, they divided themselves into six regional teams of five or so devotees each in Scarborough, Mississauga, Brampton, Etobicoke, Markham, and Central Toronto. All teams, however, were connected via a Whatsapp group, creating a feeling of togetherness and building excitement throughout the city.
"Each time somebody distributed a set, they would send a picture to everyone in the group," says Radhamohan. "Then we'd all get excited, and it would become a domino effect. We'd see the countdown going, 108, 107, 106, 105…"
Despite focused effort, the teams only succeeded in distributing fourteen sets in the first four weeks of the marathon. The seemingly unsurmountable final goal became a thrilling challenge.
Book distributors enlisted a devotee in the real estate business to help them find the areas with ideal demographics for full Bhagavatam sets – in particular Tamil, Telugu, and Sri Lankan people, who are known to be especially pious and favorable. Using their training, devotees worked hard to establish connections with people.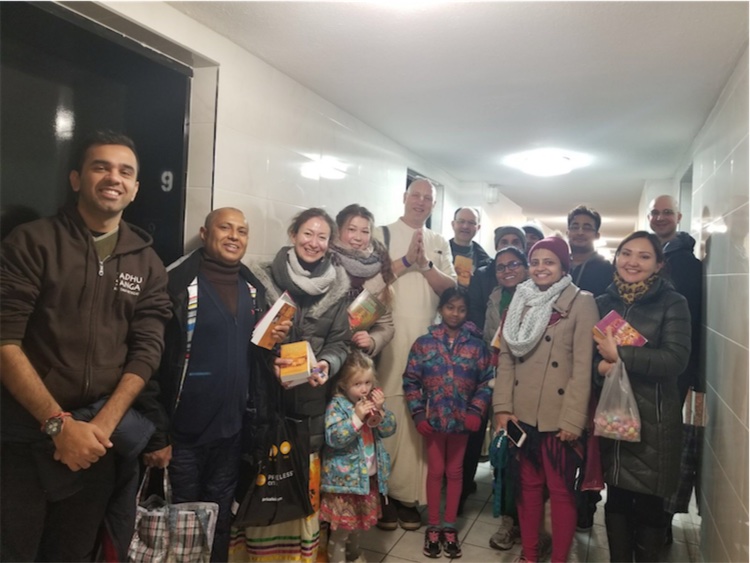 "It can take an hour of talking to sell a set," Radhamohan says. "But if you don't get their attention in the first ten minutes, it's likely not going to happen."
On December 22nd, with ten days to go, there were still eighty sets left to be distributed. Two teams began to combine to help each other. Devotees went out for six to nine hours a day, dragging trolleys loaded with heavy Bhagavatam sets through the bitter cold.
"School was out and people were off work," says Radhamohan. "So it was very serene. The snow was pristine; the only marks you could see were the impressions of our Srimad-Bhagavatam trolleys."
The temperatures dropped to minus 20 degrees Celsius, and it became impossible to stand outside for even 45 minutes. Devotees had to be in their vehicle or in someone's home at all times. Sometimes it would take them all day to distribute just two sets, but they kept soldiering on for Krishna and Srila Prabhupada.
"Of course there were many conversations that didn't lead to sets being sold," says Radhamohan. "But the real win was that the Srimad-Bhagavatam was glorified hundreds of times. And it had an effect even on those families who said no for whatever reason."
As the end of the marathon neared, the energy built more and more, with ten full sets of Bhagavatams or Caitanya Caritamritas flying out every day. But the atmosphere was still thick with suspense – would they reach their goal?
On December 30th, with two days to go, there were still 24 sets to distribute. Temperatures continued to plummet, and with the wind chill factor, it felt like minus 30 degrees. Devotees distributed in apartment buildings and the local mall to stay warm. When that was exhausted, they went from store to store, trying to research in advance which would be most favorable. Meanwhile, the devotees staying at home frantically called family, friends and colleagues. Throughout the day everyone anxiously followed and cheered the countdown on WhatsApp.
At last, on that same December 30th evening, the penultimate set was sold after trying every staff member at a Tamil clothing store. The final, 108th set went to an apartment building security guard at 8:30pm that night. Thrilled at completing their goal one day ahead of time, the devotees jubilantly posted both sales to their Whatsapp group.
"As soon as we posted the last two sets and changed the group's subject to 'Marathon: WE DID IT!!!,' devotees on the group burst out in excitement!" says Radhamohan. "It was proof that the entire team did those sets together!"
The next day, at the Sunday Feast, they sold another three sets, finishing at 111 full sets of Srila Prabhupada's books and triumphantly smashing their goal.
"The devotees were flabbergasted," Radhamohan says. "Every year, it seems impossible, and every year, Lord Chaitanya does it. Since 2009, by the mercy of Guru and Gauranga, we have not missed a single marathon goal."
The achievement was celebrated with the whole community at a special Sunday Feast on January 28th, with sumptuous prasadam, skits, a video showcasing 2017 outings, a Powerpoint presentation to the community on Toronto's sankirtan journey and accomplishments, and commemorative gifts for everyone.
When asked what motivates Toronto devotees to distribute books in such extreme weather, Radhamohan commented, "It certainly wasn't easy. But when we read in Our Family Business about the spontaneous and unparalleled sacrifice made by the pioneers of book distribution in the '70s, we felt humbled and inspired to do our little bit. Srila Prabhupada called the BBT his heart. As his sincere follower, would you not feel the urge, and the responsibility, to continue to pump blood into Srila Prabhupada's heart and grow our family business unlimitedly, forever?"
"With teamwork, setting goals, good communication, training and blessings, we hope to do the same again next year…and every year after that," he concludes.
[
bbt
] [
book-distribution
] [
books
] [
canada
] [
toronto
]