on Oct. 26, 2016
As jack-o-lanterns, comedy gravestones, and fake ghosts and zombies crop up on our neighbor's lawns, and every kid in town shakes with excitement about their candy haul, ISKCON devotees may be wondering whether or not to take their own children out trick-or-treating.
Some devotees have expressed concerns that in celebrating non-Gaudiya Vaishnava holidays like Halloween or Thanksgiving, we will wind up becoming culturally indistinct, and gradually assimilating all the practices of ordinary materialistic life. That our children will grow up not really understanding what it means to be devotees, and that our family lives will simply become a pursuit of empty sense gratification like much of the rest of the world.
"I think we need to find the right balance," says GBC Communications Minister Anuttama Das. "As a grandparent, I've seen with my three grandchildren that having fun is such an important part of their youthful lives. So when we learn how to Krishna-ize ordinary holidays, it helps our kids grow up not feeling that they've missed anything by being devotees. Instead, they feel that by being devotees, they get to do everything that everybody else does, with the added pleasure and excitement Krishna conscious culture brings."
All around North America and other countries where Halloween is celebrated, ISKCON devotees are doing just that – putting creative spins on the popular holiday to Krishna-ize it. Here are just a few:
TKG Academy, Dallas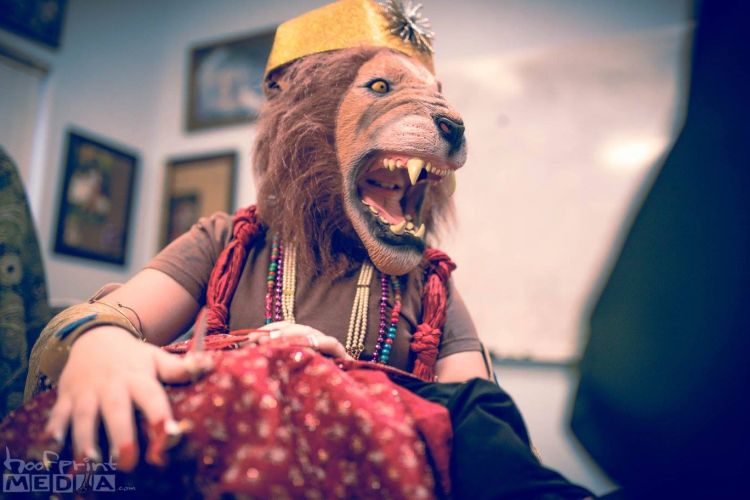 Launched in 2011, TKG Academy's fall festival is held the Friday before Halloween, and is a chance for students to absorb themselves in play as characters from the Vedic scriptures.
Thirty-five children, from preschool up to highschool, come to the classroom dressed as a personality from the Mahabharata, Ramayana, or Krishna or Lord Chaitanya's pastimes. The younger children discuss the background and history of their character, while the older ones write about them and why they've chosen them.
All the children then perform Harinama, chanting in the streets of their local Dallas neighborhood with their eyecatching costumes on. "Last year, one girl came in an elaborate peacock outfit, with every single feather in place," says TKG Academy Vice Principal Gopi-Gita Dasi. "Another came in an intensely gory Kali outfit – the kids loved it because it was so realistic! And one boy bravely dressed up as Mohini Murti."
If the weather isn't suitable for Harinama, the children perform off-the-cuff skits. "For two hours, they're just completely immersed in Krishna's pastimes," says Gopi-Gita.
The Vice Principal, who grew up in ISKCON with a negative view of Halloween and was initially opposed to the idea herself, explains: "Kids are going to be faced with Halloween festivities everwhere they go for over a month beforehand. Every single store they walk into. All of their friends. Their soccer team mates. And to then put into a child's mind that you can't do that because you're different, is very isolating for them. They wonder, 'Why can't I have fun like that? Why can't I also dress up and go out with my friends?' Then they go trick-or-treating dressed up as ghosts, hobgoblins and witches."
Gopi-Gita says that she was able to change her perspective from, "This is maya, why would we do this in Srila Prabhupada's school?" to "Let's turn it into something Krishna conscious."
"Halloween is a time where you can, with your child, take advantage of the spirit of dressing up and the fact that costumes are cheap, and have fun getting completely engrossed in the spiritual world," she says.
Gopal's Garden, New Vrindaban, West Virginia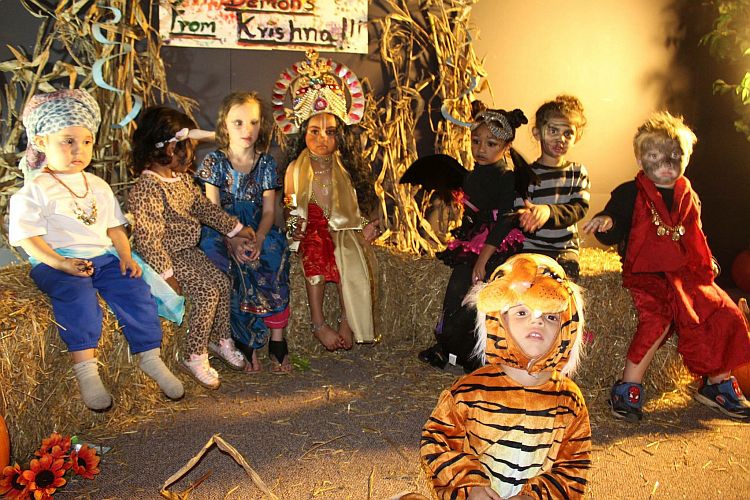 The preschool at Gopal's Garden, a homeschool co-op in the rural community of New Vrindaban, West Virginia, has been holding Krishna-ized Halloween parties for two years.
Last year, each parent dressed their children up as different demons from Srila Prabhupada's book Krishna: The Supreme Personality of Godhead. Each parent and child pairing then ascended the stage, where they narrated the story of how Krishna killed their demon.
This year, the October 15th party saw parents work together to build an Aghasura serpent demon. Children then sang the classic song, "His name is Aghasura," before entering the demon's mouth as fog machines added atmospherics.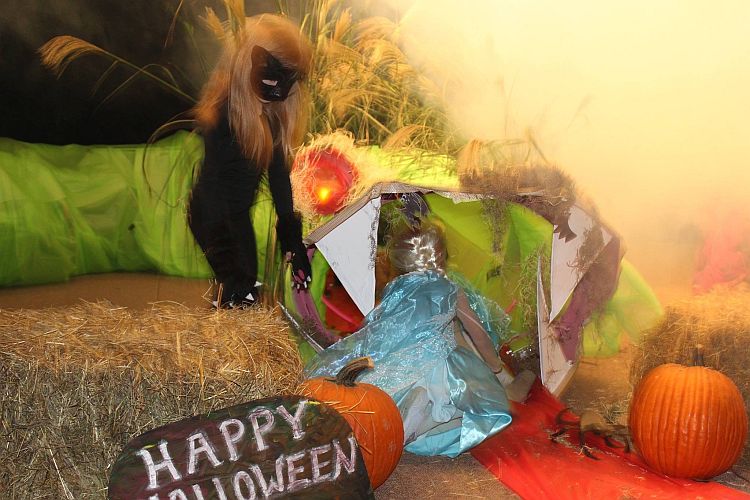 In a particularly sweet exchange, many of the senior devotees in the community set up stands along the path to New Vrindaban's Kusum Sarovara, full of homemade cookies, cupcakes, and other treats. The children stopped at each stand, singing "Trick or treat, trick or treat, give me something nice to eat," and the Hare Krishna mantra, as their pumpkin baskets were filled.
Finally, an older student shot a firework from a bow into a burning effigy of the demon Ravana, and there were vegan marshmallows, followed by Damodarastakam at the temple.
"It was such a sweet experience," says teacher Sundari Dasi.
ISKCON Sunday School, Portland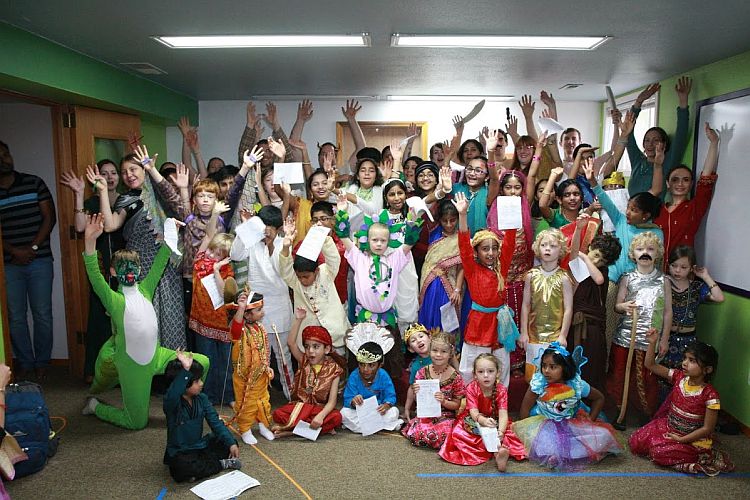 About 40 children of all ages participate in the costume party (the word 'Halloween' is purposely left out) held the Sunday before Halloween at ISKCON Portland's Sunday School.
Put on for the past five years, the party sees kids arrive dressed up in a wide range of costumes, from Krishna book demons, to heroic characters like Rama, Hanuman, and Arjuna, to more Halloween-friendly personalities like the Yamadutas or Shiva's followers. Others dress up as Tulsi Maharani, Srimati Radharani, or the gopis.
The unique feature of the Portland party, however, are its Krishna-ized games. In "Battle the Demon," dads dress up as demons while the kids try to beat them in a swordfighting duel. In "Feeding Bhima," contestants toss beanbags into the Pandava's wide-open mouth. In "Shoot Ravana's Head," they take out as many of the ten-headed demons' balloon heads out with a bow and arrow. In "Back to Godhead," they try and throw an airplane through hoops hanging from the ceiling. And in "Kaliya," they jump from one felt "serpent head" to another.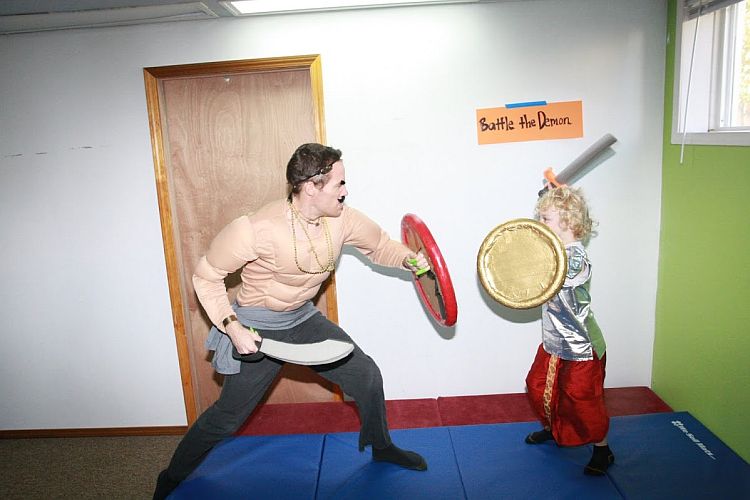 Students score points for each game, and the winners in each age group get a prize. But it's a prize with a special twist.
"We tie it back to devotee principles by making the reward service!" says Sunday School teacher Mani Manjari Dasi. "Winners get to serve big bags of homemade kettle corn to the congregation. Of course, they, and all the children, also get bags full of sweets that the parents have prepared, so they get to have the whole sugar-rush experience too!"
Like the other devotee schoolteachers that put on these events, Mani Manjari says she wanted to give her students the Halloween experience so that they could feel included and interact with society at large; but in a very Krishna conscious way.
"Adults and children are reminded of Krishna's pastimes throughout -- they talk and smile about them in the hallway, as a little Gajendra skips by, or a Sudhama pays obeisances in the temple room," she grins. "The whole temple is enlivened by it."
[
children
] [
halloween
] [
new-vrindavana
] [
portland
] [
sunday-school
] [
tkg-academy
]