for ISKCON News on June 23, 2017
Most editions of the epic devotional classic the Ramayana that you pick up will give a major focus only on the male characters, such as Rama, Lakshman and Hanuman.
Author Vrinda Sheth, whose book Queen of the Elements – the second in her Sita's Fire trilogy – is out on August 8th, wanted to give readers a female perspective too.
"I'm reading Amar Chitra Katha comic renditions of Vedic stories to my daughter right now, and I've noticed that the only thing girls in those stories typically do is search for a husband and get married – while the male characters go on these amazing adventures," she says.
"As a result, growing up in this tradition, my friends and I always idolized all the really cool male characters like Hanuman and Arjuna. I feel like it's very important to shed light on the female characters, and bring their position up more."
Thus Queen of the Elements alternates equally between telling the story through Rama, Lakshmana and Sita's perspective.
The book picks up where the last one, Shadows of the Sun Dynasty, ended, following the divine heroes as they live in exile in the forest and encounter demons with magical powers. Vrinda uses some artistic license to reveal Sita's inner monologues about moving from a palace to the forest – and how that awakens her sense of herself as a princess who was born from the Earth.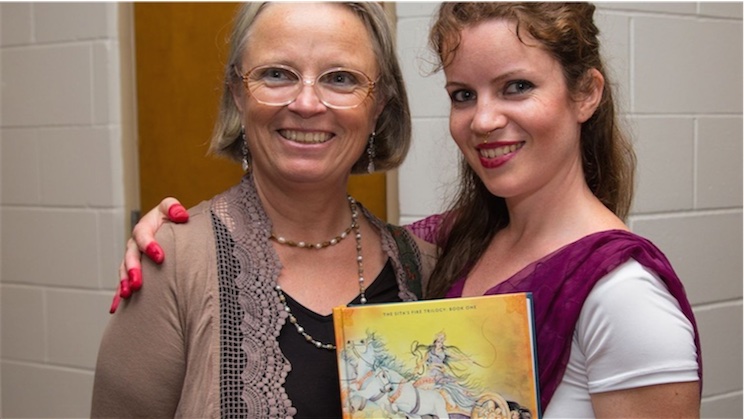 Author Vrinda Sheth with her mother Anna Johansson
Throughout the series she also highlights anecdotes where Sita exhibits her power, giving readers a strong female role model.
For instance in the next book in her trilogy, Destroyer of Sorrow, set to release in 2019, Vrinda draws from the original Valmiki Ramayana to add insight into the famous scene where Hanuman's tail is set alight and he burns the city of Lanka.
"The original text in Sundara Kanda of the Ramayana describes how Hanuman's tail didn't burn; and Hanuman himself says that this was because Sita Devi was protecting him from the fire," explains Vrinda.
In the current book Queen of the Elements, another scene drawn from the original Valmiki Ramayana shows Sita holding Rama accountable to his hunting in the forest.
"She didn't like that he carried weapons, so she held him to that and said, 'If you hold a weapon, you're more likely to use it. And you're supposed to be an ascetic right now.' She had a strong voice with her own opinion, and was able to confront her beloved, which is never easy."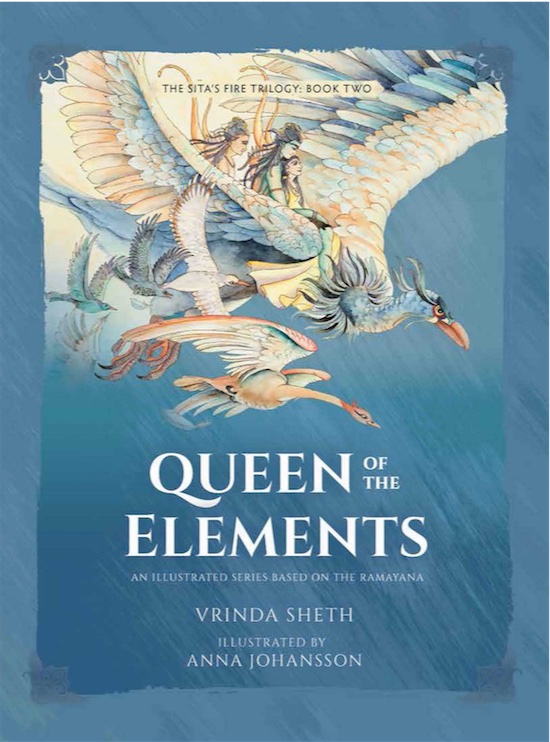 The cover of Queen of the Elements, out August 8th
Vrinda, however, is careful not to reinvent the character of Sita. "I think it's important not to impose our modern ideas of feminism on characters back then," she says. "Because it was a different time, and they would display their agency and their power in a different way."
While being careful and adhering largely to the original text, Vrinda does have to use a fair amount of artistic license, as Sita is featured in only ten per cent or less of the Valmiki Ramayana.
Vrinda defends her creative approach by explaining that unlike the Mahabharata, the Ramayana is not an itihasa, or history, but a kavya, or poem. According to her this implies that some artistic license was already present. And since Valmiki, the Ramayana has had a rich storytelling tradition in India, with more than 200 versions including Tulsidas' Ramcharitmanas and Kamban's Ramavatarm – all with embellishments according to their audience.
"Some devotees in ISKCON are skeptical about these versions, but they are part of the storytelling tradition that has kept the Ramayana alive for so many years," Vrinda says. "So I was inspired to follow in their example."
So far, she adds, readers of her first book including devotees and those well-acquainted with the Ramayana have been overwhelmingly positive in their response, saying it gave them a new and fresh perspective they didn't expect.
Shadows of the Sun Dynasty also received two independent book publishing awards – the Benjamin Franklin and the Nautilus.
Meanwhile the new book, Queen of the Elements, got a glowing review from Kirkus commending its"rounded, relatable characters."
"Sita, with her complex emotions and conflicted history, is an especially compelling personality," writes the reviewer, "And Sheth gives her ample page time to tell her story in her own words."
Queen of the Elements is published by Mandala and distributed by a major mainstream distributor, Simon and Schuster. It features stunning art by Vrinda's mother, Anna Johansson (Annapurna Dasi).
* * *
Enter the upcoming Goodreads Giveaway for a chance to win 1 of 10 signed copies. Runs from July 8- Aug 8: http://www.goodreads.com/book/show/25942961-queen-of-the-elements?from_search=true
Visit www.SitasFire.com for more info.
Oct 21st, 2017: Book Launch event and Bhakitland Fundraiser with artist showcase: kirtan by Mayapuris, original music by Dhanya Rico, and excerpts from "Queen of the Elements" by Vrinda Sheth.
Location: The Wooly, 20 N. Main st, Gainesville FL, Reserve your ticket now through the contact form on Bhakitland.com
[
book
] [
ramayana
] [
sitas-fire
]