for ISKCON News on Aug. 19, 2019
The Summer Trip, a Krishna conscious tour throughout North America for adolescent boys, was led by alumni for the fifteenth consecutive year this summer.
The Trip was established by Rtadhvaja Swami in the early 1990s as an excursion for students of his Alachua gurukula ashram. When he retired in 2005, he passed on the stewardship to Krishna Kishor Das and Dattatreya Yogesvara Das, who went on their first Summer Trip at ten years old.
The two have not missed a year since, giving a strong example of succession done right in ISKCON. In 2016 they also set up a nonprofit for the tour, appropriately called "Our Future Hope."
This year, they and other chaperones took thirty-eight boys aged 10 to 17 from Italy, Colombia, Canada and around the U.S. on the Summer Trip from June 22nd to July 23rd.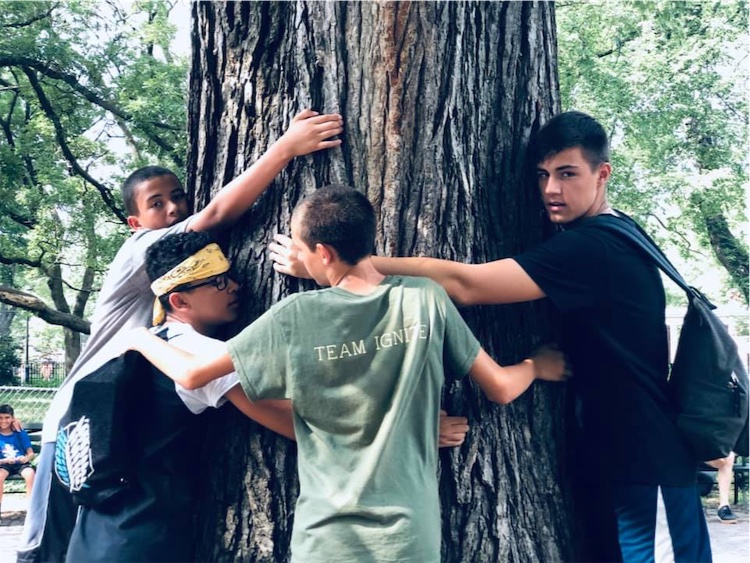 Hugging the Prabhupada Tree at Tompkins Square Park
Travelling in three vans, the group began with an orientation in Alachua, Florida, before heading to Falls Lake in North Carolina for Camp Ignite, a week-long summer camp organized by The Sanga Initiative.
Based in Washington D.C., TSI's goal is to "connect Krishna conscious youth in North America and empower them to become leaders for the next generation." Each day at Camp Ignite was packed with water sports, swimming, fun games like capture the flag, team building exercises, kirtan, japa, and sanga discussions on life lessons and Krishna conscious introspection. On Ekadasi day, youth helped at the nearby New Goloka temple by doing gardening service and performing a four-hour kirtan.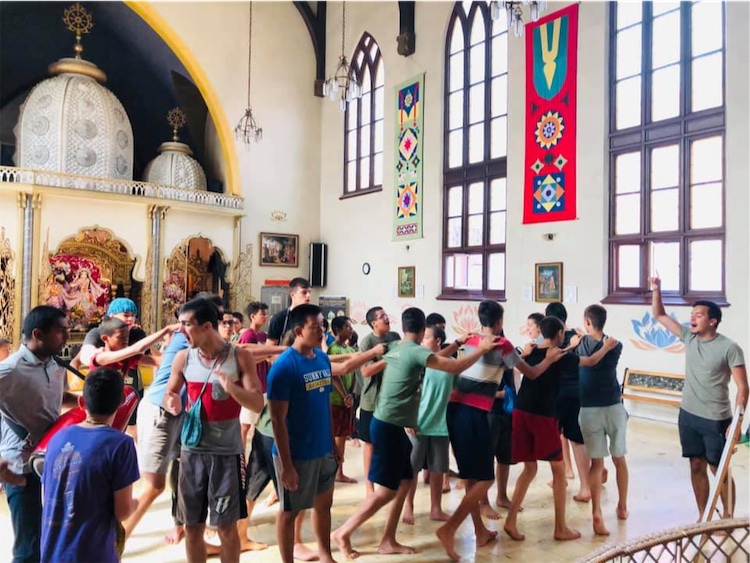 Kirtan train at Montreal temple
There were also two enlightening seminars. Deva Madhava Das, director of the Harmony Collective in Michigan, led "Being Created," a discussion on "the cycle of association" and how to be your best self by staying in sanga. Rtadhvaja Swami's seminar on doubts in Krishna consciousness, meanwhile, gave Summer Trip boys the chance to meet the founder of their tour.
With a total of one hundred participants from the TSI and Summer Trip, Camp Ignite was a major statement for ISKCON youth.
From there, the boys' Trip went on to Washington D.C., where they visited museums, did some service at the ISKCON Potomac temple, and learned about the history of the first Krishna Deity in ISKCON, Madan-Mohan.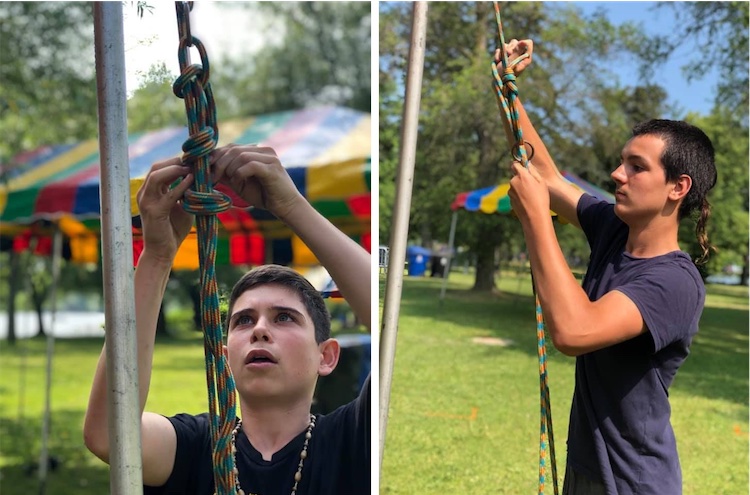 Helping set up Festival of India at Toronto's Centre Island
Next, they stayed overnight at the ISKCON temples in Central New Jersey and Brooklyn, before visiting pilgrimage spots of ISKCON history in New York City such as Tompkins Square Park and 26 2ndAvenue. They also got to walk across the Brooklyn Bridge, see tourist staples like the Statue of Liberty, Times Square, and Grand Central Station, and stop by the devotee-run Doughnut Plant for a treat.
Travelling into Canada, the boys attended the Montreal and Toronto Rathayatra festivals, where they helped set up with Festival of India, participated in a twelve-hour kirtan, and went sightseeing. They also put on cultural stage programs at the Rathayatras, including an elaborate mridanga dance presentation.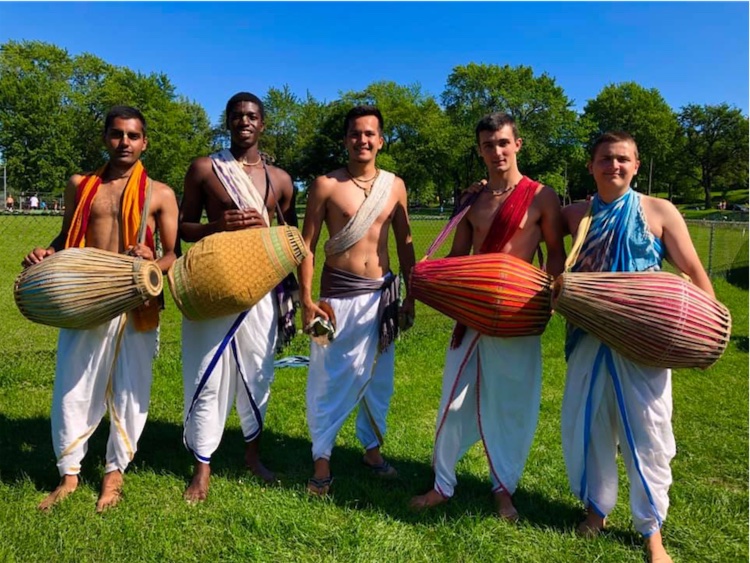 Getting ready for a mridanga presentation at Montreal Rathayatra
"What was special about the Montreal and Toronto Rathayatras was that it was the first time that Kishori Yatra (the adolescent girls' tour) and the Summer Trip were at the same place at the same time," says Krishna Kishor Das. "Then DASI (a tour of young women who have graduated from Kishori Yatra) and the Festival of India youth were also there. So we had four ISKCON youth groups and once again about 100 youth in total."
Krishna Kishor says that to see such strength in numbers was extremely potent and empowering. "For many of the youth who don't live in big devotee communities, it was really inspiring to see so many tours of young kids, all so vibrant and alive," he explains.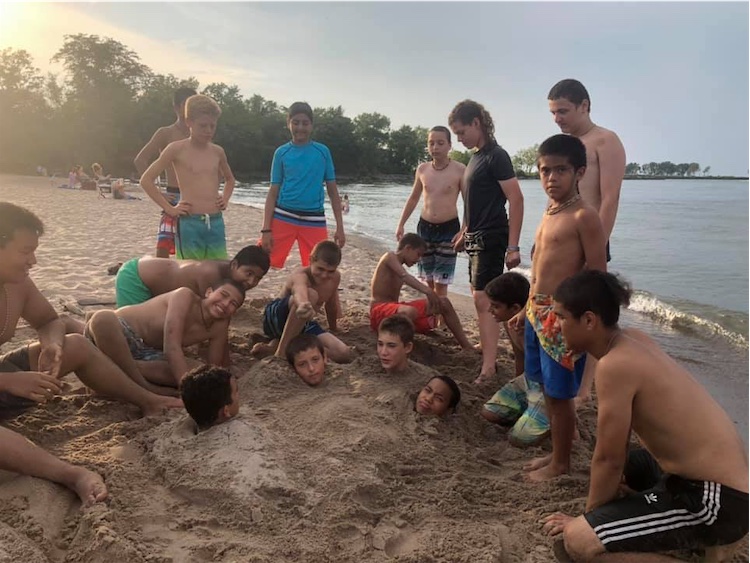 Fun beach day in Sandusky, Ohio
Next it was on to see Niagara Falls, then to Sandusky, Ohio, for a four-night camping retreat, where the boys got to relax, swim, play sports, chant japa and recuperate from their travels. They also had a blast at Cedar Point theme park, dubbed "the roller-coaster capital of the world," and the water park Cedar Point Shores.
At the Columbus Krishna House, the group had an idyllic picnic, and saw the plans for the upcoming major new temple in Columbus, Ohio. Finally, they stopped at New Panihati Dhama in Atlanta where Srila Prabhupada disciple Balabhadra Das shared the history of the temple along with Prabhupada stories.
"When we returned to Alachua, we had a little pow-wow on the last day, where the chaperones gave some last words of encouragement, and the kids shared their memories," says Krishna Kishor. "Many of them became emotional. They had such a great time, and made such great friends, that they didn't want it to end. There were a lot of teary eyes."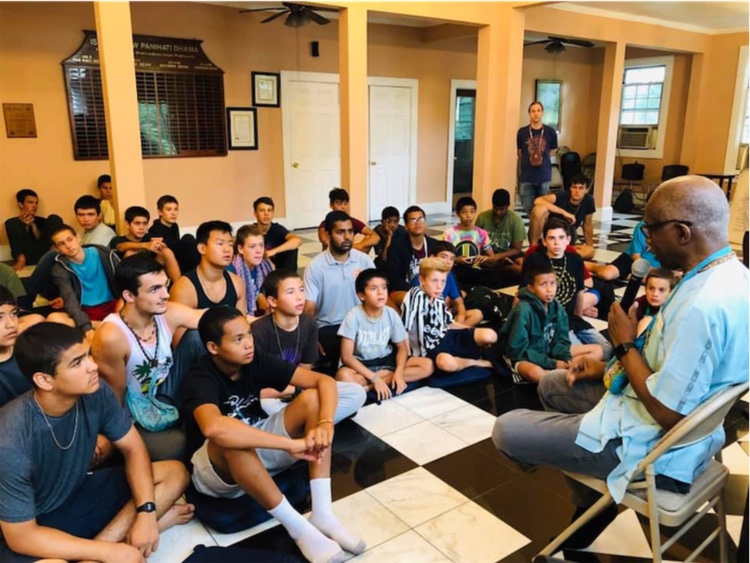 Balabhadra Bhattacharya Das tells stories in Atlanta's New Panihati Dhama
Even for years after the Summer Trip, its impact remains in young men's lives.
"Many of the kids who are older now have personally come to me and expressed that it changed their lives," Krishna Kishor says. "One of the alumni who came to Camp Ignite told me, 'If it wasn't for the Summer Trip, honestly, I wouldn't be a devotee.' Others stay in touch with us, and open up about struggles or doubts they may be having. It creates lifelong connections."
* * *
To find out more, apply for next year's Sumer Trip, or support the fundraiser for a new van, please visit https://ourfuturehope.com/
[
bus-tour
] [
youth
] [
youth-bus-tour
] [
youth-ministry
]