for ISKCON News on Feb. 24, 2017
In the 1990s, the "Krishnacore" scene saw fans of hardcore music follow devotee bands like Shelter and 108 and practice a "straightedge" lifestyle avoiding illicit sex, drugs, and meat-eating.
Today, a new Krishna conscious subculture seems to be growing out of the tattoo scene in North America, particularly in New Jersey and Pennsylvania.
Devotee tattoo artists – or "tattooers" as they're more commonly known in the biz – are inking incredible devotional art, sharing their Bhagavad-gita based perspective on life with customers, getting together for kirtan, and even chanting at yoga studios. And more and more of them are springing up everywhere.
Krsna-Nama Das, 29, is a core member of the group, a skilled tattooer working out of Elizabeth, New Jersey.
Raised a strict Catholic, he was only ten years old when his older sister introduced him to Krishna consciousness. Chanting and the philosophy helped him through teenage struggles, and when he attended college at Rutgers, he joined the Bhakti Club there and gained more inspiration from devotee peers and the Sacred Sounds events with Radhanath Swami and Gaura Vani.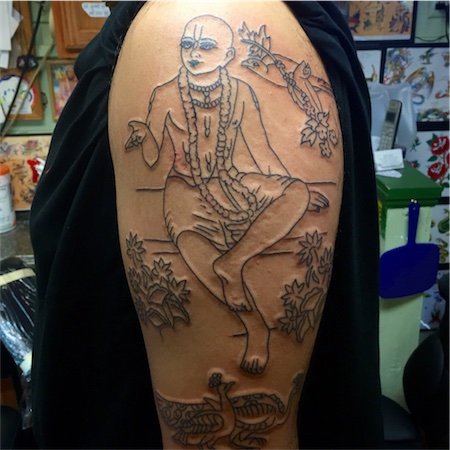 A tattoo of Lord Chaitanya inked by Krsna Nama
During the same period, his friendship with Kalpavriksha Das, one of the first devotee tattooers – having worked in the business for twenty-five years – solidified his connection with Krishna consciousness.
Kalpavriksha also took Krsna Nama – who received Harinama initiation in 2012 – under his wing as an apprentice tattooer.
"First I would just do menial tasks at the shop where he works, Ron's Tattooing," says Krsna Nama. "Then he had me copying his existing tattoo designs on paper. I started practicing on fake silicone skin, as well as on some friends. After that, for about a year-and-a-half I would spend three days a week learning with him at his house."
Krsna Nama now works as a full-time professional tattooer at Ron's Tattooing in Elizabeth, New Jersey alongside Kalpavriksha. Because they are located in the inner city, many of their customers are very "street," connected with the culture of hip-hop, urban art and graffiti.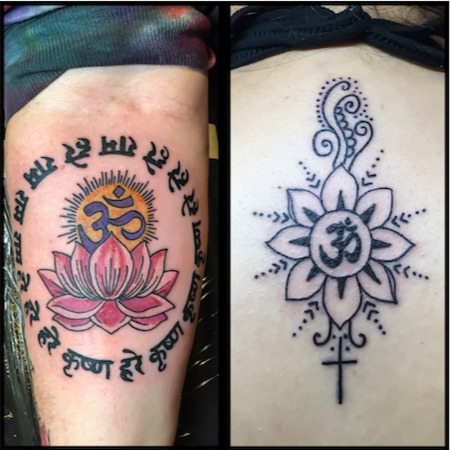 The Hare Krishna mantra, by Krsna Nama
Among this clientele, and among tattoers, Krsna Nama says, many are interested in reaching a higher level of consciousness and are receptive to Eastern philosophy. What's more, there is currently an Eastern trend in tattooing, with many people getting tattoos of Ganesh, Buddha, Sanskrit words, lotuses and om symbols.
Others get tattoos of the word 'ahimsa' to display their commitment to veganism or vegetarianism. Many even get tattoos of Lord Krishna or Lord Jagannath, often without knowing fully who They are.
With customers already in this frame of mind, walking into Ron's Tattooing really piques their interest. Kirtans and lectures by Bhakti Charu Swami, Hanumatpresaka Swami and others are often playing, devotional artwork hangs on the walls, and Kalpavriksha's picture of Lord Nrsimhadeva by his workstation has people asking, "Woah, who's that?"
Many customers then open up to the devotee tattooers.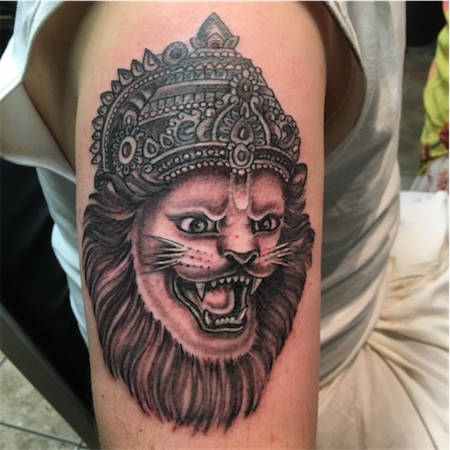 Lord Nrsimhadeva by Kalpavriksha
"Tattooing is quite an intimate experience," says Krsna Nama. "A lot of times people are getting a tattoo because something happened in their life, whether it was positive or a tough experience. And we're sitting there with them for anywhere from twenty minutes up to two hours. So they'll talk to us, and we'll try to understand where they're coming from. Then we'll share a spiritual perspective on what they're going through, if they're open to it."
Sometimes the customer's interest escalates to the point where Krsna Nama and Kalpa will explain Krishna consciousness to them in more detail, and send them off with some of Prabhupada's books, and directions to the Plainfield, New Jersey ISKCON temple. Of course, this all happens organically in conversation as the tattooers befriend people; there's no attempt to proselytize.
People often keep returning to these philosophical, vegetarian tattooers because they feel a kinship, and want to learn more. They also attend kirtan meetings put on by the growing devotee tattooer community at yoga studios or at their homes; and by a kirtan band, Misra Bhakti Kirtan Sanga, led by Kalpavriksha and two other tattoers.
Most of these devotee tattoers came to Krishna consciousness through fellow tattoo artist friends, or through becoming attracted to devotional artwork.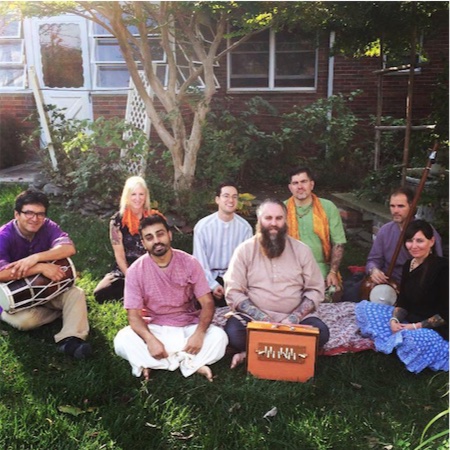 Devotee tattooers gather to sing kirtan together
"I would say there are close to ten devotee tattoers in the area," says Krsna Nama. "There's Kapavriksha and myself at Ron's Tattooing in Elizabeth. There's my sister's partner Tom Yak, at Electric Tattoo in Asbury Park, New Jersey. Then in Pennsylvania, there's Eric Eaton at Electric Temple in Philadelphia, and Jeff Capezio in York, both of whom attend the Philadelphia temple. And there are others. We have our own community, our own support system."
This group of tattooers also serve the broader ISKCON devotee community. Business is especially booming during New York Rathayatra or other festivals. But devotees also come from all over the East Coast, across North America, and even the world, solely to get a tattoo from these renowned Vaishnava tattooers.
"The most popular tattoos among devotees include the Hare Krishna maha-mantra in different forms; Lord Nrsimhadeva; Chaitanya Mahaprabhu; Garuda; meaningful Sanskrit or Bengali verses; and Krishna, Radharani, or Mahaprabhu's feet," says Krsna Nama.
Some devotees, of course, feel that getting tattoos is not appropriate for Vaishnavas, and that having Krishna conscious images on one's body is disrespectful.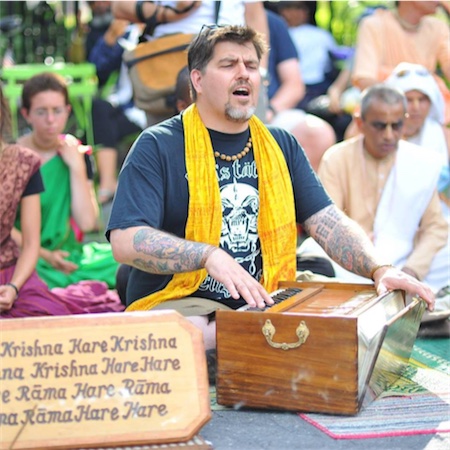 Tattooer Kalpavriksha Das leads kirtan in New York City
Krsna Nama says that he understands and respects this perspective. But for him and others who like tattoos and don't feel they're at a level where they're ready to give them up, Krishna conscious tattoos seem like the best choice. It's a case of yukta vairagya, or using material things in Krishna's service.
"I have the maha-mantra tattooed on me in many different languages – Sanskrit, Bengali, Gujarati, Oriya, Roman transliteration, Russian, and Japanese," says Krsna Nama. "When people see the tattoos, they're constantly asking me what they mean, and that sparks a whole conversation. What's more, when I look at my arm, it reminds me to chant and that Krishna's here with me. Tattoos also reinforce your identity – they're like wearing your heart on your sleeve."
For Krsna Nama, his job is a service. "I meet all types of people – from the businessperson in a corporate job, to people in the military, to the guy who's just out of jail," he says. "I like to talk to them, to hear what they've been through – whether they're getting a tattoo because they've lost someone, or because they want the footprints of their newborn baby. I like to hear other people's perspectives, how they deal with life. Sometimes I can help them. And often, they help me, too. Talking and listening to others is like therapy."
[
art
]