for ISKCON News on March 22, 2018
Students who manage to find a place in this summer's Vaiyasaki Kirtan Academy will get the chance to learn one year's worth of kirtan knowledge in just a week, with one of ISKCON's most legendary and classically trained kirtaniyas. 
They'll also get to do it in a beautiful setting, at the 300-hectare Nueva Vrajamandala retreat farm community in Spain, near the ancient town of Brihuega. Accommodation and meals will be included in the price of the course, which will take place in July-August during the famous Lavender Festival. 
Level 1 of the Kirtan Academy course, offered last year, was a hit, and this year many return students will take Level 2, with a new raft of students to attend Level 1 for the first time.
It's likely to be an international crowd – last year, students hailed from South America, Central America, the U.S. and Europe. Participation will be kept to just ten students so that everyone can get individual one-on-one guidance.
Nueva Vrajamandala's Instituto de Estudios Bhaktivedanta, which is hosting the course, wanted present and future generations of devotees to learn the proper standards of kirtan. For this, there was no better person than Vaiyasaki Das, who learned from Srila Prabhupada and then from kirtan masters in Bengal and Bangladesh in the 1970s who have all since passed on. 
"If you want to be a pujari or do almost any service in ISKCON, you have to get training," he says. "But there's no training for kirtan, the essence of Lord Chaitanya's movement. There's a tremendous lack there. We are not educated at all in this most important and fundamental foundation of bhakti-yoga."
 In Level 1 of the Kirtan Academy, which will run from July 14th to 20th, Vaiyasaki will teach the theory and tradition of kirtan culture; six raga kirtans (emotional moods of the melodies); two popular bhajan songs; yogic breathing to get the best sound for singing; appropriate and inappropriate ways of leading kirtan; and how to play harmonium and karatals. Each student will also take turns leading kirtan to get practical experience.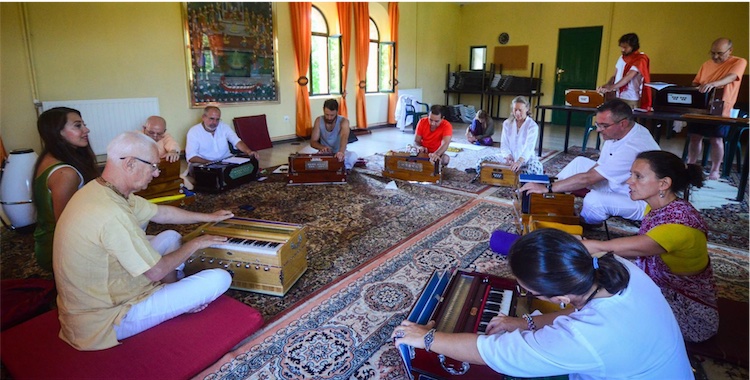 Vaiyasaki Das teaches his Kirtan Academy course
"In the course I talk about the different styles of kirtan – all we know in ISKCON is nama kirtan," says Vaiyasaki. "We don't know kala kirtan, asta kaliya kirtan, or lila kirtan. We don't know that in lila kirtan there are many different kinds – Gaura-lila kirtan, Krishna-lila kirtan, Rama-lila kirtan."
Vaiyasaki hopes to train devotees so that they become expert in understanding kirtan rasa, or the different moods of kirtan. "Srila Prabhupada introduced a morning melody in the morning, and evening melody in the evening," he says. "But devotees often don't sing the proper melodies at the proper time, and don't know why we should."
Vaiyasaki explains that kirtan melodies are not just tunes, the way we think of them in the West. "They are personalities," he says. "Each raga or ragini has their service to Krishna. For example, Bhairavi's service to Krishna is at six o'clock in the morning. So if you sing the maha-mantra to the Bhairavi melody in the evening, it's inappropriate – what Rupa Goswami calls 'rasa bhasa' in the Nectar of Devotion." 
Every day of the course will include four intensive hours of learning, followed by lots of practice time after lunch. During this time, students who need less practice can also choose to swim in the nearby river or go to the goshala and learn how to milk the cows.
In the late afternoon, Vaiyasaki will give individual one-on-one tutoring, after which there will be an evening community kirtan at the temple for everyone to experience chanting together. 
During the course, students will also go out with temple devotees to chant at Brihuega's Lavender Festival, with acres and acres of lavender fields stretching out as far as the eye can see – a truly unique and beautiful experience. They'll also get to use their skills by performing a kirtan concert at an auditorium in town. 
In the intermediate course, Level 2, offered from July 28th to August 4th, Vaiyasaki will move from teaching melodies by sight to teaching melodies just by hearing, or sravanam kirtanam.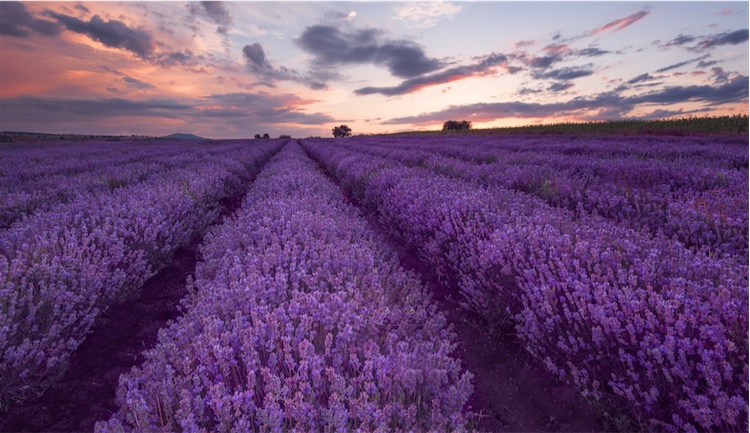 The course will include kirtan at the famous Lavender festival, with acres of lavender stretching as far as the eye can see
The second course will also teach how to improve your harmonium style by using alankars;  more advanced ragas including pentatonic ragas with a unique sound; more bhajans; and continued studies in yogic breathing, the theory of kirtan culture and tradition, and one-on-one tutoring. 
"After this intermediate training you will be able to reproduce any melody simply by hearing, similar to an expert chef who can reproduce a dish by another cook simply by tasting it," Vaiyasaki says.
Next year, Vaiyasaki will add an advanced course, Level 3, in which students will learn very advanced ragas and how to not only lead kirtan in the temple, but also perform a concert in a hall or auditorium. 
"In Level 3 we will go very deep into the mood, the rasa," he says. "Nowadays music is very impersonal and mathematic. But we are teaching the Vaishnava, personal way of music – understanding the ragas and raginis, their services, their moods, and the tastes that we can experience by singing these ragas at the right time." 
Vaiyasaki is also trying to find a classically trained mridanga teacher locally in Europe, to add a mridanga course to the Kirtan Academy's curriculum.
Once they are introduced, Vaiyasaki will continue to offer all these programs annually every summer – an exciting prospect for him.
"I enjoy teaching because I love to share this kirtan rasa," he says. "And I love to see students who struggle at first evolve into kirtan leaders with practice. Seeing the results is so fulfilling."
* * *
To book your place in Level 1 or Level 2 of the course, visit http://www.vaiyasakikirtanacademy.com/
If you are a classically trained mridanga player living in Europe and are interested in teaching the mridanga course at Vaiyasaki's Kirtan Academy, please email Vaiyasaki Das at vaiyasaki@kirtan.org.
[
kirtan
] [
mahamantra
] [
music
] [
vaiyasaki
]