for ISKCON News on Nov. 15, 2017
The Vice President of India, Mr. Venkaiah Naidu, inaugurated ISKCON's East West Cultural Festival in New Delhi yesterday. The event also saw the Indian premiere of the film Hare Krishna!, written and directed by Yadubara Das and Visakha Dasi.
Dr. Bibek Debroy, one of the world's best-known economists and Indologists, participated as the Guest of Honour. Debroy is also an executive member of India's Planning Commission (NITI Aayog) and Chairman of Prime Minister Narendra Modi's Economic Advisory Council.
The audience of more than 1,800 guests included businessmen, diplomats, and government officials, along with senior ISKCON leaders, 38 disciples of Srila Prabhupada, devotees and members of ISKCON.
Gopal Krishna Goswami, Chairman of the ISKCON Bureau of India, welcomed the Vice President of India, while fellow speakers Sivarama Swami and Yadubara Das greeted him on stage.
Speaking at the occasion, Vice President Naidu said, "He [Srila Prabhupada] established more than 100 temples, cultural centres and farm communities, wrote commentaries for over 75 books, and traveled the world more than fourteen times – all in the short span of just eleven years.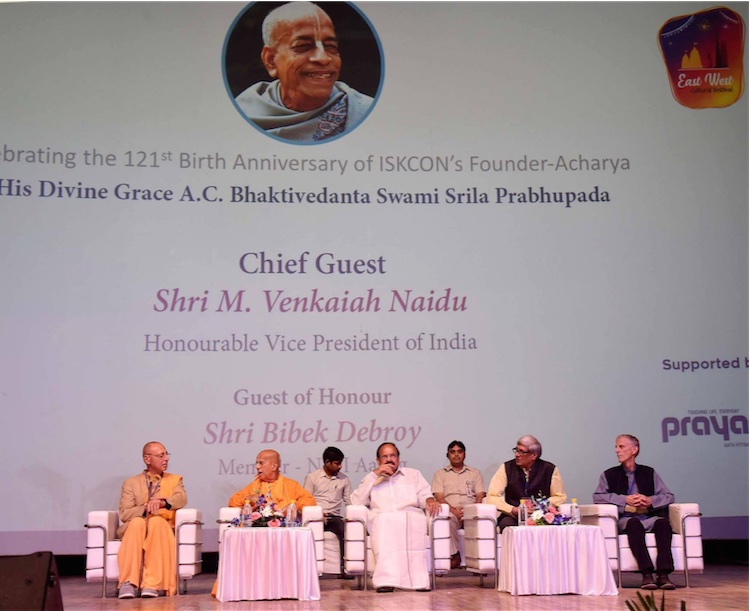 "In many ways it is astonishing that a person did all of this at seventy years old, sleeping just three or four hours a day, and produced so many literatures which today have been translated into 82 languages, with more than 50 crore copies published.
"But to me – Swami Prabhupada's greatest achievement was that he was an exemplary ambassador of India's ancient civilization. He carried the same traditional values that you, his followers, are now promoting from inside and outside the shores of India."
Next Dr. Bibek Debroy spoke, giving scriptural references to the duties and activities of an Acharya, and how Prabhupada lived an exemplary life as an Acharya. He further said that the true glorification of Srila Prabhupada was when we take to heart his teachings and become self-realized.
The other highlight of the evening was the much anticipated premiere of the film Hare Krishna!. Devotees from various corners of India flew in or drove overnight to attend the first screening in the country.
Hare Krishna! is a documentary on the life of Srila Prabhupada – the 70-year- old Indian Swami who arrived in America without support or money in the turbulent 1960s, and ignited the worldwide cultural revolution in spiritual consciousness known as the Hare Krishna movement.
Directed by John Griesser, the award-winning film has been shown in 120 cities in USA and has had successful run in Russia and Australia.
The movie was well appreciated by the devotees and guests alike. People have already began making plans for attending the theatrical release which is expected in the second week of December.
The event closed with a group photo of all the disciples of Srila Prabhupada and sannyasis.
[
delhi
] [
documentary
] [
film
] [
hare
] [
india
] [
krishna!
]