for ISKCON News on Dec. 18, 2020
The third annual MAN-tra Retreat was held online November 20th to 21st. Due to Covid-pandemic restrictions, the planned 2020 New Vrindaban in person retreat was cancelled but then, bad became good. With 210 registered participants from Canada, US. England,South Africa, Trinidad, India, Indonesia, Australia, Russia and Bangladesh the audience widened. International participants have requested that the online format continue next year.
The retreat included panel discussions, powerpoint presentations, break out groups, live polls, and questions periods interspersed with kirtans, drama and comedy. Partakers appreciated the frank and open dialogues and creative, entertaining formats. A noticeable lack, however, was New Vrindaban's sumptuous prasada and the memorable outdoor campfire kirtans and kathas that MANtra has become famous for.
Highlights were:
Kaunteya das spoke on the responsibility Srila Prabhupada places upon men to support education within his society.
Bhuta Bhavana das divulged hidden gems within Srila Prabhupada's books that can expand our potential through focus, sincere effort, and dependence on Krishna.
Partha das examined Men, Marriage and Myths. "Truths that Support, Myths that Mislead, Enigmas that Bewilder and Negative Paradigms that Hinder" and led a discussion on creating and maintaining healthy marriages in a complex world.
Mahatma das gave a fact-based and sobering look at the devastating individual and social consequences of pornography addiction. An anonymous question format was established, and serious queries were fielded.
Anuttama das in an interview with Caitanya Carana das and Sutapa das brought out the relevance of a healthy brahmacarya ashrama and how all men can benefit from a period of immersion in a concentrated spiritual atmosphere.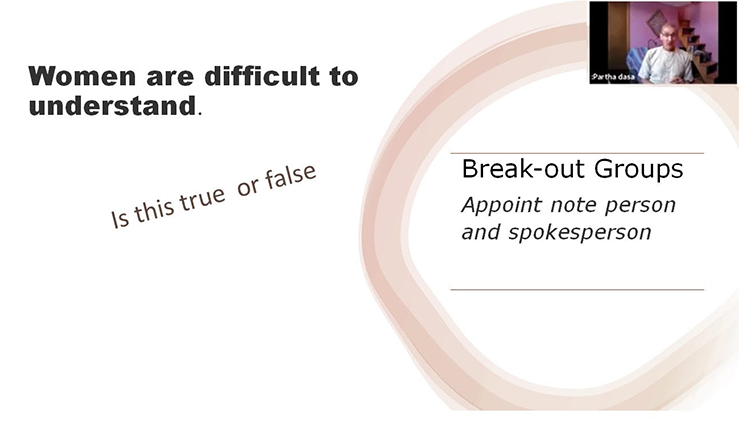 Confidential manly discussions took place
Gopal Lila das led a panel on Vaishnava Masculinity with Anuttama das, Vrndavananatha das, and Madhavacarya das. They explored male roles in respecting and protecting women, setting healthy examples, avoiding mistakes of the past, and avoiding a poisonous masculinity which can result from an immature understanding of Krishna consciousness. Comments expressed appreciation of the balanced views presented.
Namarasa das led a panel with Gauravani das, Raghunatha das, Ragunatha and Tukaram das discussing a variety of understandings, and experiences, of fatherhood in Krishna consciousness.
Bhakti Marga Swami released the riveting world premier of "Rolling the Dice", Yudhistir's gambling match enacted in the 21st century.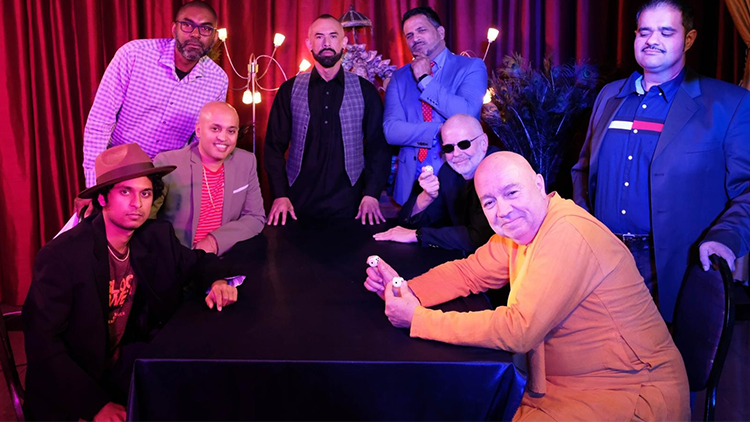 Bhaktimarga Swami and his team of Canadian actors on the set of "Rolling the Dice", a dramatic and contemporary take on the classic story of the Pandava-Kaurava clash.
The comedy session was performed by Yadunatha das, a professional dramatist and comedian who led the men in a humorous, and sometimes biting, examination of being male and a devotee in the 21st Century.
And, despite the challenges of Zoom conferences, Gauravani das and Amala Harinam das led inspiring kirtans with local friends and families that brought many virtual participants to their feet to dance in joyful sanga.
* * *
The recordings from all these sessions are now available. Anyone interested in accessing any of these videos, please contact the MAN-tra team at mantraretreat@iskcon.org.
[
man-tra
] [
men
] [
retreat
] [
virtual
]