for ISKCON News on Jan. 21, 2019
Shyamasundar Das, one of ISKCON's earliest pioneers, has released Volume Two in his two-part series "Chasing Rhinos," which gives a personal, insider's account of major events in ISKCON's history and a sense of the "anything's possible" excitement and drive of those early days.
Volume 1: San Francisco and London, 1966 – 1970 came out in 2016, and followed Shyamasundar's experiences as he assisted Prabhupada in establishing Krishna consciousness in San Francisco at the peak of the Hippie Revolution. It also talked about how Srila Prabhupada sent Shyamasundar as his pioneer to England, along with his friends from college Mukunda (later Goswami), Malati, and Yamuna, as well as Janaki and Gurudas.
The book gave an inside look at how they met the Beatles, how Prabhupada became their friend and guru, and how devotees made it onto the Top of the Pops and put out a hit record.
In Volume 2: India, Russia, and Around the World: 1970 – 1974, Shyamasundar describes how in October 1970, he accompanied Prabhupada and twenty of his Western disciples back to India, to re-ignite the dying flames of Krishna consciousness in the land of its ancient origin.
"Srila Prabhupada and his 'dancing white elephants' become an immediate national sensation," Shyamasundar says. "In my book I follow almost day-by-day the immense impact Prabhupada made, as he shuffled his pieces around the board and, in very short order, captured India (Surat, Kumbha Mela, Cross Maidan, etc)."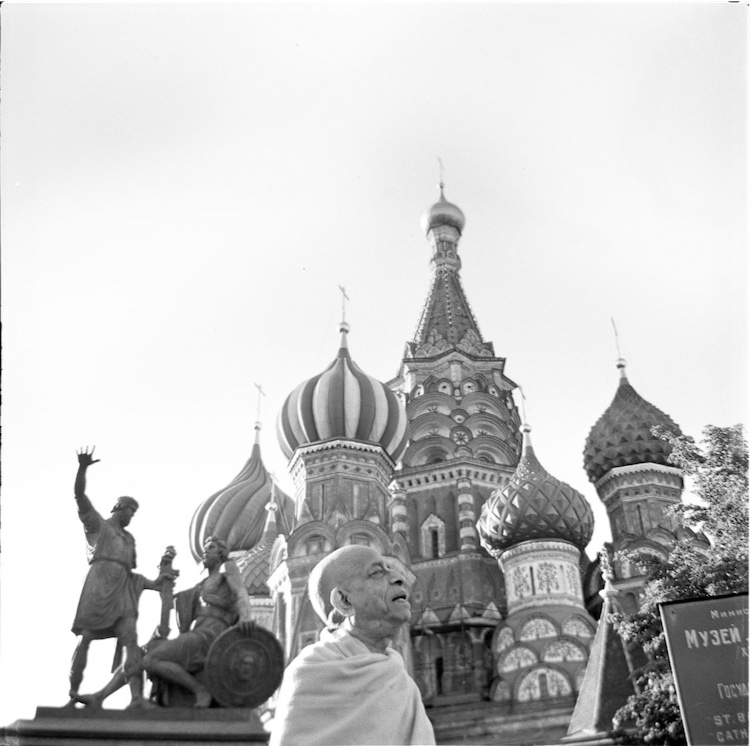 Srila Prabhupada in Moscow
In June 1971, Shyamasundar became Prabhupada's personal secretary and for the next two years traveled with him around the globe. They first flew into cold-war Moscow, which Shyamasundar recounts in a part entitled "Five Days That Changed The World."
Next, they flew west to Paris, to San Francisco for Rathayatra, to New York City for George Harrison's Bangla Desh Concert in Madison Square Garden; and then to London. There, Shyamasundar describes in detail the daily debates Prabhupada had with devotees about Western philosophers, covering everyone from Plato to Heidegger.
After that Shyamasundara travels with Prabhupada to Nairobi, a brand new venue for Krishna consciousness; then back to India for the revolutionary New Dehli pandal, where, Shyamasundara says, "Srila Prabhupada is greeted as the nation's spiritual leader." He also recalls trips to Madras, Visakhapatnam, and Western devotees' first visit to Vrindavan.
Chasing Rhinos then describes one of Srila Prabhupada's most incredible achievements – how in little more than three weeks' time, he laid the cornerstones for three huge temples in Mayapur, Vrindaban, and Juhu, Bombay.
Finally Shyamasundar gives a firsthand view of Prabhupada's planting Krishna consciousness in Australia, New Zealand, Hong Kong, Japan, and Hawaii, before returning to Los Angeles.
Well-researched, full of intimate detail and novelistic descriptions, the book covers nearly 500 pages and is illustrated by 180 photos to bring the reader straight into the thrilling pioneering phase of ISKCON's history.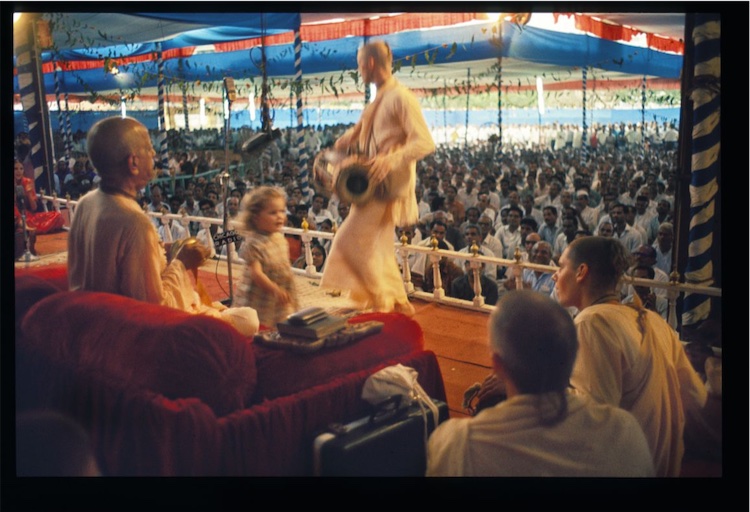 Srila Prabhupada and his dancing white elephants at the 10-day Bhagavat Dharma Discourse in Cross Maidan, March 1971
Volume 1 of "Chasing Rhinos" has become an ISKCON classic, enjoyed by thousands of readers, both devotees and members of the general public.
"People who know nothing about Krishna read it cover-to-cover," Shyamasundar says. "I still get emails every day from persons all over the globe saying how much they like the book."
One of these was bestselling novelist Judith Krantz, who wrote, "I wanted to tell you how much I enjoyed your "Chasing Rhinos With The Swami", Sam. It was intensely readable, very amusing, and so well written. You obviously have a talent for writing. I was up for hours reading the night I got the book. Please know how much I think of it."
In the ISKCON world, Hari Sauri Das, secretary to Srila Prabhupada from 1975 to 1977 and author of his own popular series of books about traveling with the ISKCON Founder-Acharya, raved: "I couldn't put it down! I read the whole thing in three days…'Chasing Rhinos' is a work of a remarkably candid and intensely devotional nature and must be read by everyone who wants to understand the true nature of Srila Prabhupada and the extraordinary effect he had on the lives of everyone that he met."
Shyamasundar hopes the second book will have the same impact. "Many younger devotees – and many older ones too – don't realize the extreme high energy and transcendental powers exhibited by Srila Prabhupada! His perfection in every movement, in every response, his life without any error. In the book I describe his energy, his remarkable intelligence, his ability to do everything, and his side-splitting sense of humor, as a first-hand eye-witness day-after-day, month-after-month, year-after year, in every situation imaginable."
He concludes: "If devotees, now and forevermore, can realize even a glimpse of Srila Prabhupada's perfection from these books, my job in this body is done."
* * *
For more info and to order Volume Two, visit http://chasingrhinos.com/
For special bulk order prices, contact Shyamasundar Das at CHASINGRHINOS@GMAIL.COM
[
ac-bhaktivedanta-swami-prabhupada
] [
rhinos
] [
shyamasundara-das
]