for ISKCON News on July 1, 2016
The Walking Monk is on the road again, celebrating ISKCON's 50th anniversary in his own unique way.
From September 20th to November 10th in 2015, Bhaktimarga Swami walked from Boston's Commonwealth Pier, where ISKCON Founder Srila Prabhupada first reached the U.S. in 1965, to Butler Pennsylvania, where he stayed with sponsors the Agarwal family, to New York City, where he registered ISKCON in 1966.
In New York, Bhaktimarga concluded his 907-mile walk by chanting under the famous "Hare Krishna tree" in Tompkins Square Park, where Prabhupada led some of the first public kirtans in the Western World.
"That first walk was about honoring our teachers, and particularly our spiritual mentors," says Bhaktimarga Swami. "It informed the public about Prabhupada's contributions, and raised awareness of the Hare Krishna Movement's current activities."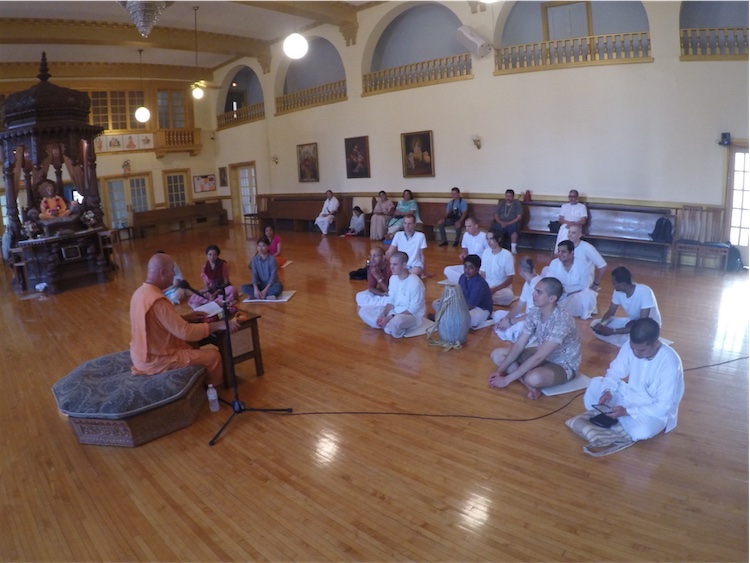 Giving an interactive lecture at ISKCON Chicago
Now, starting on May 11th, Bhaktimarga is walking from New York to San Francisco, following the path ISKCON took when it first spread out from the East Coast to the West Coast of the U.S.
"Well, since I already walked to New York, I chopped a little bit off my trip by starting from Butler," he admits with his typically jovial good humor.
But the Swami's walk is still epic. The first leg of his trip, which started in May in Butler and will end in August in Lincoln, Nebraska, will be around 966 miles. Then in early May of 2017, he'll pick up where he left off, walking the 1,600 miles or so from Nebraska to San Francisco.
"On this leg we're trying to follow the Lincoln Highway as much as possible, because it was the first transcontinental highway built across the U.S.," he says when ISKCON News catches up with him. "So far we've gone through Pennsylvania, Ohio, Michigan, Indiana, and now we're in Illinois."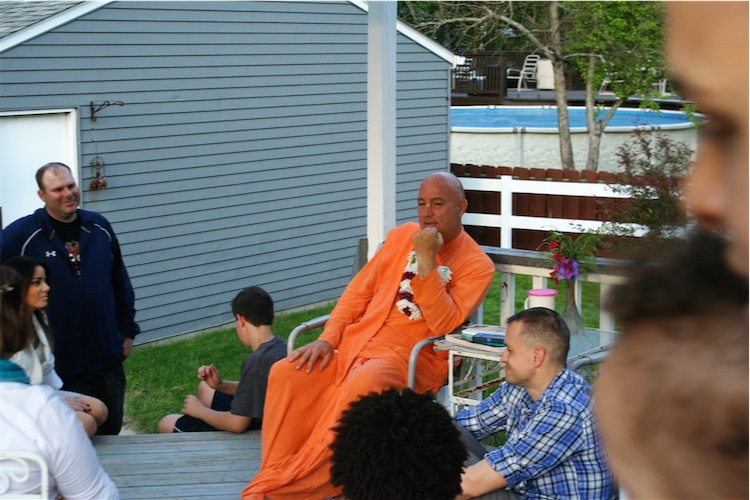 Giving a lecture at home of Purnamasi Dasi in Cleveland. Ohio.
Along his travels, Bhaktimarga has stopped at ISKCON centers, yoga and new age centers, and the homes of isolated Hare Krishna devotees. He's taken a dip in the Great Lakes to cool off from the heat of the road, mourned the decline of the countryside, and met many interesting people.
"Walking through Amish country and interacting with those wonderful people was very inspirational," he says. "And in Toledo, Ohio, when I told two young guys I passed on the bridge that I was a monk, they asked me to teach them how to fight. They assumed because I was a monk I knew martial arts! I told them that I taught Bhakti yoga, because when you need to defend yourself, the first approach you use is wisdom."
Bhaktimarga Swami also brings his message to the media, with small-town newspapers especially receptive, he says. "Through the media we encourage people to slow down the pace of life, and give some time to introspection; to connect with the self, or the soul."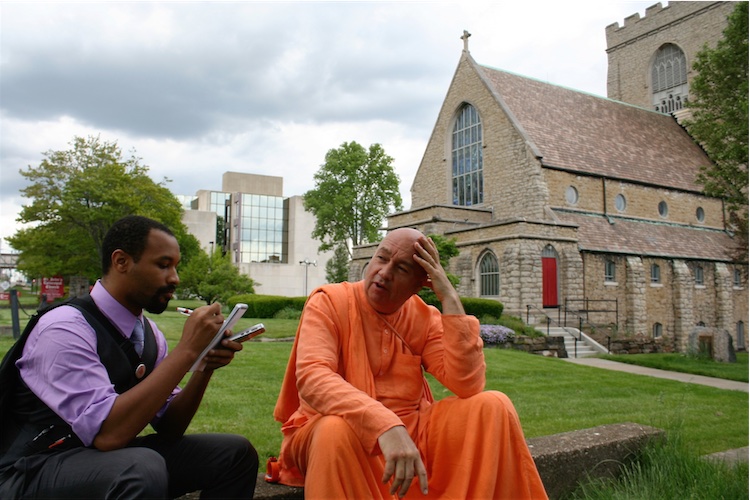 Interview with Jon Victor from Vindicator News in Youngstown, Ohio.
Everywhere he goes, he also speaks about ISKCON's 50th anniversary, saying that he is walking for a spiritual society started by his guru Srila Prabhupada. Often, newspapers pick up on the story and research it further, many times citing Prabhupada's full name of A.C. Bhaktivedanta Swami.
Bhaktimarga walks about twenty miles per day, sometimes starting as early as 3:00am to get in his miles before the tarmac gets so hot that he gets "fried like a pakora," in his words.
He is assisted by three second-generation devotees – Gopala, Uttamananda and Arjuna Abhimanyu – who drive his equipment, pick him up and drop him off on the road, cook and set up media interviews.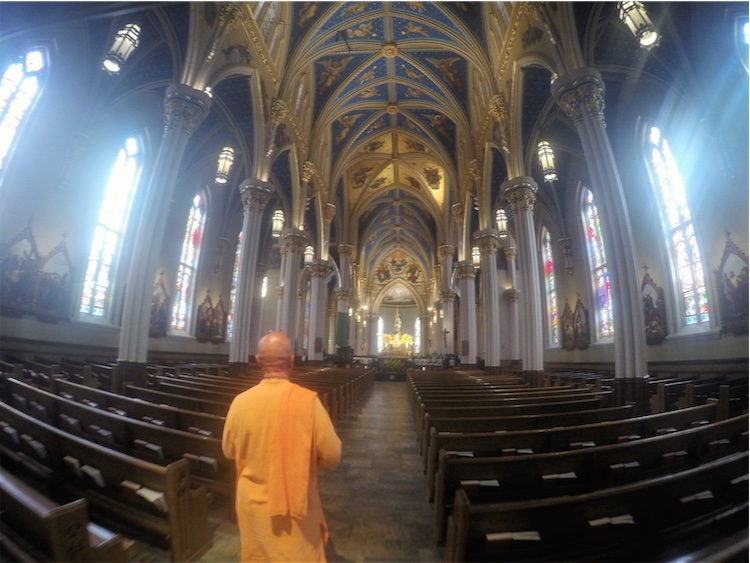 Walking into the university of Notre Dame
"The experience has been really good for them personally too," he says. "It has improved their navigational and communication skills, given them new ideas of what one can do as a devotee, and opened up possibilities for them in the future."
Beyond this year's walk to Nebraska, Bhaktimarga Swami is looking forward to next year's trek to San Francisco. There he'll try to follow the route of the first ever Rathayatra in the Western World, held in the city in 1967, exactly fifty years before. He'll also visit Golden Gate Park's Hippie Hill in San Francisco, where Srila Prabhupada famously led kirtan with the devotees and a large Deity of Lord Jagannath sitting beside him.
"When reporters ask me why I'm walking, I've been telling them, 'I'm walking to make America great again!'" he says. "And that always gets a big laugh, because it's Donald Trump's line. But we have a different take on it, of course. Paraphrasing Srila Prabhupada in his first ever newspaper interview to the Butler Eagle, "In order for Americans to be happier, they must take to spiritual life."
[
26-2nd-avenue
] [
bhaktimarg-swami
] [
tompkins-square
] [
walking-monk
]