for ISKCON News on Feb. 16, 2018
Feb 12, 2018 - ISKCON Mayapur welcomed West Bengal's Chief Minister Mamata Banerjee, who came for an official visit. After arriving by helicopter, she was given a warm welcome at the temple by Ambarish Das and several GBC members. Then she took darshan of Sri Panca-tattva, Sri Sri Radha-Madhava, And Lord Narasimhadeva. Jananivas prabhu guided her in performing arati to Lord Narasimhadeva. 
Mamata Banerjee then enquired about the temple worship, and offered different auspicious gifts for the pleasure of the deities.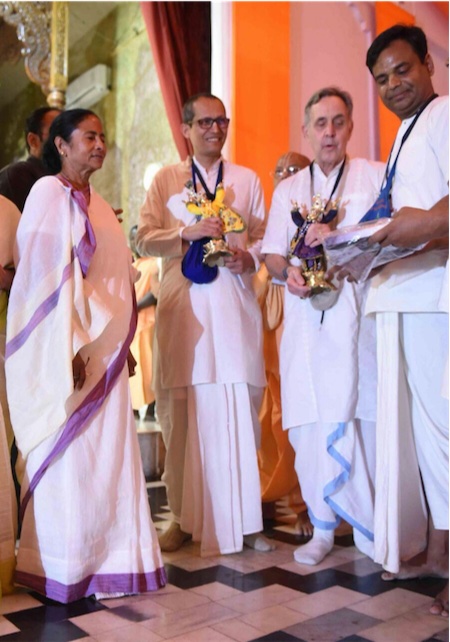 In her personal Twitter page she wrote:
"Today I visited the ISKCON temple at Mayapur. ISKCON is setting up a world tourism circuit centre at Mayapur and have sought our assistance. We would be very happy to help them.
 
This will definitely be a new landmark in the religious tourism destination not only in the state and the country, but also in the whole world. It is indeed a wonderful experience for me."

Mamata Banerjee‏ @MamataOfficial, Twitter
[
bengal
] [
mayapur
] [
tovp
]