for ISKCON News on Jan. 12, 2018
On January 20th, senior Prabhupada disciple Yogesvara Dasa is bringing "Here Comes the Sun: A Musical and Spiritual Tribute to George Harrison" back to the Integral Yoga Institute in New York City.
The show is based on Yogesvara's (Joshua Greene's) 2006 book Here Comes the Sun, which briefly hit Amazon.com's bestseller list, and was published in five foreign languages.
"There are literally thousands of books that have been published about the Beatles, and a couple of hundred just about George," Yogesvara says. "There was nothing, however, that described his spiritual interests clearly."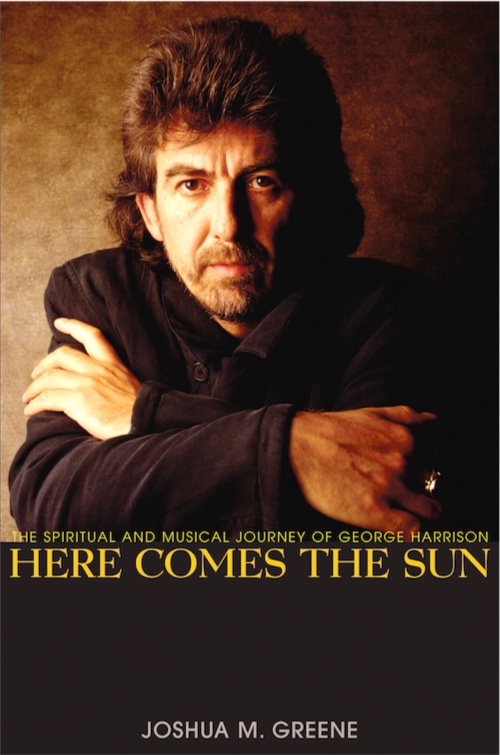 The cover of Yogesvara's book Here Comes the Sun
The book's success inspired Godfrey Townsend, a friend of Yogesvara's, to suggest turning George's story into a live musical tribute concert. Godfrey is a professional guitarist and vocalist who has played with some of the biggest names in rock 'n' roll, including John Entwistle, bassist of the Who, and Jack Bruce, bassist and vocalist of Cream.
Godfrey gathered a five-piece band, who played covers of George Harrison songs interspersed with Yogesvara telling George's story with a focus on his spiritual path.
The group performed the show some forty times around the United States over the past twelve years. They played to sell-out crowds at B.B. King's Blues Club on Broadway in New York City; Lensic Auditorium, the largest auditorium in Santa Fe; and several universities such as Ohio State, Penn State, Hofstra on Long Island, and the University of Florida.
At times, the band swelled to a 12-piece, with Gaura Vani and his group As Kindred Spirits adding kirtan as well as Bharatanatyam dancers.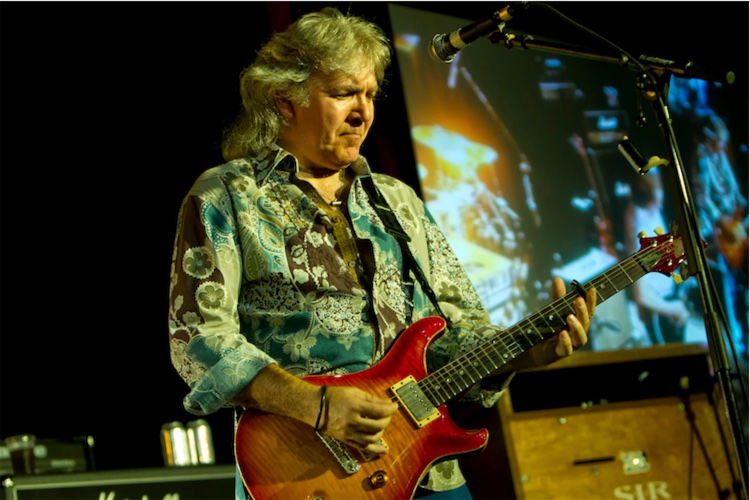 Guitarist Godfrey Townsend will perform the concert's songs
"People have such a good time at the show, singing along and dancing in the aisles," says Yogesvara. "The band rocks, and people are already sold because they love George Harrison."
January 20th's show at Integral Yoga – in honor of George's 75th birthday – will be a more intimate affair, with only Yogesvara and Godfrey onstage. All the essential elements, however, will be present.
With the aid of historic video clips and photos projected onto a large screen onstage, Yogesvara will reconstruct for his audience George's story from childhood, through his rise to success as one of the Beatles. He'll describe George's disenchantment with material life, his discovery of yoga and the spiritual texts of India, his friendship with Shyamasundara and other Hare Krishna devotees, and his meeting Srila Prabhupada.
Yogesvara will also recall his own participation in recording the Hare Krishna Mantra hit at Apple Studios with George and other devotees, and the ensuing concert tours and album The Radha Krishna Temple.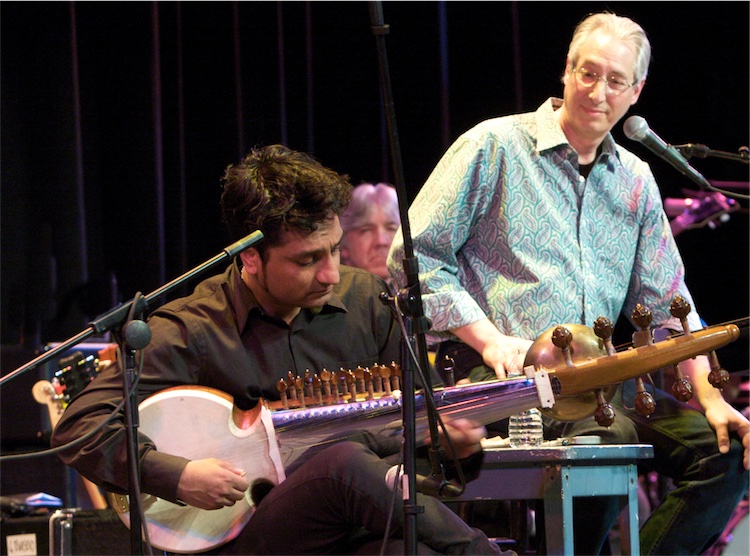 Yogesvara looks on as sarod player brings an exotic sound to the evening
The show will also cover the ups and downs of George's career. Yogesvara will talk about how in 1970, when the Beatles dissolved, George launched his solo career energized by spiritual devotion, with the album All Things Must Pass and songs like My Sweet Lord. With his next album, Living in the Material World, he climbed higher and higher, turning some of the most spiritual songs ever recorded into hits and holding the Concert for Bangladesh.
Yogesvara's narration will then cover how in 1973, the album Dark Horse saw George meeting the most difficult challenges of his personal and professional life, leading to depression and his giving up live performance. John Lennon's murder in 1980 also sent George deeper into retreat.  
Finally, the show will describe how George moved past darkness, began to chant again, visited India, and achieved tranquility as he approached the end of life. 
"By the time he died, he had reached a very rare spiritually advanced place," says Yogesvara. "He died very peacefully, listening to the chanting of the maha-mantra, in the company of devotees, smelling the incense from the Los Angeles temple. He was an example both in life and in death, of a devotional way of being."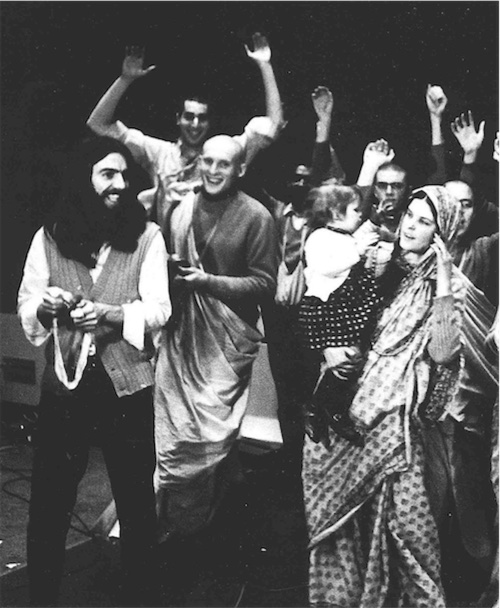 George chants with the devotees
At key moments during the story, Godfrey will perform some of George Harrison and the Beatle's most beloved tracks, including Here Comes the Sun, Taxman, Nowegian Wood, Blackbird, While My Guitar Gently Weeps, Give Me Love, Something, and of course My Sweet Lord.
The Hare Krishna mantra will also feature heavily in the show.
"We make a lot of jokes, and keep it funny, warm and audience friendly," says Yogesvara. "And the grand spiritual truths go down so much easier when they're set to rock 'n' roll. So I can talk about the eternal soul, personal and impersonal philosophies, the nature of karma, a vegetarian diet, anything – because there's a good vibe and people are happy to be there."
After the show, people often buy books, and receive a small piece of prasadam. Over the years, Yogesvara has heard from several attendees who have become devotees and even taken initiation as a direct result of the concert.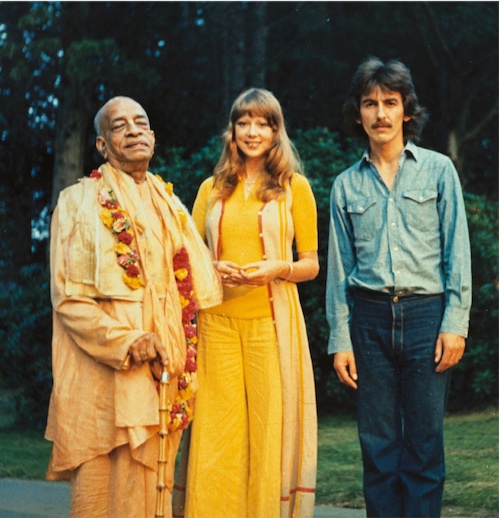 George Harrison with Srila Prabhupada
He feels that George Harrison's spiritual message will only become more clear and more relevant as time goes on.
"George may be the closest thing we have to a contemporary mystic," Yogesvara says. "He was someone who described his life as climbing to the top of the material mountain, looking over and seeing how much more there was on the other side. And he was also very bold. He was not afraid of declaring, publicly, his allegiance and his dedication to bhakti, to a life of devotion to God."
* * * 
To book your spot for "Here Comes the Sun: A Musical and Spiritual Tribute to George Harrison," click here: https://iyiny.org/workshops-and-events/calendar/here-comes-the-8922/
[
beatles
] [
comes
] [
george-harrison
] [
here
] [
music
] [
sun
] [
the
] [
yogeshvara
]